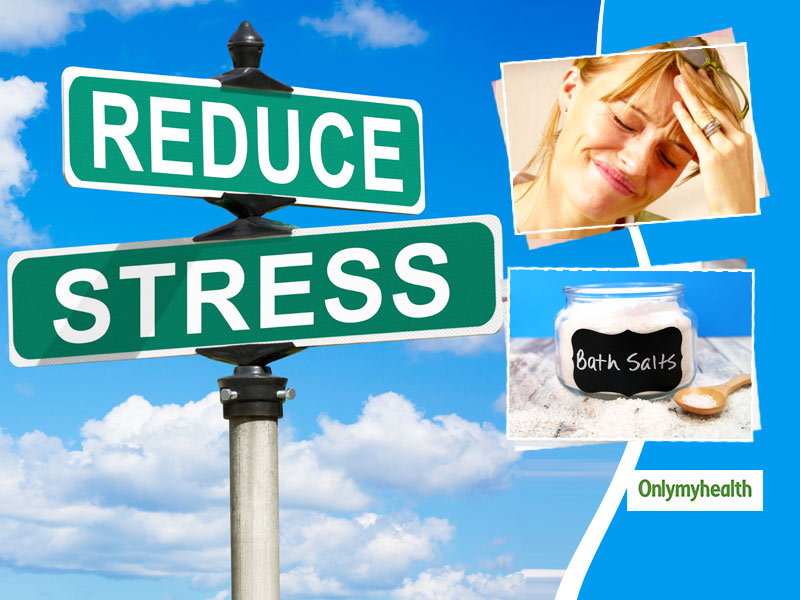 Bath salt recipes with dried herbs: The wonderful thing about baths is that they are soothing and relaxing and help refresh and revive. Fragrant, pre-bath massage oils can benefit both body and mind. The aromas of many flowers are known to have a calming effect on the mind and help to induce relaxation. A combination of essential oils works wonders. A few drops of essential oil of rose and lavender can be added to sesame seed (til) oil or olive oil. Both rose, and lavender has a cooling and calming effect. One must remember that essential oils should never be used directly on the skin. They must be diluted with pressed oils. Olive oil, of course, is ideal as a body massage oil, especially in summer. It restores the average acid-alkaline balance of the skin and protects it.
Try these few bath salt recipes by Beauty and Skincare Expert Shahnaz Husain that you can make at home:
One tablespoon almond oil
1 cup bicarbonate of soda
1 cup powdered milk
Add to the tub of water and mix with hot water for a soak.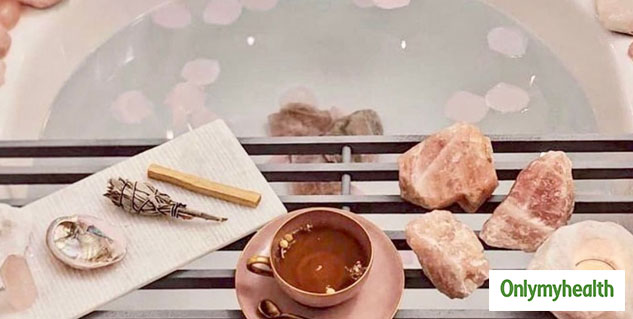 The first three ingredients in a bundle and add to water.
Milk And Rice Water Bath
Milk protein nourishes the skin, and the starch of rice softens skin, majorly relieves stress—Mix 1 cup powder milk with a cup rice-starch. Add two spoons of rose water and for fragrance and dissolve the paste in your bathtub. Milk and Rice water bath cleanses and nourishes skin and washes of stress and tension from your head. Pure bath restores mind, body and spiritual balance.
Nurjehan's Rose Petal Bath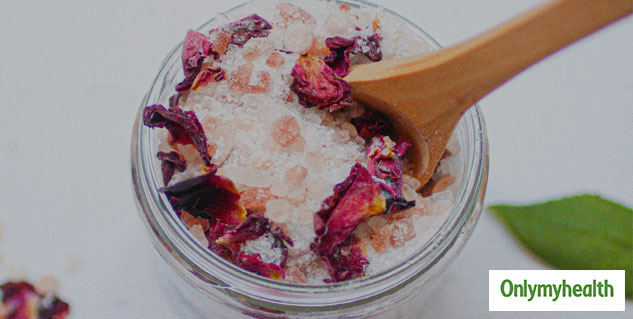 Rose oil is said to have been discovered by the Empress Nurjehan. Here is Nurjehan's bath recipe, which helps to beautify the skin and also calm the mind.
1 cup Powdered milk
Salt
Rose petals
Essential Oil of rose – 5 drops
Two tablespoons pure almond oil
Add to water in a tub bath.
DIY Ayurvedic Bath Tips for Relaxing
Chamomile and Lavender Milk Bath: Chamomile and Lavender Milk Bath is the most relaxing herbal bath as it evaporates stress. Chamomile and Lavender rank top in the league of relaxing herbal bath. You can DIY Ayurvedic Bath at home and prepare the pure bath for yourself.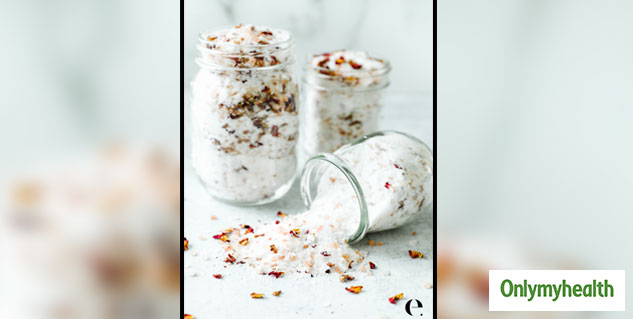 2 cups powdered milk, half cup baking soda
½ cup corn starch and baking soda
Chamomile loose-leaves
One teaspoon dried lavender-buds
Lavender 16 drops in essential oil
Chamomile 8 drops essential oil
You stress-relieving bath is prepared to shower purity. To make your bath salts at home add two tablespoons of salt crystals to the bathwater, along with essential oil of flowers like rose, lavender, geranium, neroli (orange blossom) or jasmine. Add five drops of any one essential oil to pure olive oil and then add it to the water along with the salts.
Some additives can also be added to bathwater
They help to remove fatigue, nourish the skin and even add fragrance, eliminating body odour. Jasmine oil is widely used in Asian countries combined with pressed oils or lotions to massage the body. Jasmine is said to have an uplifting effect on the mood and emotions. A few Jasmine oil drops can be added to bathwater along with a pressed oil or powdered milk. Jasmine is said to have an uplifting effect on the mood and emotions. Rosewater can also be added to bathwater. Or add 2 or 3 drops of Rose essential oil to a bucket of bathwater. Lavender oil can be used in baths too. It is said to tone and cool the skin. It is refreshing and relaxing.
Also Read: Is Drinking Neem Juice Good For Health?
Benefits of bath salts with essential oils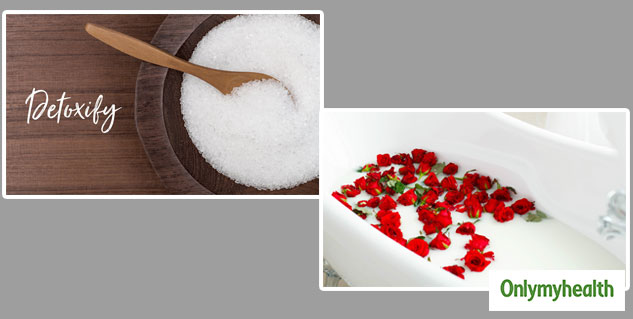 Bath salts are the most significant benefit to relieve muscle soreness after a long day of work and intense workout. Some experts believe that our skin absorbs salt quickly, due to which we do not feel pain. Here's how the bath salts work to provide you with ultimate health benefits.
Bath salts can remove fatigue, induce relaxation and ease muscular tension. They also help remove toxins and promote a general feeling of well-being, apart from nourishing and softening the skin. Some ingredients help to exfoliate the skin, leaving it cleaner and brighter. The idea of using bath salts came from the mineral springs or hot springs, which people frequent for their health benefits.
Apart from salts, do you know what it includes? Today's Bath Salts also contain many other ingredients, like oils and fragrances, to make the bath experience more enjoyable and luxurious. Bath salts are of real benefit if you can soak in a tub bath. If you cannot have a tub bath, don't worry as one can also use them as pre-bath treatments. Tie all the bath salts' ingredients in a clean cloth piece and rub them gently on the body. Or, mix the ingredients and rub the bundle on the body and wash off while bathing.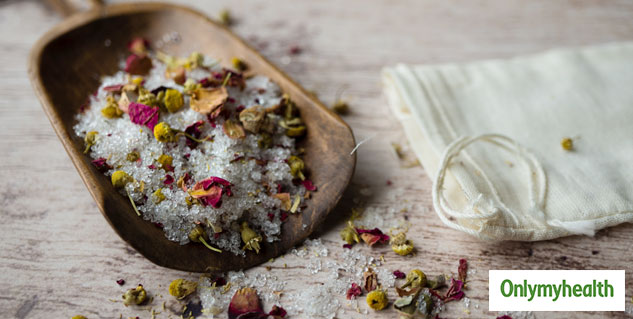 Eases Arthritis's pain: Bath salt can be used as a compress to reduce joint pain. People with rheumatoid arthritis feel much better than those who apply a compress. To do at home, first heat two cups of bath salt in one gallon of water. After that, take a shower/bath with that water, which will help reduce arthritis pain.
Good for sinus: Allow the bath salt to boil with water. When the water boils ultimately, steam it. You can also add rosemary or eucalyptus to remove the mucus deposited in the chest. Keep in mind that while doing this, keep a proper distance from the steam because it enhances the sinus problem further.
Bath salt as an exfoliant: Epsom salt, like other granulated salts, is also a good exfoliant, helping relieve dry skin. Mix two teaspoons of Epsom salt in a quarter cup of spherical oil and use it as a scrub where there is dry skin. If you want, you can use it from your lips to your ankles.
Helps reduce psoriasis: According to the National Psoriasis Association, salt baths are considered as a natural remedy in dealing with painful and itchy plaque. Yes, make sure to moisturize the skin after bathing because salt can make your skin dry, making psoriasis worse.
Cures eczema: The National Eczema Association recommends several saltwater baths to help soothe dry, itchy patches. Whether these skin patches are caused by eczema or for some reason, you can lighten them by bathing in the saltwater.
AYURVEDIC BATH – RESTORATION OF MIND, BODY AND SPIRIT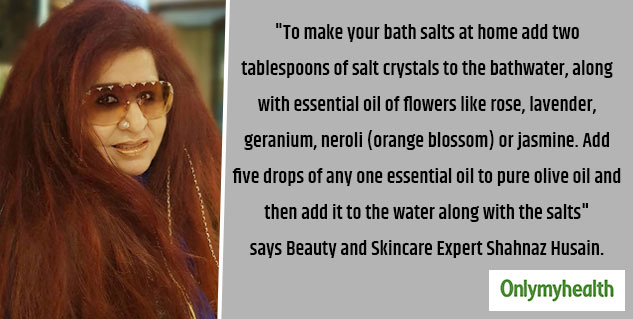 For others, it is just bathing, but in India, it is more than that.
Ayurvedic bath cleansing is an essential to-do before commencing routine activities of the day. Dr Chanchal Sharma states that bath means relaxation of tensed muscles, sweeping-off particles out of creased brow, ventilation of clogged pores, moisture restoration and disinfecting germs, and bacterial surfacing the skin. Ayurveda means pure, and Ayurvedic bath is Purity bath.
The herbal bathing objective aims to balance Vyana-Vata, Bhrajaka-Pitta and Shleshaka-Kapha sub-doshas as they are responsible for controlling air circulation, metabolic-activities and moisture balance. In ancient days, petals, milk, honey, and turmeric were used as herbal bathing ingredients, including sandalwood paste, but now there are more bathing elements in use.
Read More Articles in Mind and Body