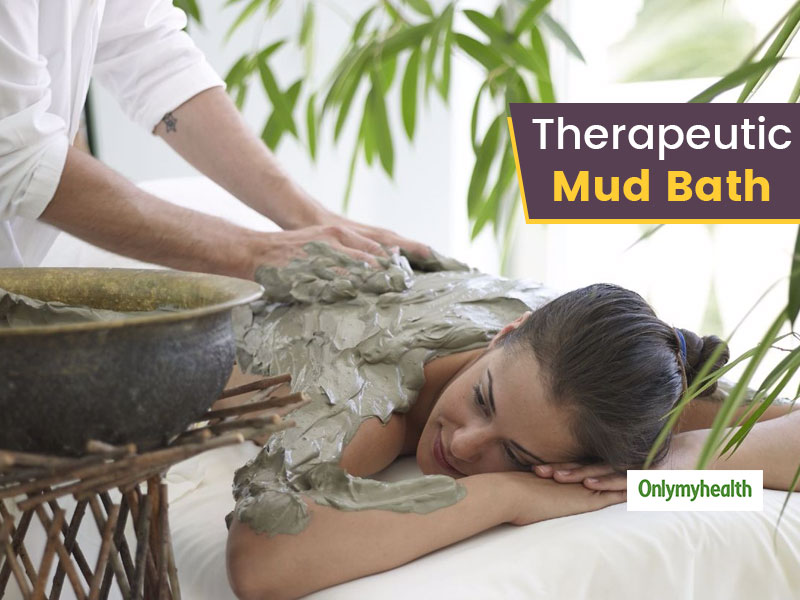 There is nothing better than nature and its by-products. Nature has given us so many things to heal ourselves. The soil contains minerals and other nutrients in abundance which makes it a holistic healer. Have you seen someone applying soil or mud on their wounds? The soil has anti-bacterial properties to prevent infections and control bleeding. To take advantage of the therapeutic health benefits of the Earth, mud therapy treatment is carried out. It is also popular as mud bath. It is difficult to believe but applying mud all over your body has wonderful results. There are plentiful benefits of mud bath including physical and psychological. Let us explore all the wonders of this therapy.
Mud Therapy Treatment In Brief
As per Ayurveda, a human body is made up of 5 elements- water, air, earth, ether and fire. You must have heard about these. Earth or soil/mud is one of these essential elements. It has the power to help the body heal and correct any internal issue or imbalance in the body. Mud has great detoxifying abilities and it helps in eliminating the toxins from the body. The benefits of mud bath don't end here. There is a lot more for you to read about this therapeutic mud bath.
5 Health Benefits Of Mud Therapy Treatment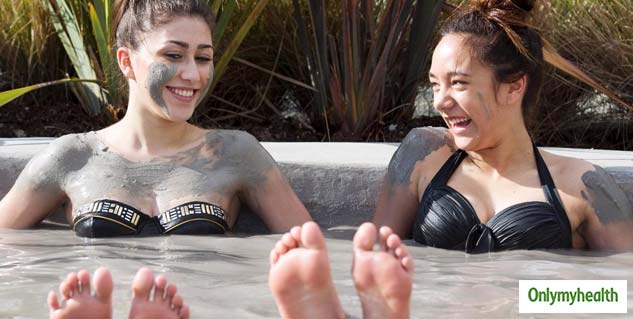 Mud Therapy Good For Skin
Skin gets the most advantage of a mud bath. Fuller's Earth or multani mitti which is a very popular skincare ingredient is also a component of Earth. Just like that applying mud on the skin is impeccably beneficial. As per Ayurveda, mud has the ability to control Pita dosh. It detoxifies the skin to eliminate all the impurities and get the natural glow. You may also try homemade clay mud masks to combat the effects of pollution on the skin.
Stress relief
Mud is a natural coolant which makes it apt to regulate body heat and control stress. Mud therapy has great importance in naturopathy and alternate therapies for mind and body. Nervous issues like stress, anxiety disorders, sleep problems, post-traumatic disorders, etc. can be treated with mud therapy. It helps in clearing blocked neural pathways to the brain.
Also Read: Try Foot Detox Therapy At Home To Detox Whole Body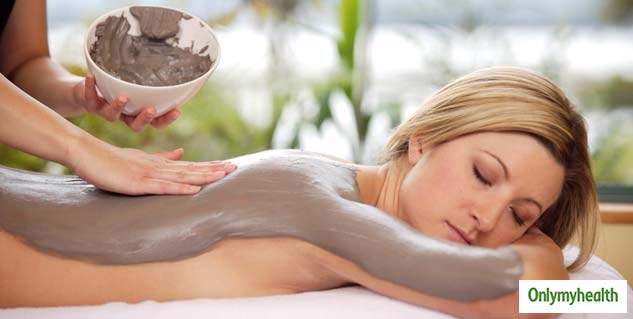 Better Stomach Health
The detoxification benefits of mud help in releasing toxins and other harmful chemicals from the body. Sometimes, these toxins are the reason behind stomach issues including indigestion, constipation, etc. Applying mud on your stomach would help in combating these issues. Navel Therapy is also good to cure stomach ailments.
Prevent fever and headaches
If you frequently suffer from fever and headaches, you may consider mud therapy for relief. Just apply a mud pack on your abdomen area. It will lower down the body heat which will instantly reduce body temperature. This is particularly good for summers to prevent heatstroke. It is easy and 100 times more effective than medicines.
Also Read: Get Rid Of Headache in Just 10 Seconds with This Massage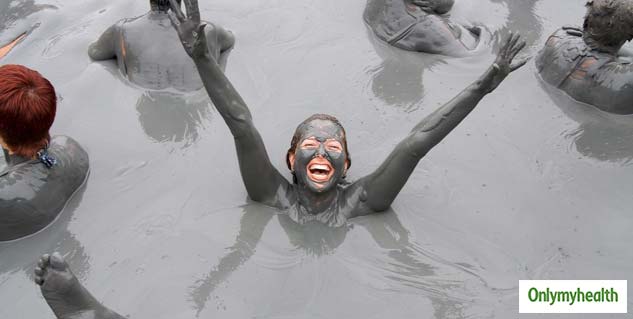 Good for eyes
People who spend a lot of time in front of computer screens suffer from eye problems. Ayurveda suggests applying a layer of mud on the eyes or walking barefoot in a mud bath to promote eye health. There are several studies promoting the effectiveness of this therapy in the prevention of age-related eye disorders like glaucoma.
Read More Articles in Mind and Body