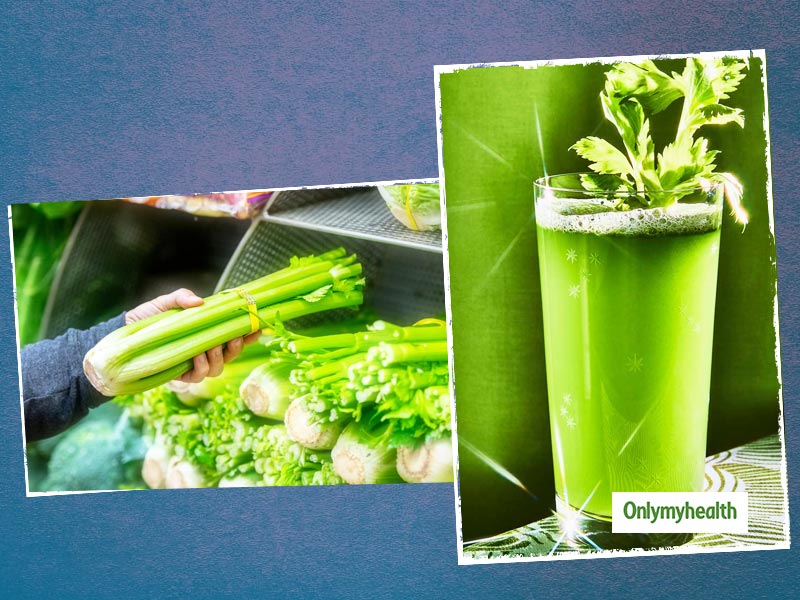 Celery juice recipe: Celery is a crunchy watery stick vegetable. We only seem to be able to eat with dips or in juice, but it certainly has its health benefits. Most of us are probably under the false impression that this vegetable just water and some fibre without nutritional value. This vegetable loaded with significant amounts of vitamin A, E, C, K, calcium, magnesium and potassium. It's anti-inflammatory and anti-oxidant benefits enhance the immune system and intercellular communication. However, most people said that consuming celery juice every day can cure conditions like cancer, obesity, thyroid issues and acne, but you may get shocked when you know which claims are dubious and which claims are backed by science. Celery has many medicinal properties such as cumin, dipentene, nicotinic acid, etc., which are very beneficial for health.
Dietitian Ritu Khaneja Shares Health Benefits Of Celery Juice
It keeps you hydrated: During summers, it is essential to keep yourself hydrated throughout the day, so celery juice is an excellent option you can include in your diet, and it's refreshing too. This has increased energy, improved complexion and a healthier human system in more.
Weight loss: Celery is low in calories. One stock is only 10 to 15 calories, and its fibre content of 1.6 g per cup can stop unhealthy cravings. Instead of munching out on crunchy calorie-heavy chips, substitute them with celery; this way, you can avoid going over your daily calorie limit.
It can easily be substituted with unhealthy beverages: It's an excellent option to replace your unhealthy drinks and sugary drinks with one glass of celery juice, and ultimately, this will help you that you do not end up having extra calories in your diet.
Boost male fertility: Eating celery has been found to increase a man's sperm count. Its aphrodisiac properties also create a healthy environment for sperm to mature. Including it in your daily diet is a great way to improve your overall health.
Anti-inflammatory: Adding celery to your diet reduces the risk for cardiovascular disease and cancer as it helps prevent chronic inflammation, which is a condition that is closely related to these diseases.
Keeps eyes healthy: Vitamin A is one of the main vitamins found in celery. It is known as the most capable vitamin for protecting the cornea and treating dry eyes.
Improves digestion: Celery's fibre content can help you keep your bowel movements healthy. It can reduce the risk of ulcers related to the stomach lining.
UTI treatment: Celery is a common and effective way to treat UT i's. Celery has a direct effect, so it helps to expel water without losing too much potassium.
Stop heartburn and acid reflux: Drinking celery juice every day have been recommended to solve these conditions because of their low acidic levels.
Improves cholesterol and blood pressure levels: Chemical found in celery reduce cholesterol levels and regulates blood pressure.
What are the after-effects of celery juice? Explains Nutritionist Jyoti Garg
High in sodium- Celery contains about 30 (mg) of sodium. People must be mindful of sodium, as a high-sodium diet may increase blood pressure, weight gain and cause fluid retention, which can contribute to more severe health issues.
A lack of fibre- Most celery juice is strained to remove its fibre; the fibre can help keep you full, and also, fibre helps your body digest other foods easily.
How to prepare celery juice? Tells Fitness Coach Jyoti Garg
Use one bunch of celery and cut off the base to separate the stalks.
wash them in clean water.
Chop the celery stalks into pieces and put them in the blender.
Add 1/4 cup of water and blend until smooth.
Now strain it and put it into the glass. (Drink immediately)
Celery juice nutritional value
(Just 1 cup of celery juice provides;)
Also Read: Know The Benefits and Uses Of This Medicinal Papaya Leaves
Calories: 42 grams
Protein: 2 grams
Carbs: 9 grams
Sugar: 5 grams
Calcium: 8% of the Daily Value (DV)
Magnesium: 7% of the DV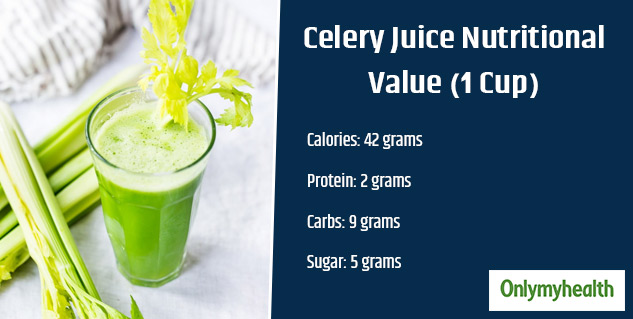 Phosphorus: 5% of the DV
Potassium: 14% of the DV
Vitamin K: 74% of the DV
Vitamin C: 16% of the DV
Vitamin A: 7% of the DV
Sodium: 9% of the DV
(It also has ample other nutrients and antioxidants.)
Also Read: Know Some Ayurvedic Benefits Of Cherry Fruit Juice
Nutritionist Jyoti Garg shares false claims about celery juice
It works as a detox- There is no specific drink in the universe that works as a detox. Yes, it's a fact because our body can be cleansing itself through the liver, faeces, urine, and sweat. Your liver makes toxic substances harmless, then ensures that they're released from your body.
Helps in weight loss- There is no specific drink that is going to help you in your weight loss until or unless you are not eating in a calorie deficit if you think you are going to hog on those junk food processed food and have this celery juice which you can compensate with unhealthy eating .so my friend let me tell you are not going to lose weight ultimately you are going to gain weight.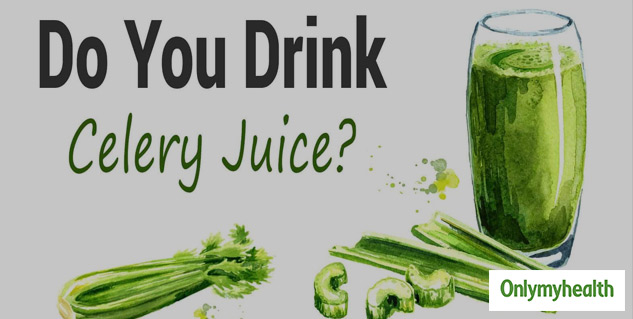 Celery Juice And Ayurveda
Celery is an ayurvedic medicine that is used in almost all Indian households. Celery is a type of Indian spice most commonly used in flavouring. Celery also plays a useful role in flavour improvement as well as health improvement. Celery has been used as a herbal medicine in Ayurveda since time immemorial. In all the homes, granny or grandmother gave Avavine hot water when someone had a stomach ache or any other stomach related problem.
Also Read: You Should Have Green Smoothie In Breakfast, Know Why
Ayurvedic benefits of drinking celery juice
Celery juice has many benefits. If any person has any stomach related problems such as gas problems, constipation, indigestion, sour belching, digestive system malfunction, then by drinking celery juice every morning in the morning, you can overcome all these problems forever.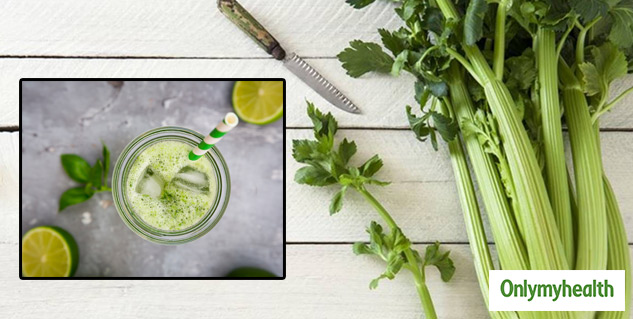 Helps to remove mouth odour and mouth-related diseases. Apart from this, if someone's teeth turn yellow or the teeth feel cold hot water, it also gives relief.
Kapha doshas, such as cold and catarrh, relieve the discomfort due to which the risk of asthma is reduced.
Celery juice is a panacea treatment to overcome the problem of diarrhoea.
Celery juice keeps the heart healthy, which does not cause heart disease.
Consumption of celery juice increases metabolism, which controls weight.
Even if someone gets sick in the stomach, celery water is beneficial.
Diabetes can be controlled by the daily consumption of celery juice.
Helps in digesting food and relieves constipation problems.
Relieves pain in pain and relieves problems like a migraine.
People who have problems with sleep or laziness while working in the office drink lukewarm juice or a glass of celery, then the issue of sleep will be relieved and fresh throughout the day.
Ayurvedic side effects of celery juice
Celery gives us benefits in every way and keeps our health good, but if you use it cost-effectively, it can also cause side effects.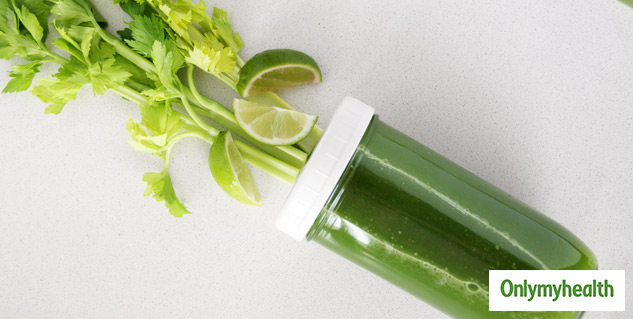 Do not consume celery juice in large quantities because excessive intake can irritate as celery is hot.
Before consuming celery, please consult a good Ayurvedic doctor.
Excess intake can cause vomiting, nausea and headache.
Note: All these ayurvedic remedies and remedies have been received during the interaction with Asha Ayurveda's childlessness expert Dr Chanchal Sharma.
Read more articles on Healthy Diet