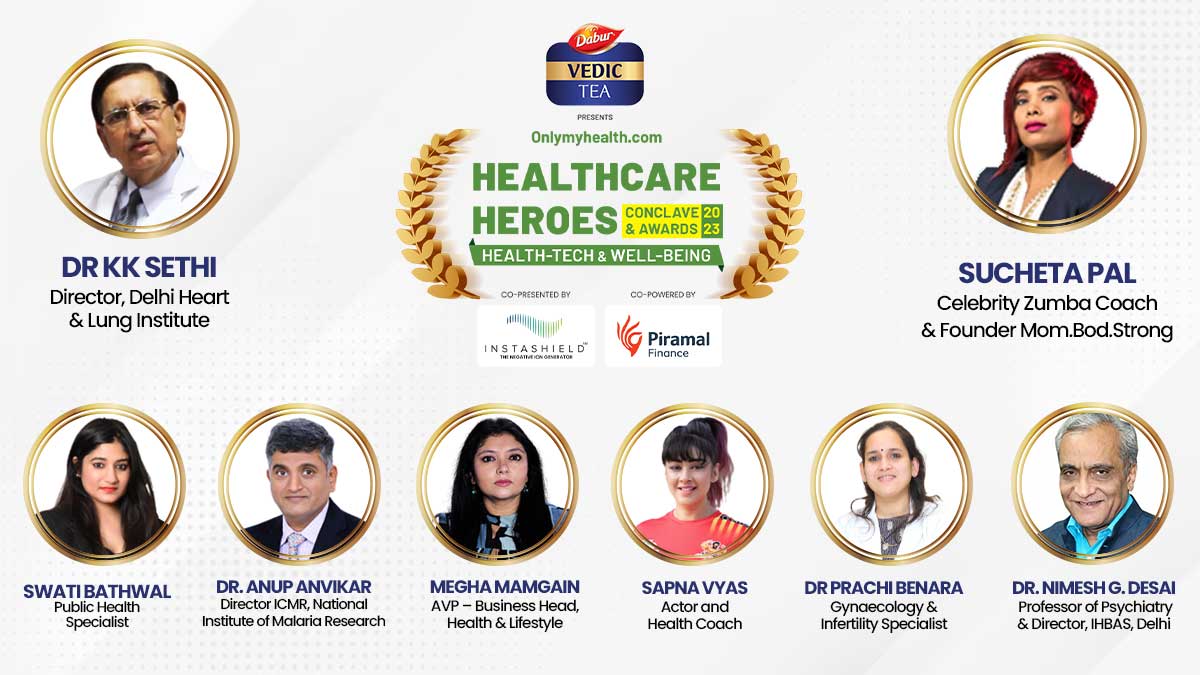 Every industry has been impacted by modern technology and the internet, and the healthcare industry is no exception. Today, the healthcare industry in India is quickly getting organised thanks to technology and growing startups. Additionally, maintaining one's well-being in today's fast-paced world is extremely difficult. Paying attention to your emotional health, consuming a balanced diet, exercising, and other healthy habits are crucial.
Almost all aspects of health are covered in OnlyMyHealth's Healthcare Heroes: Health-Tech & Wellness Conference & Awards 2023. The awards ceremony, presented by Dabur Vedic Tea and co-presented by InstaSheild and Piramal Financial, will be held at the Lalit Hotel in Delhi on March 5, 2023. At this ceremony, health professionals, experts in the field, businesspeople, and cutting-edge medical technology will be honoured. Sri Sri Ravi Shankar, a prominent spiritual figure, humanitarian and peace envoy, will attend this year's event as the Guest of Honor.
Also Read: Healthcare Heroes 2023: Unsung Mental Health Warriors & Their Inspirational Journeys To Success
Meet The Jury
OnlyMyHealth is proud to introduce you to the jury panel for its third edition of the Healthcare Heroes Awards.
Dr KK Sethi
Padma Shri awardee Dr KK Sethi is a renowned Indian cardiologist, medical academic and administrator whose contributions to cardiology are widely recognised. He is particularly known for performing the first catheter ablation procedure in India. He has been honoured with numerous accolades throughout his career, including the Legend in Cardiology Award from the Delhi Medical Association and the Andrew Gruentzig Distinguished Interventional Cardiologist Award from the Cardiovascular Society of India. He serves as the chairman and managing director of Delhi Heart and Lung Institute and has previously held leadership positions in several prestigious medical societies, including the Cardiological Society of India and the Indian Society of Electrocardiology.
Also Read: Healthcare Heroes 2023: Celebrating The Heroes Of Holistic Wellness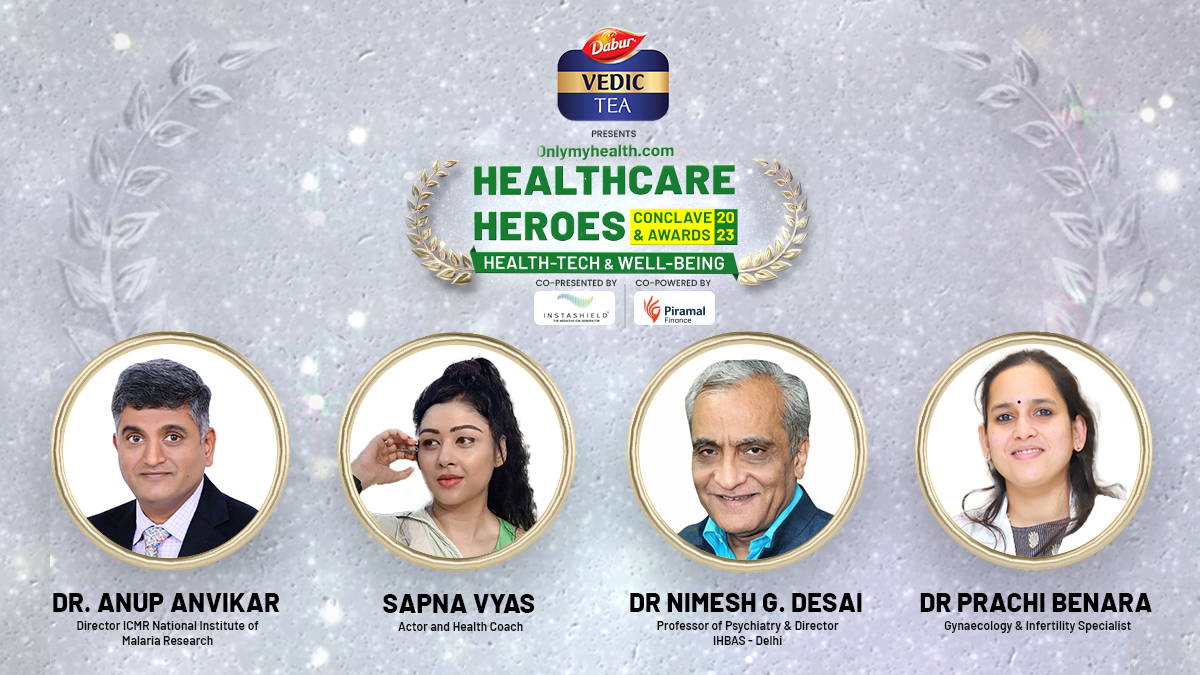 Dr Anup Anvikar
Dr Anup Anvikar is a renowned scientist currently serving as the Director of the Indian Council of Medical Research (ICMR) and the National Institute of Biologicals under the Ministry of Health and Family Welfare, Government of India. With a deep passion for improving the diagnosis and treatment of infectious diseases, Dr Anvikar has dedicated his career to developing and ensuring the quality of diagnostic tools for diseases like malaria, chikungunya and dengue. He is particularly proud of establishing the only South-East Asian WHO-recognised malaria RDT lot testing laboratory at ICMR-NIMR, one of the three such facilities worldwide. Dr Anvikar's research has had a significant impact on global health, and his peers in the scientific community highly respect him.
Also Read: Healthcare Heroes 2023: Acknowledging Heroes Who Nurture With Nutrition
Dr Nimesh G. Desai
The former head of Delhi's Institute of Human Behaviour & Allied Sciences is Dr Nimesh Desai, one of the most renowned figures in the nation's psychiatric community. He has worked at the top medical institute in Delhi, AIIMS, for 10 years. He is currently the director of the psychiatric division at the National Institute of Mental Health & Neurosciences in Bangalore. He is renowned for his excellent work addressing and healing mental illness, shattering societal stigmas and taboos associated with it.
Also Read: Healthcare Heroes 2023: Recognising Fit India Icons
Dr Prachi Benara
Having worked in the area of reproductive health for more than ten years, Dr Prachi Benara is a skilled infertility expert. With extensive knowledge and training in obstetrics and gynaecology, in-vitro fertilisation (IVF), intrauterine insemination (IUI), and medical ultrasound, she has helped numerous couples achieve their dream of parenthood. As the Consultant and Centre Head of Birla fertility and IVF, Gurgaon, Dr Benara has established a reputation for delivering exceptional care and results. A post-graduate in Reproductive and Sexual Health from the University of South Wales, Dr Benara is also a gold medalist in MBBS. Her success rate in the field of artificial reproductive technology speaks volumes about her dedication and proficiency in helping her patients.
Also Read: Healthcare Heroes 2023: Out Of The Box Fitness Heroes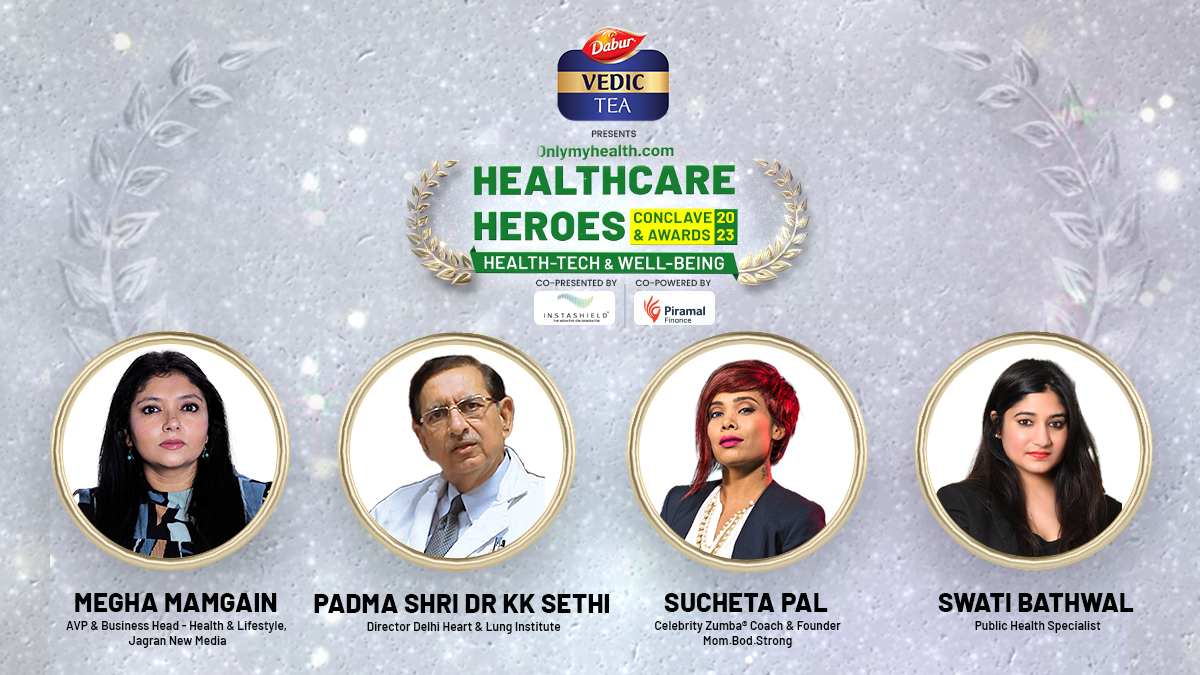 Sucheta Pal
The President's Award-winning celebrity trainer Sucheta Pal is credited with introducing the zumba exercise regimen to India. Gauri Khan, Yami Gautam, and Bipasha Basu are just a few celebrities Sucheta has taught over the past 10 years. Her motivational story, which began as an engineer and continued as a worldwide exercise presenter in 20 nations, is also highlighted on TEDx, particularly her battle in overcoming anxiety.
Also Read: Healthcare Heroes 2023: Heroes Breaking Beauty & Fitness Stereotypes
Swati Bathwal
Swati Bathwal is a published author, TEDx speaker, podcaster, accredited sports dietitian, nutritionist, credentialed diabetes educator, accredited anthropometrist, and an accredited practising registered dietitian. She is one of the few dietitians in the nation who is educated and qualified to provide body composition analysis. She has taught and instructed a number of young dietitians to help them succeed in their careers.
Also Read: Healthcare Heroes 2023: Recognising Innovators In Health-Tech
Sapna Vyas
Sapna Vyas, a health coach, has been named a cultural brand ambassador appointed by the Indian government's Ministry of Culture. She is a top content creator for Forbes and a prominent daily columnist with leading newspapers. She is a well-known media figure and TEDx speaker. In March, her film '20 Hours' is scheduled for release.
Also Read: Healthcare Heroes 2023: Shoutout To Moms Balancing Motherhood & Fitness
Megha Mamgain
Senior journalist Megha Mamgain has worked in television and digital media for almost 20 years. She has ensured high journalistic standards and credibility for the products she leads in her capacity as Associate Vice President and Business Head for Health and Lifestyle at Jagran New Media. Megha has won numerous business honours for her editorial and leadership abilities.
Also Read: Healthcare Heroes 2023: Trailblazers Breaking Taboos Around Sexual Wellness
The third annual Healthcare Heroes Awards by OnlyMyHealth were decided upon by this highly competent and trustworthy jury panel, which studied each nominee, brainstormed and pondered during a conference, and chose the best candidates for Healthcare Heroes.