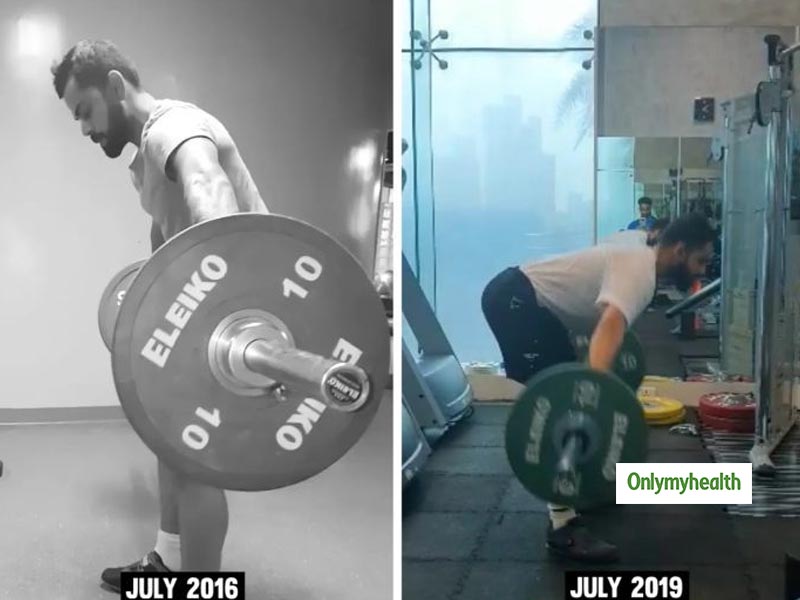 Virat Kohli is one of the most fittest players in the Indian cricket team. Virat recently shared a video in which he is seen lifting weights.
Virat Kohli New Fitness Video: Virat Kohli is one of fittest player of the Indian Cricket Team. Kohli is known as the run machine and loves to remain in the headlines with his social (Instagram) media posts. Virat often keeps posting his fitness videos to inspire the youth. Whether Virat is on the field or off the field, he takes full care of his fitness. Virat recently shared a video in which he is seen lifting weights. Along with this, he has said that one needs to be patient to learn something new.
While captioning the video, Virat wrote, "It always takes a little time to use the right technique before lifting weights. This exercise started 3 years ago, regular work and attention towards technology have also improved my mobility and overall body strength. So one should always be patient while learning something new. ''
Virat does not compromise on his fitness and therefore his exceptional fitness is reflected in his game. Virat Kohli has worked hard to stay fit, which he has already told in many television shows. For this, he has followed a diet plan and also sweated in the gym for hours. Virat is well aware that the entire success of a player depends on his exercise, diet, and fitness.
Also Read: Belly Fat Exercise: 5 Workouts For A Flat Stomach And A Slimmer Waist
Virat prefers home-cooked food
Virat Kohli loves homemade food and does not like restaurant food much. Although, while Virat travels, he prefers to eat lamb chops or pink salmon.
View this post on Instagram
Virat doesn't like junk food
Virat Kohli's fitness is due to his distance from junk foods. Instead of eating unhealthy fast food, Virat follows the prompt diet. Virat likes to eat wheat crackers instead of fried chips.
Also Read: Tips To Tone Your Body Smartly
Virat always stays hydrated
Water is the biggest source of your good health, and Virat Kohli takes special care on being hydrated. He only drinks mineral water. He mostly drinks Evian water which comes from France.
Virat Kohli likes to eat grilled (roast) chicken, cheese dishes and blend food. Virat avoids eating unhealthy oily food. He likes to drink black coffee with dry fruits and nuts.
View this post on Instagram
Virat Kohli knows the importance of exercise and he does workouts in the gym for hours. Exercise not only makes your muscles strong but also increases your appetite and keeps you healthy.
The vegan diet is very popular among people and they are more attracted to it due to various health reasons. The vegan diet is a particularly vegetarian plant-based food. The vegan diet is devoid of all animal products, including eggs and dairy.
Read more articles on Exercise & Fitness