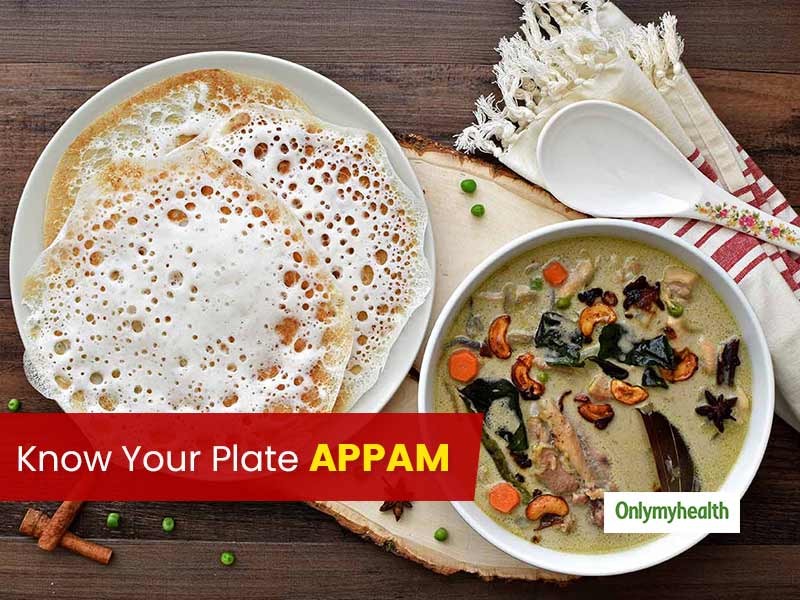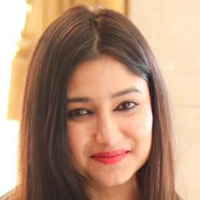 Healthy Diet
Reviewed by: Swati Bathwal, Dietitian and Diabetes Educator
Published at: Dec 31, 2020
Written by: Tavishi Dogra
What is Appam? Appam is an ancient and traditional South India recipe, mainly in Kerala, Tamil Nadu and Sri Lanka. This is a slightly different recipe that is cooked only on the appam pan. It is a South Indian pancake dish made with fermented rice batter and coconut milk. It can be made and served in sweet and savoury varieties, with the centre of it having either a creamy, coconut milk layer or a sunny side up-style fried egg. Appam is usually served for breakfast. Appam is suitable for health as it contains useful nutrients and protein. It is low in calories, so it helps in keeping obesity away and maintains good health. Simultaneously, it reduces the deposition of cholesterol and fat from the body, which reduces the chances of heart stroke. Similarly, there are many benefits to eating it for breakfast too. Let's know about those benefits.
Why should you consume appam at breakfast?
Appam is fermented, thus rich in vitamin B12, which is easy to digest and makes it a healthy balanced breakfast and keeps you away from gastric problems like acidity or constipation. What is Appam eaten with? Appam is usually eaten with coconut chutney, coconut milk, seafood stew, vegetable stew, curry etc. Can the batter be kept in the fridge? Yes, the leftover Appam batter can be stored in the refrigerator for up to two days. The next time. If you are making the Appam batter, mix the excess Appam batter with the fresh Appam batter instead of mixing the yeast mixture which wouldn't affect the quality of Appam.
Also Read: Know What you Are Eating When You Are Devouring A Samosa
Here are some health benefits of eating Appam
Beneficial in gastric problems, acidity and constipation: When it comes to your diet, you should remember that abstinence is essential because eating as much of the healthiest food as possible can help you consume the calories you need and even give you these gastric problems. In this case, Appam in breakfast can be beneficial for people with gastric issues like constipation. Idli uttapam, Rawa dosa, poha, and upma, like appam, can be a good breakfast option. They are low fried, high calorie and rich in nutrients. Also, by using less oil and more vegetables, you can further increase the goodness of your South Indian breakfast.
Boost Your Immunity And Overall Health: Traditional ingredients used in making South Indian dishes include spices like curry leaves, turmeric, rai, etc., all of which have healing and medicinal properties. In this way, it can heal your hurt and pain as well. Spices contain fresh and traditional ingredients (used in South Indian cuisine). Simultaneously, it is also beneficial in strengthening the immune system. At the same time, its antioxidant properties are also considered very helpful for the body. Besides, you can also include Appam in the post-workday diet. For people with leaky gut or Hashimoto's thyroid or any autoimmune condition, it is a great alternative meal.
Help you lose weight: Nuts, veggies and pulses used extensively in South Indian foods make for an excellent source of fibre, complex carbohydrates and protein. All this makes it a balanced, healthy snack, which is easy to digest. Consuming appam can remain satisfied and energetic for a long time. Thus, we avoid unnecessary food. This will not make you hungry again and will also help in losing weight. At the same time, most of the items from this dish are also low in calories, making an excellent snack for those who want to lose weight.
Beneficial for intestinal health: Starting the day with just the right food, your whole day can pass quickly and energetically. Appam is perfectly healthy and a perfect meal for a nutritious breakfast. Many foods from South Indian cuisine such as Appam are fermented and thus enriched with Vitamin B-12. So they are easy to digest and are suitable for your intestine. In this way, it is beneficial for your entire digestive system in every way.
Ingredients for Appam
Mrs Manjari Chandra, Founder - (Manjari Wellness) says that "a pancake unlike any other, Appam is crisp and thin. Appam ingredients include a mixture of cooked and uncooked rice, yeast, salt, coconut milk, sugar, and water. It is prepared either a night before or very early in the morning only after the yeast is fermented for 8 to 12 hours, with the batter turning bubbly and light."
Also read: Do You Know Green Bananas Can Aid Weight Loss? Read Other Health Benefits
Method of making Appam (Coconut and Rice Pancakes)
Add 2 cups of regular rice and 1 cup of parboiled rice in water for 5 to 6 hours, drain it, add the required amount of water with drained rice into the grinder and grind all the ingredients.
Grind till a smooth flowing batter is ready.
Keep the mixture in a warm place or keep it in the fridge for the whole night. Heat a pan and add a bitter mixture.
Stir the pan, allowing the mixture to spread all around and take shape—Cook for three minutes.
Serve it when the edges turn light brown.
Try this healthier alternative to Appam
Contents shared by Mrs Manjari Chandra, Founder - (Manjari Wellness)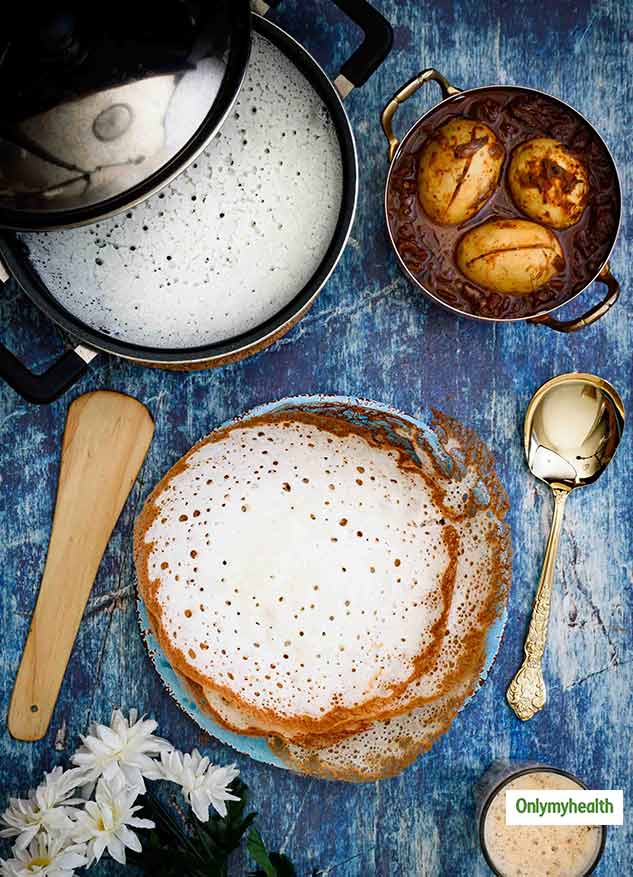 One and a half cup sprouted mix grains (Moth, gram, soya bean, groundnut etc.) Or Moth only (buckwheat)
1/4 cup chopped coriander leaves
1/2 tsp green chilli paste
1/4 tsp cumin seeds
1/4 tsp asafoetida
Oil (to cook)
Salt to taste
Onion mint sauce for serving
Sprouts Appam
Add the sprouted grains and 1/2 cup water to the mixer and grind them until they become soft. Mix all other ingredients well in the mixture.
Pour 1/4 tsp of oil on a non-stick mini four pan and pour 1 tbsp of the batter one by one.
Using a little oil, cook till it turns golden brown from both sides of the pan.
Similarly, prepare the remaining solution by pouring it into the mould.
Serve hot with mint and onion chutney. This is an exciting and nutritious way to include sprouted grains in your diet.
Here are some nutritional facts of appam
Macronutrients Nutrition Values(grams) and Daily Values(%)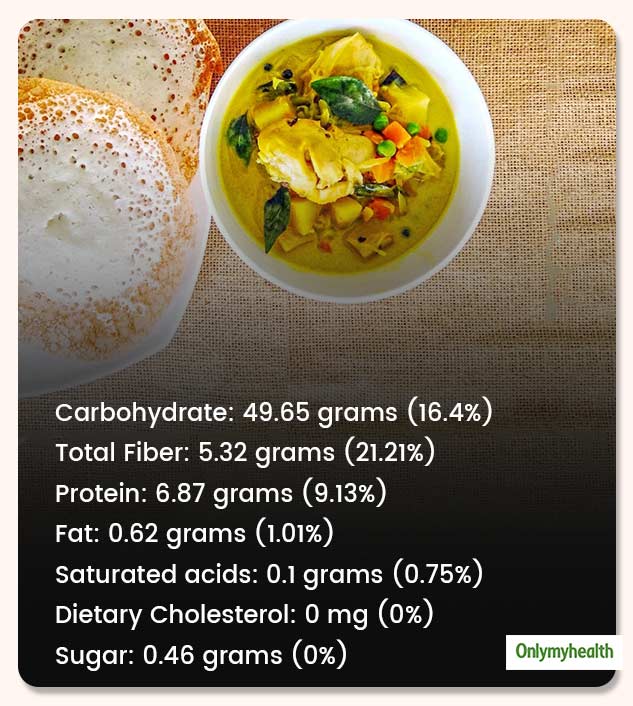 Carbohydrate: 49.65 grams (16.4%)
Total Fiber: 5.32 grams (21.21%)
Protein: 6.87 grams (9.13%)
Fat: 0.62 grams (1.01%)
Saturated acids: 0.1 grams (0.75%)
Dietary Cholesterol: 0 mg (0%)
Sugar: 0.46 grams (0%)
How many calories does one appam contain?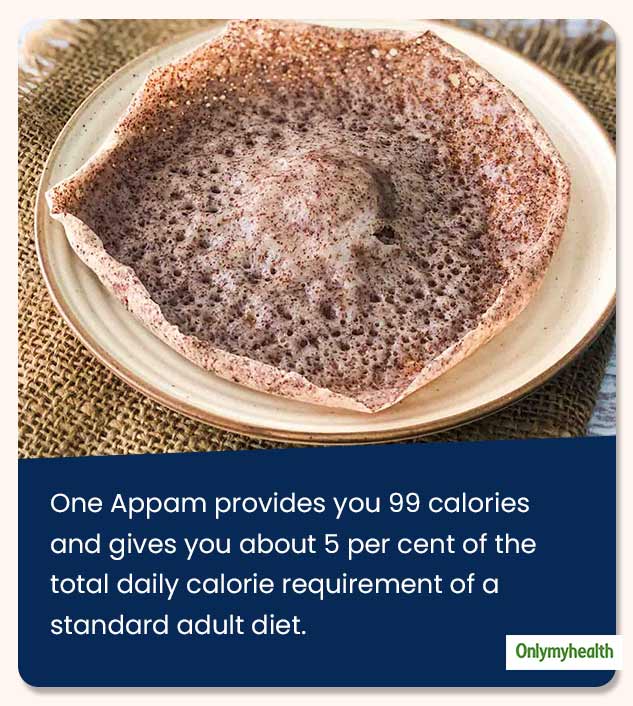 One Appam provides you 99 calories out of which carbohydrates contribute 77 calories, proteins contribute six calories, and fat contributes remaining 16 calories. One Appam gives you about 5 per cent of the total daily calorie requirement of a standard adult diet of 2,000 calories. Coconut milk contains potassium that is beneficial for those with high blood pressure. It is low in GI, making it beneficial for diabetes. The lauric acid is present in coconut milk, which improves heart health and positively affects cholesterol levels. South Indian food usually is cooked in coconut oil, which is very good for your skin, hair and heart health. Besides, many items of this dish are used for cooking. The steam cooking method used can ensure that your oil intake is under control. In this way, you can take special care of your calorie intake.
Also Read: Low-Calorie Protein-Packed Gram Flour (Besan) Recipes To Reduce The Belly Fat
What exercises did you need to perform to burn off Appam?
Exercises to burn off Appam are: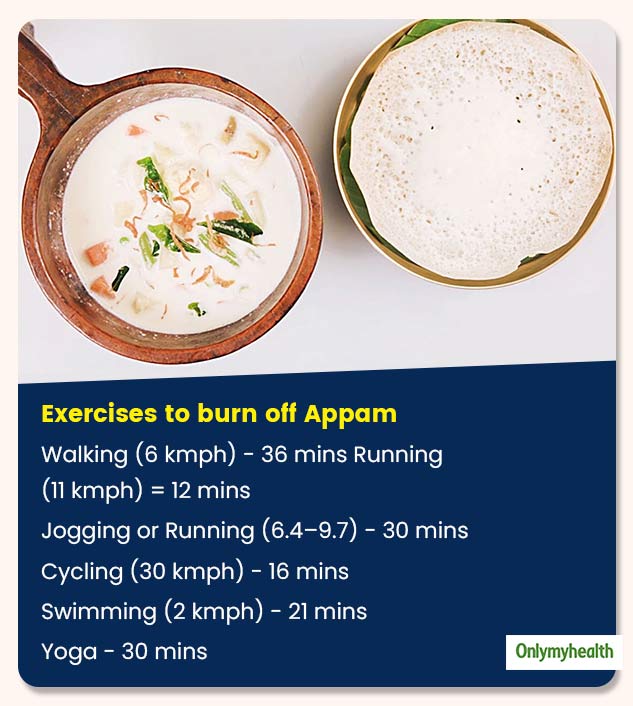 Walking (6 kmph) - 36 mins Running (11 kmph) = 12 mins
Jogging or Running (6.4–9.7) - 30 mins
Cycling (30 kmph) - 16 mins
Swimming (2 kmph) - 21 mins
Yoga - 30 mins
What is the difference between appam and dosa?
"Appam is a pancake dish with the centre of it having a creamy, coconut milk layer and a sunny side up-style fried egg and can be made and served in both sweet and savoury varieties with coconut milk, seafood stew, vegetable stew, curry etc. A dosa is a rice pancake dish made from a fermented batter consisting of lentils and rice and is served with coconut chutney, sambar etc." states Mrs Manjari Chandra, Founder - (Manjari Wellness).
Read more on Healthy Diet