Know Your Plate: Do You Know About The Nutritional Facts Of Broken Wheat Pulao?
Know Your Plate: Arabs used broken wheat or cracked wheat or dahlia or Bulgan wheat or lapsi, meanwhile Roman's, and Egyptian form 1000 BC says that it has a warm fragrance when roasted and cooked to various type of dishes. In India, broken wheat is used to prepare Kheer, upma, pulao, besibela bhaath. Middle East country use it for tabbouleh salad, Haleem. Arabs make harees a porridge cooked with broken wheat and chicken. Cracked wheat is denced with vitamin, minerals and fibre. The fibre content reduces the risk of chronic heart disease, maintain blood sugar levels, improves gut health and help reduce weight.
Health benefits of broken wheat
Weight loss - The fibre and protein content of cracked wheat takes long to digest improve metabolism, suppress hunger and activates weight-reducing hormones.
Helps Relieves constipation - The high fibre content of broken wheat is due to the husk of the grain which helps smooth bowel movements cleanse the intestine and prevent constipation.
Suitable for diabetic patients - Broken Wheat contains complex carbohydrates and is low in glycemic index. This helps in slow digestion and steady release of glucose in the blood, which helps in managing blood sugar for a long duration.
Helps build muscle mass - broken wheat is a rich source of protein, good carbs and is also loaded with minerals and vitamins which help in recovery post-workout.
Maintains cholesterol levels - It helps in maintaining the cholesterol level of the body due to high fibre content, and is thus healthy for the heart.
Broken Wheat Reduces Asthma - The broken wheat is rich in Vitamin E and Vitamin E, which protects the respiratory system. It also reduces the narrow airways and is ideal for bronchitis.
Broken Wheat Reduces High Blood Pressure – It is zero in cholesterol and has deficient fat. Helps to perform the cardiovascular functions effectively and helps in thinning of the blood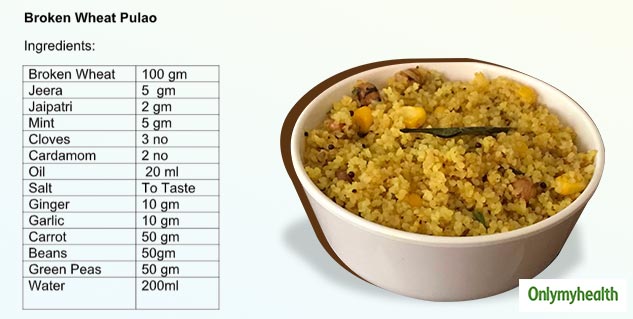 Method of Preparation
Add oil to the frying pan and add whole spices and sauté onion ginger-garlic paste. When the onions turn translucent, add vegetables and sauté till vegetables arevcooked. Add broken wheat and salt. Let it cook for 2-3 min. Add two & 1/2 cups of water and one drop of oil. After the ingredients are cooked, take off the heat. Serve it hot.
Nutritional facts about Broken Wheat Pulao
1 Serving Size (1/2 cup – 75gm) – 260 kcal
Protein – 6 gm
Carbohydrate – 60 gms
Fats – 1.2 gm
Dietary Fiber – 1. 4gm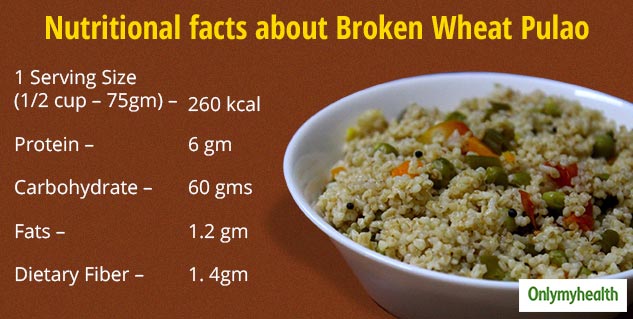 What Does a Broken Wheat Pulao Contain?
Broken Wheat Pulao
Vegetables
Salt
Spices
Oil
What activities do you need to burn off Broken Wheat Pulao?
One cup of Broken Wheat Pulao is equals -
40 min of a brisk walk
30 min of power yoga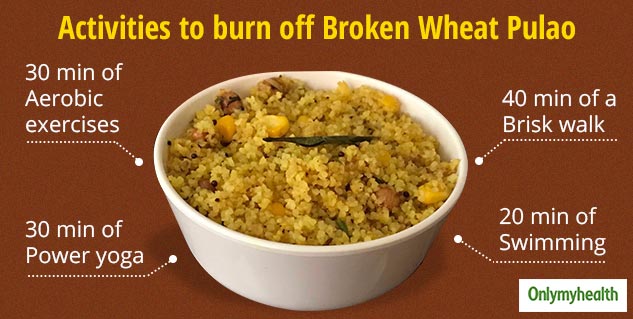 30 min of aerobic exercises
20 min of swimming
Is it possible to tweak the unhealthy recipe to the best out of those tagged as junk foods? Yes, it is possible. Here are some examples:
Masala puri chaat- swap to channa chaat
Sugar-based chocolates- swap it to dark chocolates with stevia
Aloo Tikki- swap it to vegetable, peas sweet potato Tikki
White flour-based chicken roll/momos- exchange it to whole wheat/millet-based chicken roll
Ready to eat noodles/pasta- exchange it to millet noodles / whole wheat pasta
(Inputs by Ms. Pavithra N Raj, Chief Dietician, Columbia Asia Referral Hospital Yeshwanthpur)
Read more articles on Healthy Diet