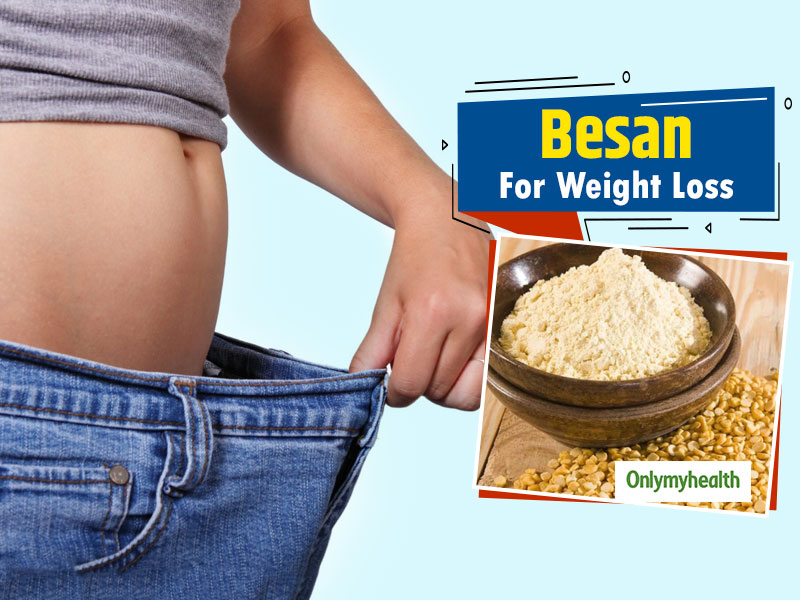 One can experiment with a lot many delicious dishes with gram flour. This ingredient has a special place in Indian kitchens due to its many nutritious benefits on the body. We all love to relish on deep-fried pakoras or besan chillas. However, besan can be used in a much healthier way to aid weight loss. Gram flour is made from gram, which is a good source of protein for the body. By including besan in your daily cooking, you can supplement your diet with some extra protein, which can help reducing weight.
Gram Flour (Besan) For Weight Loss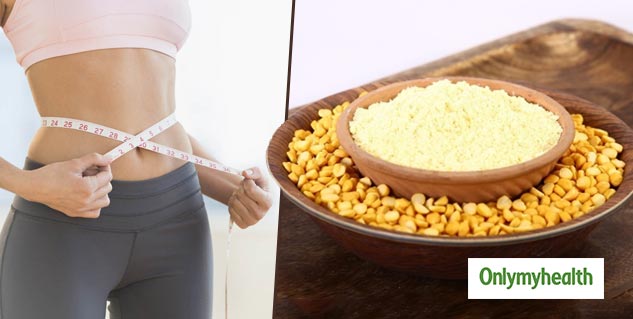 Gram flour contains fewer calories than wheat flour. Therefore, by replacing gram flour with wheat flour can help you cut down on calories. Apart from this, researchers claim that having pulses and gram flour together can reduce sudden hunger pangs and keep the stomach full for a longer time. Apart from this, gram flour is packed with fibre, which enhances the digestive system. By consuming gram flour, the metabolism of the body becomes better, due to which your body burns more fat than usual. Besan is low on the glycemic index. The amount of carbohydrates in gram flour is very less, and the protein is more, which helps in reduction in weight.
Also Read: Beauty Benefits of Besan for All Skin Types
Packed With Nutrients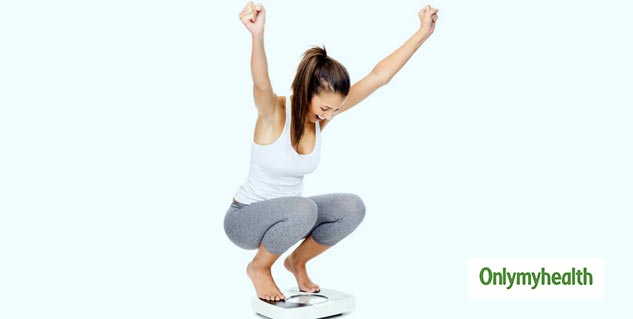 Gram flour contains a lot of nutrients, which are beneficial for the body. It contains only 387 calories and 7 grams of fat in 100 grams. It is packed with 58 grams of carbohydrates and 11 grams of dietary fibre, which keeps your stomach full for a longer time. Apart from this, 64 milligrams of sodium, 22 grams of protein, 846 milligrams of potassium, calcium, iron, vitamin B6, magnesium etc. are found in the same amount of gram flour.
Also Watch: Gram flour (besan) face pack for different skin types
Low-Calorie Besan Recipes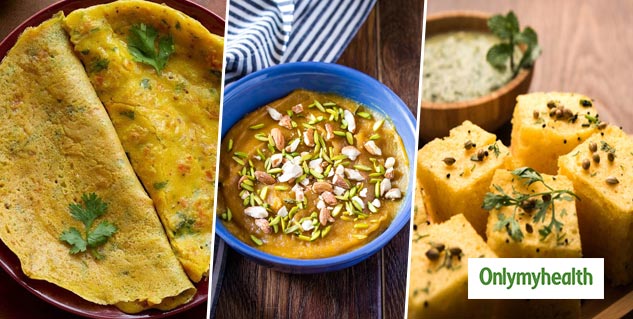 Many low-calorie delicious dishes can be made quickly with gram flour. You prepare and eat these dishes for breakfast and see the difference in your weight loss pattern:
1# Dhokla - This delicious snack made entirely of gram flour can be easily made at home. This famous Gujarati snack made at home contains mere 45-50 calories as it is steamed. Dhokla can be eaten in the morning breakfast or with tea in the evening snacks. This is great to control sudden hunger pangs without adding much weight around your waist.
2# Chila (Flatbread) - Gram flour chila makes for a great breakfast option. Use a non-stick pan to make this chila for maximum health benefits. The batter is of watery consistency and can be spiced up by adding herbs, garlic and green chillies.
3# Gram flour Rotis - If you cannot survive without roti in meals, you can make Rotis out of gram flour as well. For this, mix half and half quantity of gram flour and wheat flour and knead it in thick consistency. Those who like their rotis thin, take less gram flour and more of wheat flour.
4# Gram Flour Halwa - Besan halwa is prepared by roasting besan and adding milk to it. To make it healthy, add very little sugar in it. You can also add low-calorie sweeteners to make your dish extremely healthy.
Read more articles on Weight Management