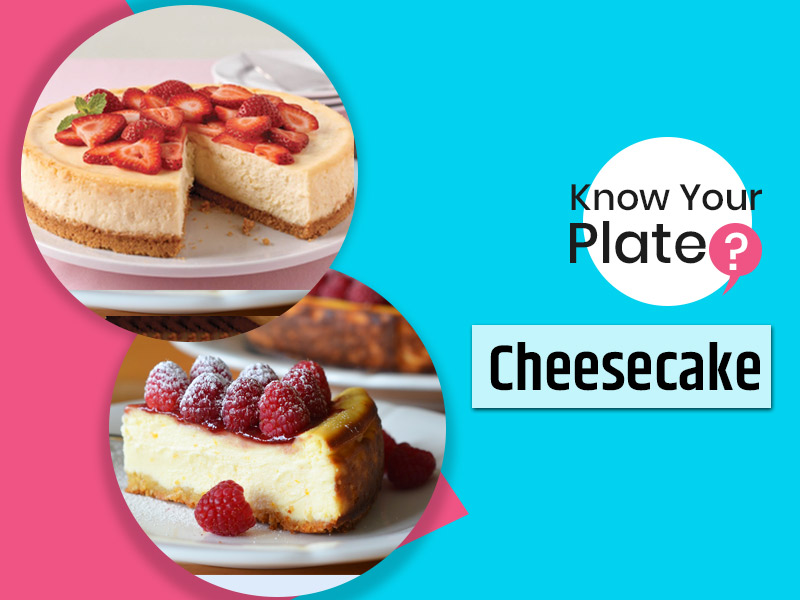 Know Your Plate: Whether you have devoured a whole meal that leaves no space in the tummy or whether you have had a long-drawn day at work and need something to feel good, a vanilla marble Philly cheesecake is always there to rescue you. A vanilla marble Philly cheesecake is enticing yet easy to make and melts in your mouth like a piece of heaven. It is so soft, creamy and requires essential ingredients and very little time in the kitchen. A traditional vanilla marble Philly cheesecake has a graham cracker crust with a top layer of cream cheese, icing sugar and vanilla extract. The graham cracker crust is made exactly like how you would for any other cheesecake. For the upper layer of a vanilla marble Philly cheesecake, mix the rest of the ingredients (cream cheese, vanilla extract, icing sugar) and blend it well until everything is combined. (If you wish to cut down on your fats intake and want to take a healthier route, you can use low-fat cream cheese). Then pour this mixture on the graham cracker layer (crust) and refrigerate for up to six hours. Six hours and voila, your low on effort yet mouth-watering vanilla marble cheesecake is ready. Let's change the taste of your mouth with the great flavour of Vanilla Marble Philly Cheesecake. It is effortless to make and is a cake recipe that does not require much work. The easiest recipe that gives you a cheesecake that melts in your mouth like a piece of cotton candy, leaving you with a burst of beautiful vanilla beans and the graham cracker crust balances out everything pretty well.
Vanilla Marble Philly Cheesecake Ingredients
150 gms graham cracker crust
360 gms whipping cream
455 gms cream cheese
1 tsp vanilla extract
150 gms icing sugar
1/8 tsp salt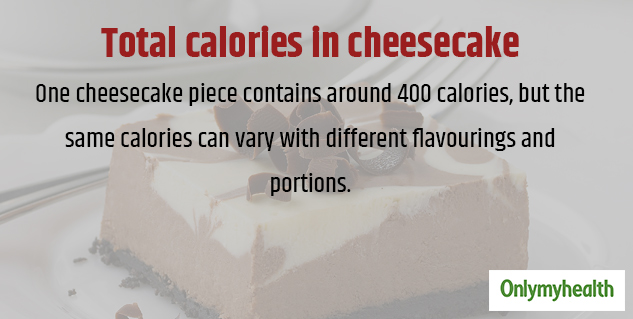 Recipe By Bansari Bhagat, Founder, Trupt
Step 1: To prepare this tempting dish, mix cream cheese, icing sugar, vanilla extract, salt in a bowl. Please give it the right mix and transfer it to a blender and blend it in a smooth paste. Gradually add whipping cream to it and whisk the mixture for about 3-5 minutes.
Step 2: Pour the prepared filling on the graham cracker crust and chill it for about 5-6 hours. Once done, serve chilled.
Strawberry Cheesecake Ingredients
6-8 (For Garnishing) Strawberries
Three tablespoons butter
Three tablespoons water
250 grams Strawberry
200 g Glucose Biscuits
1 cup yoghurt
3/4 cup sugar
1 tbsp gelatin
1 cup cream
Strawberry Cheesecake Recipe
Blend the biscuits and add butter to them. After this, please put it in the pot of your choice and keep it in the fridge to cool.
Put the strawberries and sugar together and grind them. After this, mix yoghurt and cream and grind it again.
Then mix the gelatin in four teaspoons of water and integrate it into the strawberry mixture made.
Pour this mixture over the base of the biscuits made. Keep it up for the whole night. Serve using strawberries for garnishing.
Cheesecakes should be eaten straight from the fridge, but it is also suggested to run them through the microwave for 10-12 seconds and eaten from the narrow end, so it's still cold and almost cold as you bite into it. Do not gorge on it but instead take small bites that allow you to enjoy the taste in every single bite. It is a sensory experience, so sit back and enjoy!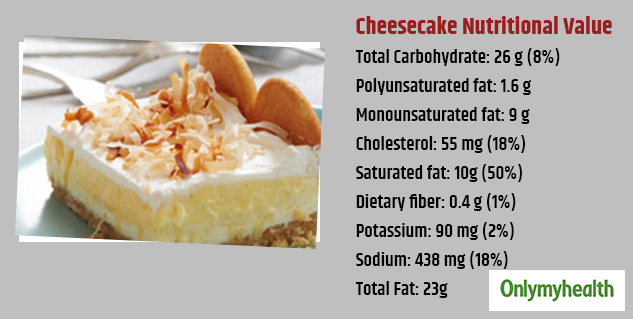 Nutritional value in one slice of cheesecake by Nutrition Expert Jyoti Garg
(Amount Per -100 grams)
Also Read: Got Bitten By A Mosquito? Rubbing Honey On The Bite Can Provide Relief
Total Carbohydrate: 26 g (8%)
Polyunsaturated fat: 1.6 g
Monounsaturated fat: 9 g
Cholesterol: 55 mg (18%)
Saturated fat: 10g (50%)
Dietary fiber: 0.4 g (1%)
Potassium: 90 mg (2%)
Sodium: 438 mg (18%)
Total Fat: 23g(35%)
Protein: 6 g (12%)
Vitamin B-6: 5%
Magnesium: 2%
Vitamin A: 10%
Cobalamin: 3%
Vitamin D: 4%
Vitamin C: 0%
Calcium: 5%
Sugar: 22 g
Iron: 3%
Note- Nutritional value of cheesecake can vary from portions to portions flavours to flavours above is the nutritional value of raw cheesecake.
What are the healthier alternatives to bake cheesecake at home?
So, if we say that you can bake cheesecake at home with healthier choices, doesn't it sound delicious that you can enjoy a healthy version of cheesecake with higher nutritional value? Yes, you can. Substitute sugar with maple syrup, cream cheese with Greek yoghurt instead of topping it with the cream frosting, rather than ending it with lots of fruits like berries.
Also read: Keep your Heart Healthy with these 5 Foods
Keto Lemon Cheese Cake
Here is the complete process to make Keto Lemon Cheesecake.
Make fresh paneer with whole fat milk for about an hour before making the cake.
Prepare Greek yoghurt or Hung Curd a day in advance.
If you have a piece of cream cheese, use 8 ounces of it.
Start mixing them by adding cheese and Greek yoghurt to the mixer.
Add lemon essence and sweetener and mix it.
Once the sugar dissolves appropriately, start adding eggs to it. Now add salt and mix it again.
Process for Cheesecake Crust
Add softened butter and sweetener to the mixer and start mixing the two.
Now add egg and keep stirring.
Then add almond flour and salt.
Add it for two minutes, and then add cocoa.
Place a baking tin and spread this cookie crust in it.
Bake at 250 degrees for 6.45 minutes. Let it cool completely.
Once the crust has cooled, add cheesecake filling.
Now, please place it in the oven and bake at 250 degrees for 1 hour 25 minutes. Or until its crust is golden and your knife comes out clean while cutting the cake.
What are the side effects of consuming cheesecake?
Cheesecake is a year-round favourite, but this decadent dessert isn't doing your waistline any favours. Here are the side effects of consuming cheesecake-

Also Read: Know Your Plate: A Sinful Plate Of Steamed Veg Momos and Spicy Chutney
Quick Baking Tips By Bansari Bhagat, Founder, Trupt
This soft cake recipe consists of crunchy cracker crust and consists of cheese cream, vanilla extract, whipping cream and ice cream sugar.
Please keep in mind to make the best vanilla marble Philly cheesecake to use full-fat cream cheese to get a creamier texture and taste for your cheesecake.
Another trick to make the best swirls is to drop jam/fruit filling with a piping bag on your cake and then use a toothpick to make perfect swirls.
The best toppings for a cheesecake are fresh fruits, fruit compote, cherry pie filling, molten chocolate or chocolate shavings, caramel, to name a few.
Exercises to burn off one slice of cheesecake by Fitness Coach Jyoti Garg
Let's compare our favourite high-calorie food to the amount of exercise required to burn it off.
Also read: Think Before You Throw A Banana Peel In The Dustbin. They Are Edible, And Healthy Too
Twenty-five minutes of CrossFit Burpees.
Twenty-four minutes of Running!
Thirteen minutes of Jumping Rope!
Thirty-seven minutes walking at an average pace!
What is the difference between a simple cake and a cheesecake? Cheesecake is a pie made of sweetened and flavoured cottage cheese or cream cheese, eggs and milk on a crunchy base. A simple cake is a sweet, creamy dessert food, typically made of sugar, eggs, flour, baked often covered in icing and an oven. Total calories in one slice of cheesecake: One cheesecake piece contains around 400 calories, but the same calories can vary with different flavourings and portions to portions.
(With inputs from Jyoti Garg, Founder of Yogaplanet Nutrinaturals, Nutrition Expert, Fitness Coach and Yoga Instructor)
Read more articles on Healthy diet