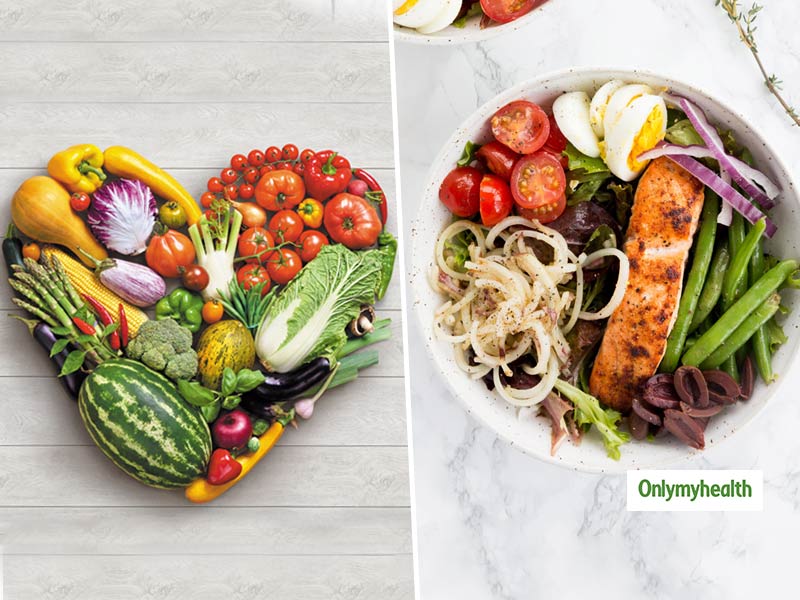 The Mediterranean diet is based on only fresh, natural, and unprocessed food, which reduces the risk of heart stroke and disease by 30 per cent.
How to start the Mediterranean diet plan? Everyone wants to keep themselves fit! But with so many diet plans in the market today, it has become challenging to understand which one to opt for. Have you heard about the Mediterranean diet? It is most beneficial for your heart. Let us tell you about the Mediterranean diet and its health benefits. This diet is based on the food people used to eat in Italy, and Greece ate in the 1960s. The food is based on the people here. The emphasis is laid on green vegetables, fruits, and grains in this diet. Fish, red meat, dairy products are consumed once a week. Following this diet reduces weight, diabetes, heart attack, stroke and type 2 diabetes. What not to eat in the Mediterranean diet? Do not absorb the sugar in this diet at all. You can take a little wine (once in a while) instead of a dessert.
Benefits of the Mediterranean diet
According to a recent report, the Mediterranean diet is the healthiest diet for people with diabetes, plant-based and easy-to-follow. The Mediterranean diet is rich in antioxidants, vitamins and minerals.
Improves digestion: The Mediterranean diet focuses on grains, which include plenty of fibre. Fibre gives you relief from constipation and increases the digestive system.
Beneficial in weight loss: The Mediterranean diet is based entirely on fruits, vegetables and grains. Sweet is completely blocked, which is the main reason for weight gain.
Beneficial for diabetes and heart diseases: This diet does not include any sugar, so you have sugar control. Apart from this, fish, red meat is healthy for your heart.
Why Is Mediterranean Diet Known Heart-Healthy Diet?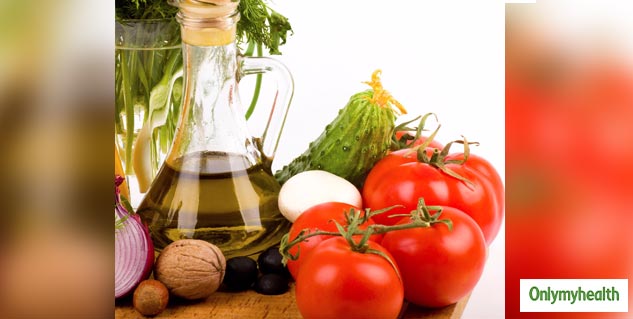 Research circulated in The New England Journal of Medicine (this February) found the Mediterranean diet such a potent heart protector that it reduced the risk for deaths and strokes from heart disease by 30% compared with a regular low-fat diet. The Mediterranean diet's main components include consuming vegetables, fruits, legumes, whole grains, healthy fats, olive oil, flavorful spices and herbs. Weekly intake of seafood, fish, poultry, nuts, cheese, beans and eggs—moderate portions of dairy products. The MedDiet (Mediterranean diet), rich in monounsaturated fat, abundant in minimally processed plant-based foods, but lower in saturated meats, dairy products and fat, seems an ideal nutritional model for cardiovascular health. Olive oil is the central origin of added fat in the Mediterranean diet. Olive oil gives monounsaturated fat, low-density lipoprotein and lower total cholesterol ("bad" or LDL) cholesterol levels. Seeds and nuts also contain monounsaturated fat. By adopting this diet for a long time, you can remain more healthy. Besides, it reduces the risk of cancer, cognitive diseases, obesity and type 2 diabetes.
Also Read: New Year Special: 4 Healthy Egg Substitutes To Bake Eggless Goodies To Celebrate 2021
Heart-Healthy Mediterranean Recipes as provided by Chef Ishijyot Surri, Executive Chef, SJI Hospitality and Foods Private Limited
Tabbouleh
Ingredients:
Quinoa (Boiled and drained) – 30 Gm
Broken Wheat (Soaked Overnight) – 20 Grams
Parsley (Chopped) -20 gm
Tomato (Chopped) - 40gm
Onion White (Chopped) -40gm
Extra Virgin Olive Oil -2tbsp
Sumac Powder -5gm
Salt-To Taste
Lemon Juice-1 Tbsp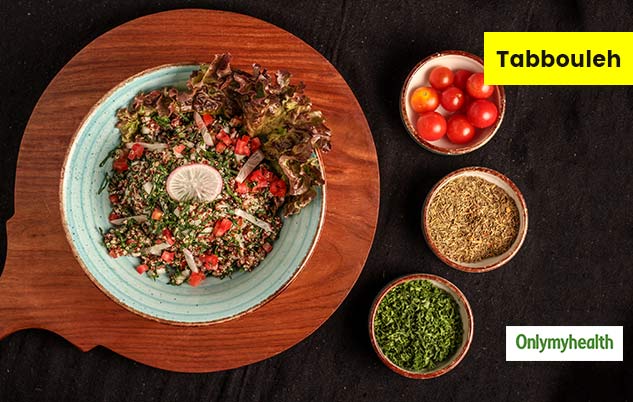 Method:
To make the filling: In a tiny dish, mix the extra virgin olive oil and lemon juice. Whisk it well to form an emulsion.
Add salt to taste and sumac powder; mix it well. The dressing is ready.
In a mixing bowl, mix the boiled quinoa and soaked broken wheat.
Add the chopped tomatoes and onions. Toss it well.
Add the chopped parsley and again toss it well.
Add the dressing made prior and toss it well again.
Tabbouleh is ready to be served.
Turkish Style Pumpkin Patties
Ingredients
Pumpkin (Peeled and steamed) – 250 grams (ensure the excess water is drained)
Soaked couscous – 300 grams (ensure the excess water is drained)
Sumac Powder – 5 grams
Salt to taste
White pepper powder to taste
Sugar – 1 pinch.
Crushed garlic – 2 to 3 cloves
Olive oil as required for searing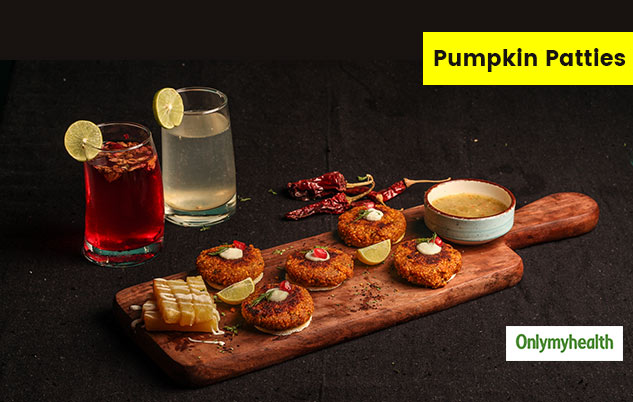 Method
In a mixing bowl mash, the steamed pumpkin and add the soaked couscous.
Add salt and white pepper powder to taste. Add sumac powder.
Add the crushed garlic cloves with a pinch of sugar and mix it well to form a homogenous mixture.
Divide the mixture into approximately 15 to 18 equal parts. Shape each piece as a patty.
Heat the pan on a stove and drizzle some olive oil.
Place the patties on the heated pan and pan sear it on both sides.
Drizzle some more oil if required.
Cook the patties till it forms a thin crust on both sides.
The patties are ready to be served.
Yoghurt Soup
Ingredients
Yoghurt -130 grams
Water - 250 ml
French beans (blanched and chopped) – 100 grams
Dill leaves (chopped) – 2 tbsp.
Salt -as per taste
Sugar-1 pinch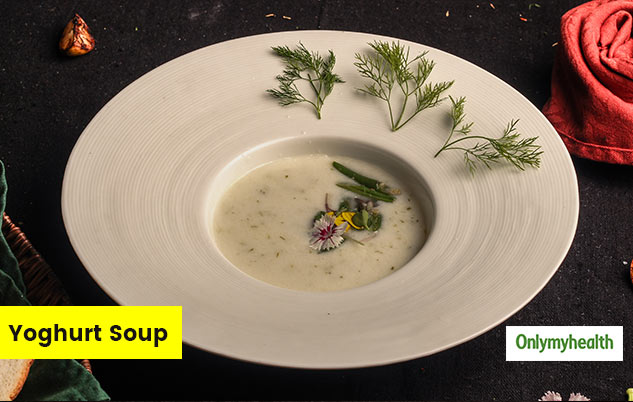 Method
In a mixing container, whisk together the yoghurt and water to form a homogenous mixture.
In a deep bottom pan, boil the yoghurt and water mixture. Later simmer it for 5 to 8 minutes.
While it's been simmered, add the chopped dill leaves, salt to taste and one pinch of sugar.
Add the blanched and chopped french beans.
After it's been simmered, take it off the flame and serve it.
Moroccan Red Lentils Soup
Ingredients
Red lentils- 60 grams
Vegetable Stock – 120 ml
Onion white chopped – 25 grams
Garlic crushed -4 cloves.
Celery chopped – 5 grams.
Olive oil – 5ml
Carrots chopped – 5 grams.
Turmeric powder – 1 pinch
Cumin Powder – 1 pinch
Salt to taste
Black pepper powder to taste
Cilantro-for garnishing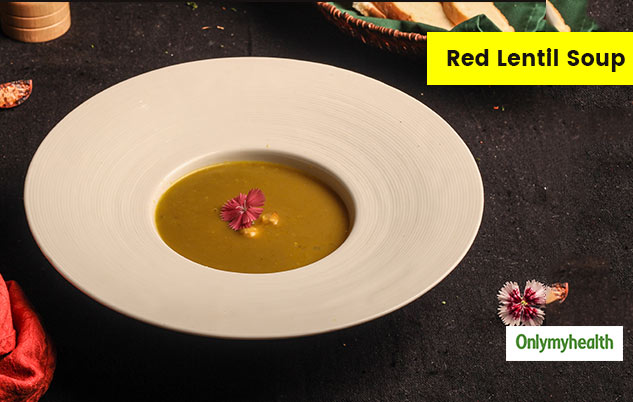 Method
In a pan, add crushed garlic, chopped onions and celery, sweat till soften while heating olive oil. Add chopped carrots and sauté them.
Add red lentils and sauté them. Add turmeric powder, cumin powder, salt and black pepper powder to taste.
Add green vegetable stock and bring it to a boil. Later simmer it for 8 to 10 minutes by covering the pan.
Check if the carrot and lentil are soft enough and crushed between the fingers.
Again, boil it till the stock is reduced to half.
Cool it down. Make a puree of the mixture into the blender.
Heat it again before serving if required. Garnish it with a cilantro sprig.
Do's and don'ts in a Mediterranean Diet
What to do?
Eat Vegetables, fruits, nuts, seeds, legumes, potatoes, whole grains,
Bread, herbs, spices, fish, seafood and extra raw olive oil.
Eat-in moderation: Poultry, eggs, cheese and yoghurt.
Take a glass of red wine with dinner.
What not to do? Red meat and beverages containing sugar, sugar, processed meat, refined grains, refined: oils and other highly processed foods.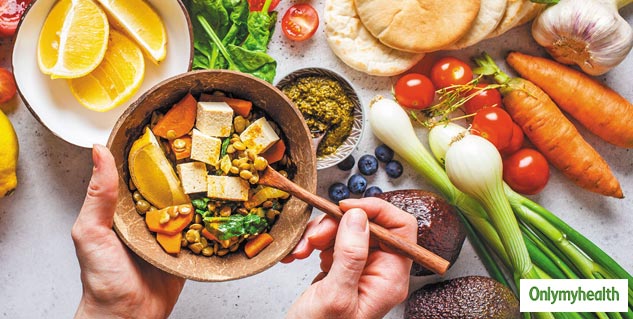 Limit these food items while on a Mediterranean Diet
Avoid foods containing sugar: soda, candy, ice cream.
Processed cereals and meat: white bread, pasta with refined wheat, etc.
Processed oil: Soybean oil, canola oil, cotton oil and others.
Highly Processed Foods: Everything labelled 'low fat' or 'diet'.
Read more on Healthy Diet