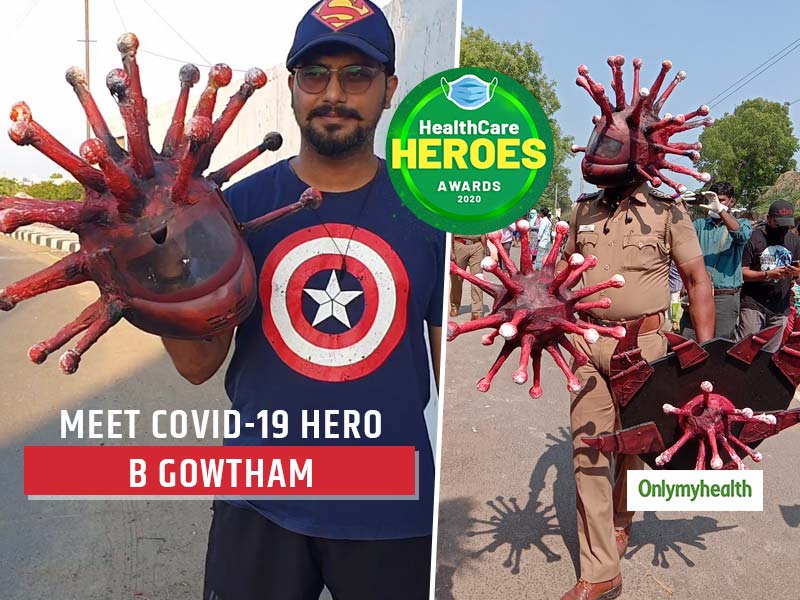 Category : Awareness Warriors

Vote Now
Who : B. Gowtham
What : Created a virus-shaped helmet that was used by traffic police on roads
Why : Spreading awareness about staying indoors in a unique manner
A new virus has struck the world. COVID-19 was quickly claiming lives and rapidly spreading. By the 23rd of March, the death toll had reached over 14,000. The infections had crossed the 3 lakh mark as per the World Health Organization's global figures. Indian government announced a nationwide lockdown the very next day. Uncertainty and doubts loomed large. And from amidst uncertainty rose a few heroes, who decided to join the war against coronavirus.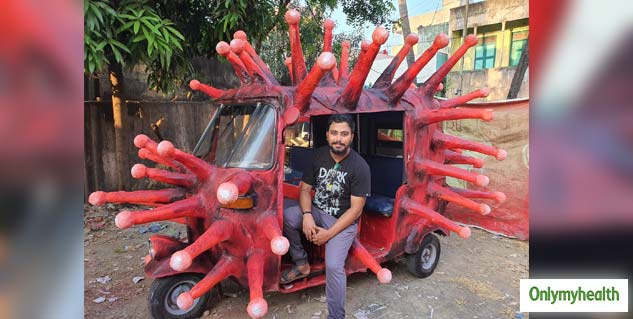 Onlymyhealth.com is honouring these heroes in its first edition of Healthcare heroes awards where we have diligently and in an unbiased manner, selected the most powerful stories in different categories. Read on to find out what B Gowtham has been chosen as a contender for Awareness warrior in Best Out Of The Box Idea.
The 'Viral' Coronavirus Helmet
B Gowtham, a young artist from Chennai is the brains behind the famous corona-helmet. Four days after the Janta curfew was announced, a photograph of a policeman in Chennai wearing a bright red, customised helmet with tentacle like arms jutting out was an instant hit. The helmet caused quite a stir and effectively was able to drive the message of "stay at home or get infected"- mission accomplished!
Also Read: How To Sanitize Packages Before Taking Them Inside Home? Know From Top Infectious Disease Expert
The cop was Rajesh Babu who Gowtham approached to discuss the idea of a visual representation of the deadly virus. The police, already struggling to make people aware of the seriousness of the situation, were quickly on board. Once the helmet was ready and worn by Rajesh Babu, it not only caught the headlines but also made the impact that it was made for.
"I remember Rajesh Babu telling people to not go out for silly errands else the virus will infect them, and one person fell on his feet and promised he will adhere to lockdown rules," says Gowtham.
The Making of The Helmet
Gowtham had been following international news on COVID-19 since December and realised that lack of awareness was a major impediment in stopping the spread of infection. On the first day of the lockdown on 24th March, he made a coronavirus themed placard from an old cardboard box. Accompanying the police for the awareness campaigns he saw that people were still venturing out for trivial reasons during the lockdown. Gowtham wanted to make a deeper impact by creating a visual portrayal of the virus, something tangible which would stick in people's minds. After a few hours of conceptualisation at his studio, Gowtham came up with the out-of-the-box idea of the now famous, Coronavirus helmet. A firm believer in recycling and sustainability he took an old broken helmet, some old plastic caps, newspapers and tissue and made the Coronavirus helmet. He used the leftover red paint to give it final touches.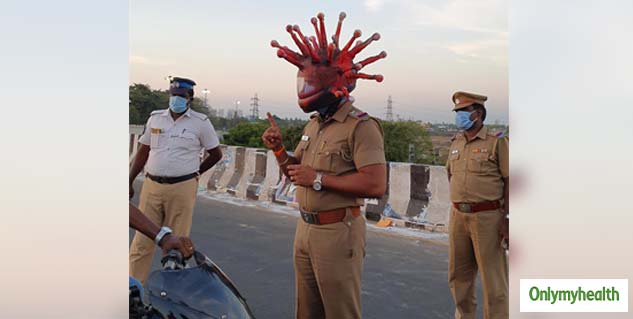 "I think artists can impact society and they can make a huge difference," says Gowtham. And that is exactly what the Coronavirus helmet did, it caught the people's fancy and went viral. After Chennai, the coronahelment was also sported by the Bangalore police.
Fight COVID-19 Through Art
Every subsequent week Gowtham created new artwork with his dedicated team of 5 assistants, working on strict deadlines, racing against time to spread awareness. The next week this marvel comic fan, came up with a Coronavirus themed mace, from a broken volleyball and a shield to express the strength Coronavirus was gaining and to spread concern amongst the people. The one meter long mace also denoted social distancing and the shield represented protection.
WATCH: B Gowtham in Conversation With Onlymyhealth:
The week after that Gowtham made scarecrows, with heads resembling the Coronavirus. Forty scarecrows were installed at different traffic intersections across Chennai. Gowtham calls this phase a high point in his career. It has been 7 months and Gowtham's fight against the pandemic is not showing signs of slowing down. He also created Coronavirus themed three-wheeler autos.
Not New To Spreading Awareness
B Gowtham had been raising social awareness for many years through his Walk For Plastic program, an initiative started single handedly by him. It is a movement which has spread to many countries. Although he studies mechanical engineering, Gowtham has followed his passion for art and has been using it to raise awareness about the environment as well.
Also Read: Beware! Here's How Can You Catch Coronavirus Unintentionally
If B Gowtham's work during this pandemic has inspired or moved you, do cast your vote for him. Here is how you can vote for your favourite nominee for Jagran New Media & OnlyMyHealth's HealthCare Heroes Awards.
Read more articles on Mind & Body