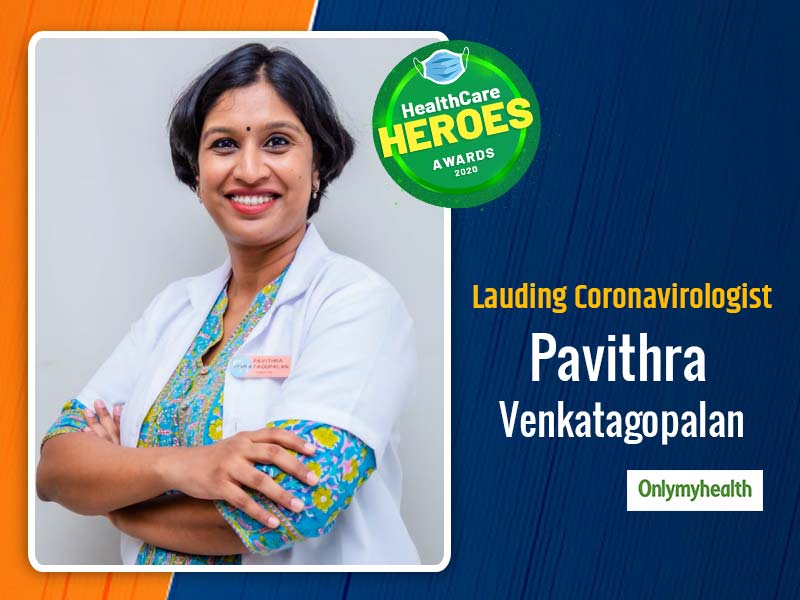 Category : Awareness Warriors

Vote Now
Who : Pavithra Venkatagopalan
What : Awareness warrior in informing people about COVID myths and facts
Why : Saving the world from misinformation
If there is one thing that is spreading faster than the COVID-19 virus, it is the fake news around it. Covid19 being a new strain of coronavirus, got with it, a barrage of myths. Whatsapp forwards circulated miriad 'cures' of corona. From alcohol to cow urine, from hot baths to copious amounts of kadha, the lists of bizarre home cures were just the tip of the fake news iceberg. And thus the job of those who bust these myths became equally important in this pandemic. Under Onlymyhealth's Healthcare Heroes Awards, the category of Awareness Warriors is an initiative to recognize the work of heroes who bust the myths and cleared misinformation. Meet our hoax buster nominee, Prof Pavithra Venkatagopalan, Ph.D. scholar from Arizona State University in Tempe Arizona, currently settled in Chennai.
Also Read: Myth Vs. Fact: Can Wearing Face Mask Cause Carbon Dioxide Toxicity?
The Unheard Story of Pavithra: Studies Coronavirus for 7 years
Pavithra is a self-confessed "nerd" with a fascination for viruses. Which is what led her to pursue a research on coronavirus. An otherwise private person, Pavithra has turned a crusader against fake news and myths around Covid19.
"I studied the coronavirus for 7 years, obviously then nobody cared about it when I was doing my Ph.D. in it. But all of a sudden it is making news every single day, " says Pavithra.
6 months ago Pavithra would keep her social media accounts under privacy lock & key, today she is on every media platform emphasising correct information is key to fighting the pandmedic.
Talking about what made her come forward and inform people of the difference between myth and fact, Pavithra says, "There were so many memes on COVID-19 back then when it had just started in February 2020. There was so much wrong information floating around, I wondered if anyone would be interested in hearing facts about this virus. That is when my father asked me to 'fact check' some information through a talk in his college alumni group. Someone from the Tamilnadu Science Forum heard me speak and asked me to come and speak in the Forum."
That lecture at the Tamilnadu Science Forum snowballed into media interviews, radio shows, TV appearances. When people saw a scientist, someone who had actually studied the virus, refute fake claims at the back of scientific evidence, they quickly got on board.
Busting Bizarre Theories
Pavithra has been appalled and amazed at the kind of fake news forwards. "You may think it is cool to get a whatsapp forward saying some lab in China has cooked up a virus, but you know, it isn't true! It is a virus that occurs in animals and is not synthesised. Actually viruses moving from bats to humans is incredibly common, it has happened and can happen in the future again," according to Pavithra.
As more conspiracy theories emerged, Pavirtha's resolve for fighting them with correct information also grew stronger. "I wanted to do more, reach out to more people with the right information."
After local media channels, Pavithra started getting called on to mainstream national news channels for her expertise. Social media and video platforms like Youtube helped. Pavithra started putting out small videos and answered questions through live chats. Many of these videos became viral and started being shared. "My inbox got flooded with messages that they saw the video and found it extremely helpful, " Pavithra's efforts in making accurate information 'trend' was seeing small victories.
Her personal inhibitions notwithstanding, Pavithra today is a powerful and credible voice when it comes to expertise on Coronavirus. And instead of keeping this knowledge to herself, Pavithra has used it for a larger good.
Also Read: Fact Check: Did Israel Get An Approval On A Vaccine For The Novel Coronavirus? Let's Find Out
If you think her hard work deserves appreciation and she deserves to win under the 'Awareness Warriors' category, vote for her. Here is how you can vote for your favourite nominee for the Jagran New Media and Onlymyhealth's Healthcare Heroes Awards.
Read more articles on Miscellaneous