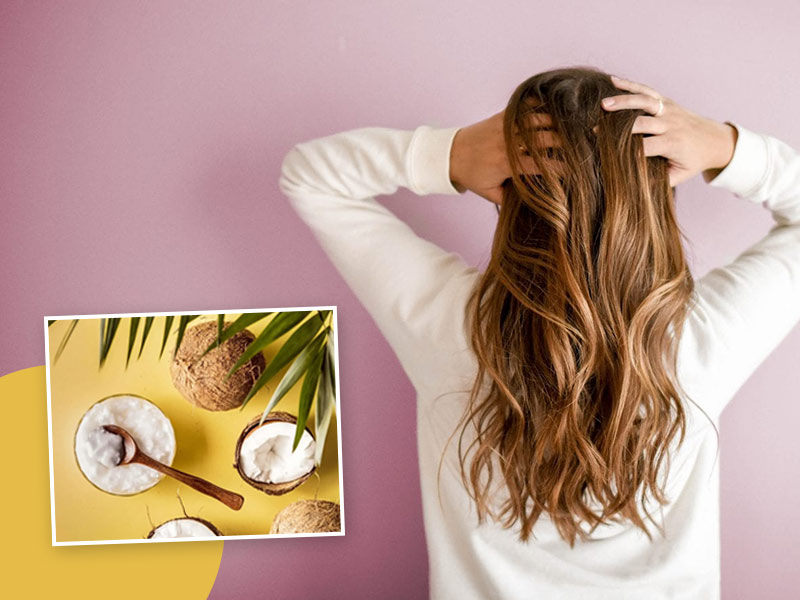 A refreshing nut which will instantly remind you of a beach day, coconut comes with various benefits. It can be consumed in various forms like oil, milk, cream and water. Although there are plenty of health benefits to this fruit, it has taken over the beauty industry in recent times. Where it is being used in different home remedies and your grandma and her mom's beauty regime for ages. Let us take a quick look at the benefit of this fruit for your hair and 5 DIY hair mask recipes to cure different hair concerns.
Benefits of Coconut for hair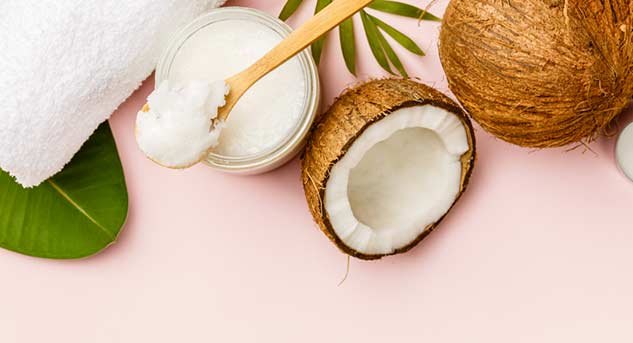 Image Credits- A thousand lights
In the past few years since the beauty industry has been shifting its focus from chemical based products to the inclusion of natural ingredients, coconut is something that has been ruling the place. One can find coconut milk, coconut water or coconut oil as part of many haircare and skin care products like shampoos, conditioner, serus, soaps, creams, lotions, body wash, face wash and what not. Let us take a look at the benefits of coconut for our hair to understand why the beauty industry has been hyping up and using this one ingredient so frequently.
Makes your hair grow longer and thicker
Helps to control frizz
Works as a pre-shampoo treatment
Helps to get rid of lice
Works as a leave in conditioner
Helps to get rid of dandruff
Boosts up the shine of your hair
Provides nourishment to the scalp and strands
Works as a detangler
Protects hair from sun damage
Prevents hair fall and hair breakage
Helps to restore hydration and mixture in the hair.
Coconut Hair Masks
As we have learnt about the benefits of coconut and the wonders it can do to our hair, let us hop in right away and learn to make these simple, quick yet effective coconut hair masks that will help you to solve your hair care vows.
#1. To Cure Dandruff
Dandruff can be really embarrassing at times and looking at those white flakes shedding from your head can be really upsetting. Where for a long time people have been believing that dandruff is caused due to a dry scalp which tends to shed the skin. It might be the half truth but that is not the only cause. Dandruff can be caused due to oily scalp as well. If you are someone who has an oily scalp then gather some lemons along with the nourishing coconut oil to get rid of that dandruff.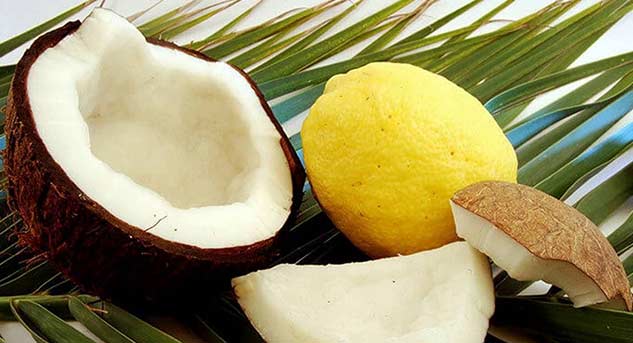 Image credits- dephy anngia
As bothe the ingredients are rich in antibacterial and antifungal properties, they help to get rid of dirt and debris from the scalp while unclogging the pores. Not just fighting dandruff but this duo will help you to get rid of that itchy scalp as well and keep your hair soft. Let us see how to prepare a coconut hair mask to fight dandruff and itchy scalp-
Ingredients
1 tablespoon coconut oil
1 tablespoon of lemon juice
3 drops of tea tree oil extract
Method
Take a bowl and add some melted coconut oil to it.
Add in the lemon juice along with a few drops of tea tree oil extracts
Mix everything well and apply it on your scalp while massaging lightly.
Leave it on for about 15 minutes and then shampoo and condition like usual.
#2. For Dry and Damaged Hair
Looking at those gorgeous shiny and smooth hair in all those hair care advertisements keeps us wanting more. The urge of getting silky strands grows exponentially when your hair looks dry, dull and damaged. As coconut is known for its nourishing properties, using coconut milk can help you to get rid of that dryness and make your strands moisturized and give them a silky smooth appearance. Coconut milk is high in protein, antioxidants, lauric acid, and some essential vitamins like B1, B3, B5, B6, C and Vitamin E. These micronutrients can have a great impact on your hair health and the way they look.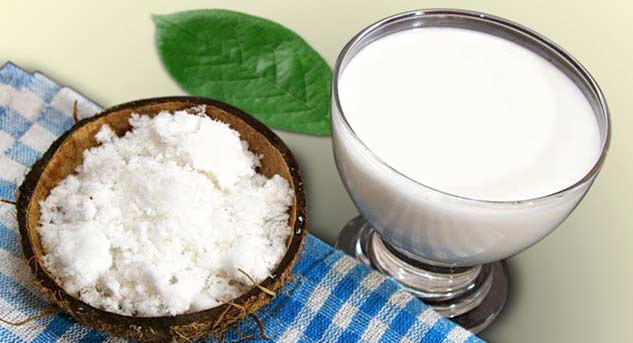 Image Credits- youtube
Also Read: Move Over Dairy, Try These 5 Kinds Of Vegan Milk Variety For Their Health Benefits
By using a coconut milk hair mask, you can provide all these essential micronutrients to your hair and make them nourished and moisturized. Here's how you can use coconut milk hair mask to get luscious locks
Ingredients
1/2 cup of unsweetened coconut milk
1 cup of olive oil
3 tablespoons of dried rosemary leaves (optional)
Method
Take the oil in a double boiler and add rosemary leaves to it.
Infuse this for about two to three hours.
Now strain the oil and transfer it to another bowl.
Add in the fresh unsweetened coconut milk to it and mix well.
Apply this mixture all over your strands and let it sit for about 30 minutes.
After 30 minutes, rinse your hair thoroughly and wash your hair with your regular shampoo.
#3. For Nourishing The Scalp
Where nourishment is the key to healthy hair growth, it is important to take care of the nutritional needs of your hair as well. When you eat food the nutrients in it get absorbed and are transported through your blood to different organ systems. As the vital organs such as brain, lungs, heart, etc get the nutrients first as their well being and functioning is essential for a person to live, your hair gets left behind.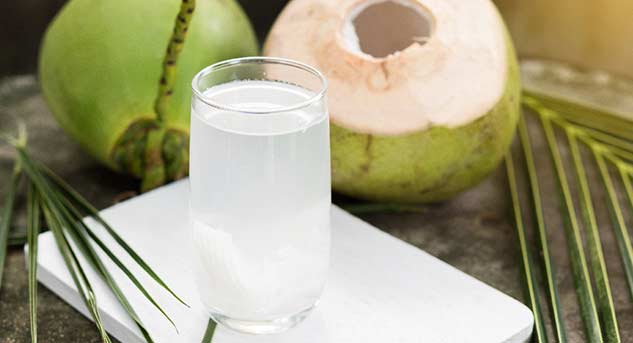 Image Credits- Food business
By providing proper nourishment to your hair you can make them grow longer and thicker. Coconut water is rich in nutritional value and when applied directly on the scalp and strand, it seeps in and provides nourishment. It would not just help you to nourish the scalp but also to add volume, prevent dandruff, smoothen out the strands and promote hair growth. Follow these simple steps to use coconut water to get nourished scalp and healthy growth
Ingredients
½ cup coconut water
¼ cup coconut oil
3 tablespoons of castor oil
Method
In a bowl take half a cup of coconut water and add coconut oil and castor oil to it.
Mix the oils and coconut water and add it into a spray bottle.
Shake it well and apply the mixture onto your scalp and strands.
Let it sit for about 30 to 45 minutes.
Rinse this mixture off your hair by using your regular shampoo.
#4. For Frizzy Hair
Accept it or not but frizzy hair can actually ruin your whole look. Where we all have tried using various serums, anti frizz treatments and even those non sticky oils to control this, it has all ended up in disappointment. Well we have got your back with coconut oil and a few bananas in one hand.
Also Read: Wondering How To Have Frizz-Free Hair? This DIY Mask With Aloe Vera And Coconut Hair Oil Can Do The Trick
Coconut oil is known for its nourishing properties as it is enriched with the goodness of so many micronutrients. When combined with banana, it forms a combination that is high in antioxidants and potassium. This will provide immense nourishment to your hair, make them soft and will prevent breakage. Follow these simple steps to get rid of frizz with coconut oil.
Ingredients
3 tablespoons of coconut oil
1 ripe banana
Method
Chop the banana into 1 inch pieces and toss it into a blender.
Add in some coconut oil and blend it into a smooth paste.
Take this paste out in a bowl and apply it all over your hair.
Leave it on for about 10 to 15 minutes.
Rinse it with your regular shampoo.
#5. For Hair Thinning
Thin and brittle hair look damaged and have low volume. Where we all aspire for a voluminous mane with silky strands, treating and prevent hair thinning becomes a priority. If you are suffering this hair thinning issue then this coconut oil and egg mask can be our best friend.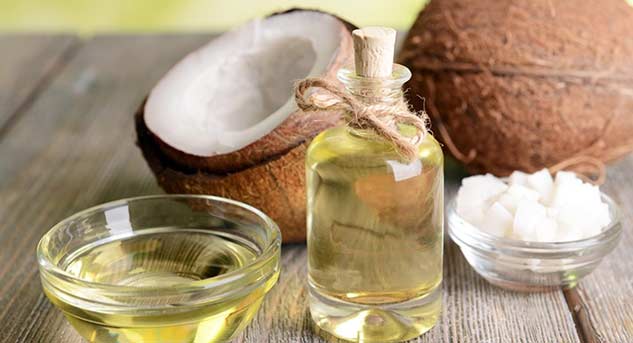 Image Credits- Taste of home
Rich in protein this mask will help to make your hair strands shiny, repair those brittle hair and provide nourishment to them. Here's how you can get the best out of these two ingredients-
Ingredients
2 tablespoons of coconut oil
1 egg yolk
Method
In a bowl take an egg yolk and add melted coconut oil to it.
With a fork whist and combine it well.
Apply this mixture all over our hair and let it sit for about 15 to 20 minutes.
Rinse it off with your regular shampoo and follow by a conditioner.
Try using these simple yet effective DIY hairmasks to get the benefits of coconut and nourish your hair. These hair masks are made with all natural ingredients and are inriched with some micronutrient properties that will make your hair healthy. Your dream of getting those long, thick, shiny and volummenous mane can easily come true with the help of these simple masks. Make sure that yuo take a patch test to ensure if you you are allergic to any of the ingredients used in making these DIY hair masks.