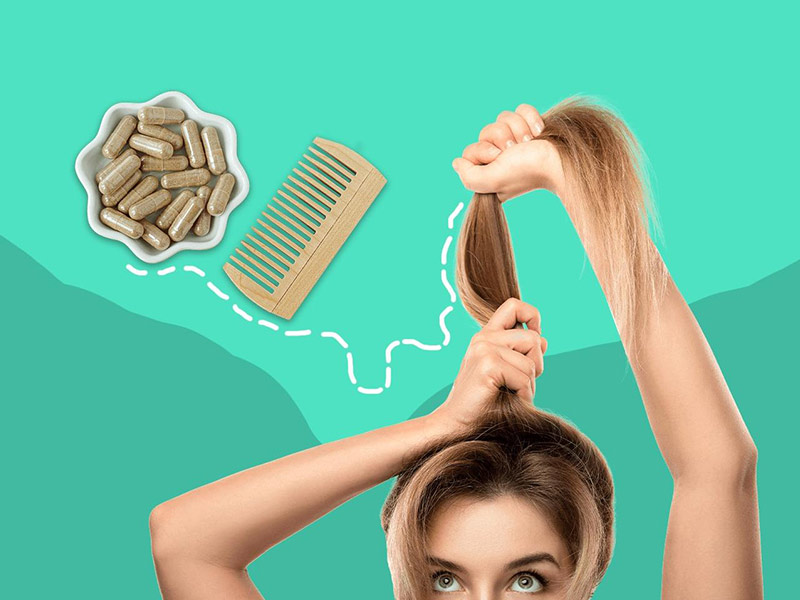 Long, shiny, silky and healthy hair is something that we all desire for and is something that we are ready to go to any lengths for. From changing hair care products every now and then to trying out those messy DIY home remedies and from getting those expensive treatments done to investing into pricy supplement candies, most of us have done it all but haven't seen a lot of changes and benefits even after trying all of it. Where most of us try experimenting when it comes to hair care and skin care and this is something that the beauty industry has been taking advantage of and has been burning a hole into our pockets by launching various beauty products around the year and by exaggerating their benefits. One such product that has gained a lot of popularity in recent times are these hair gummies.
Known to be enriched with biotin extract, hair gummies are sugar gummies are known to prevent hair fall, provide shine to the hair and help in better and healthier growth. Although there are Various Natural alternatives to these bear gummies that one can opt for such as food items rich in biotin, iron, vitamin A, Vitamin B and Vitamin C. Here we have incorporated a list of these nutrients that can be helpful in providing your hair with a nice and healthy growth along with providing other health benefits. Get on this healthy hair ride and read along to know all about 5 natural alternatives to these sugar gummies with expert Dr. NILAM JAIN (Kothari) Consultant Dermatologist, Masina Hospital, Mumbai.
What are these Sugar Gummies?
Sweet gummies that claim to be rich in vitamins that provide nourishment to hair and that we all have seen all over Instagram. Where even Kardashians have been seen posing with the bottles of these gummies upon their Instagram wall, we all know the kind of hype and popularity these gummies have gained over time. These gummies look pretty similar to candies and are sweet in taste and are known to consist of vitamins good for hair growth and for inducing sleep.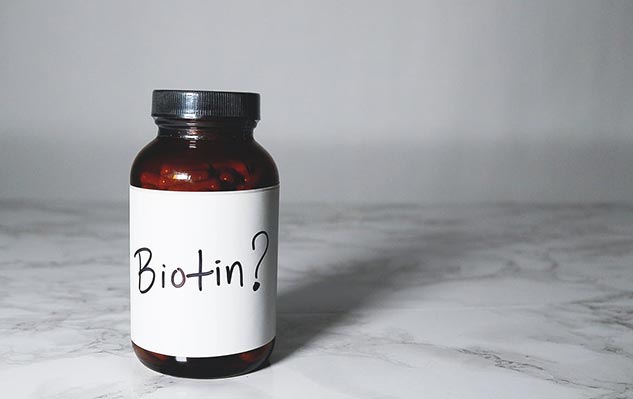 According to the claims these sugar gummies are made up of real berry extract along with a dash of sugar and a whole lot of other ingredients such as citric acid, sodium citrate, glucose, water, coconut oil, pectin, carnauba, sugar and water. Along with these ingredients these gummies also claim to have nutrients such as Vitamin A, B-6, C, D, E, biotin and folic acid.
Where various companies selling these products claim that these gummies are safe to consume and are beneficial for your health, they are known to have many side effects such as constipation, upset, stomach, diarrhea and other issues related to the bowel movement. In some cases a person might also get a serious allergic reaction due to the various components present in these gummies. These allergic reactions can take the form of body rashes, swelling, itching, trouble in breathing and severe dizziness.
Natural Alternatives of Biotin Hair Gummies
Where it is always good to tend towards natural ways in order to avoid any side effects of these medications and supplements. There are various food items known to provide nutrients to hair that can be beneficial for their growth such as biotin, folic acid, vitamin C, protein and Vitamin A. Here's what Dr. Nilam Jain (Kothari) has to say about this- "The commercial gummies which are available in the market are known to be rich in Biotin which is Vitamin B7, a part of the B complex. In most people this biotin supplementation is not needed who are generally consuming a healthy and balanced diet. One can get enough biotin from several vegetarian and non vegetarian food itemsitems. Some of the food items rich in biotin are whole grains, nuts, seeds, broccoli, sweet potatoes, mushrooms, etc. Where there are a lot many food items that provide you with biotin and hence biotin deficiency is very rare that can be seen in some cases where it has been acquired genetically, due to prolonged consumption of antibiotics, alcohol addiction or due to pregnancy in some women. Taking sugar gummies would not be an issue even if consumed in excess as the toxins will be thrown out of the body in the form of urine and will not create Toxicity. The natural ways of consuming biotin are always compared to supplements as it leads to better digestion and better absorption of the nutrients."
Listed below are some of the food items that one can consume on a regular basis to get long, strong and shiny hair.
#1. Eggs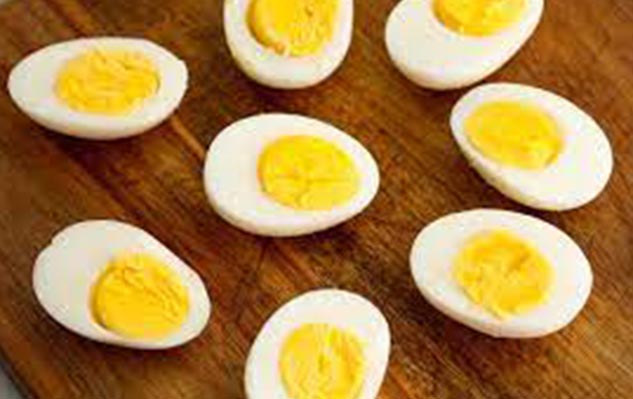 Also Read: What Makes Egg A Superfood?
One of the richest sources of protein and healthy fats, including eggs in your regular diet can take you a long way in your hair care journey. Where our hair strands are actually made up of a protein called keratin, and this protein found in eggs work as a building block for hair and helps in providing growth and nourishment to them. Not just protein and healthy days but eggs are also known to be rich in biotin that is another essential nutrient known to keep your hair healthy and make them shiny. This nutrient named biotin is extracted from Vitamin B6 which is required to produce the hair protein called keratin. Some of the other nutrients present in eggs that are beneficial for our hair are zinc and selenium.
Eggs are not only beneficial in promoting hair growth and providing nourishment to your strands but are also known to help in building muscles, aids weight loss, is a good source of vitamin D, improves good cholesterol levels, is beneficial for the eyes and helps in weight management.
#2. Oranges
A great fruit that will help you to meet your daily Vitamin C requirements, oranges are known to come with various health benefits and are a good fruit for your hair health. Enriched with vitamin C this fruit is essential for iron absorption. Apart from iron absorption it also helps in the production of collagen and strengthening the capillaries. These capillaries help in providing blood to the hair shaft and hence promotes hair growth by providing the roots with required nourishment. Including a glass of fresh orange juice will not just help you in getting stronger and shinier hair but will provide you with clear skin, protects cells from damage, boosts your immune system and helps to fight the cancer causing free radicals.
#3. Nuts & Seeds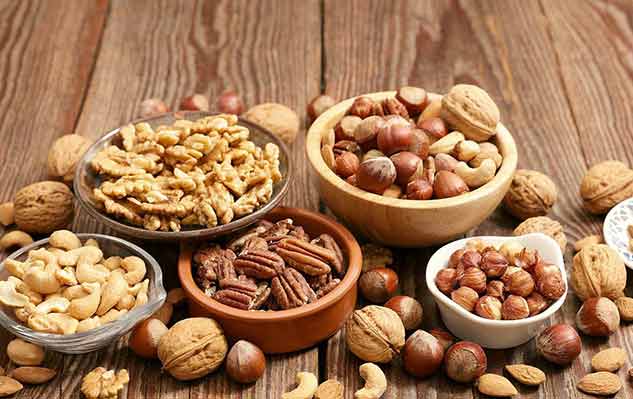 Also Read: Almonds Vs Walnuts: Which One Is Healthier
A handful of nuts in the morning can help you in improving your health and getting healthy and nourished hair. Nuts like almonds are rich in Vitamin E which is very much helpful in providing nourishment to hair. This helps in increasing hair volume as these nuts and seeds are rich in nutrients like omega-3 fatty acids, zinc, vitamin B and selenium.
#4. Avocados
Well if you have come across those DIY home remedies that include avocado as one of the main ingredients and claim to provide you with strong, healthy and strong hair then you must know that they are not wrong and can be trusted. Avocados are rich in Vitamin E and antioxidants which helps your hair to grow thicker and healthier. Vitamin E also protects the scalp from any kind of damage and improves the blood circulation in the scalp along with balancing the phone levels and oil production.
Adding avocados or avocado smoothies to your regular diet can help you in controlling hair fall, provide nourishment to the scalp and make your hair grow thicker and become shinier. Rich in fiber, this fruit is also known to be good for the heart, helpful in reducing the risk of depression, might prevent conditions such as osteoporosis and cancer and is also known to be good for vision.
#5.Beans
Well when your parents and teachers told you to eat those greens, you might have listened to them and would have finished that bowl of green beans in one go. These beans are rich in protein and nutrients such as folate, iron and biotin. These vitamins are a good hair nourishment to help in repairing the damaged hair along with aiding growth. This vegan, plant based food comes along with various benefits and will help you in getting a good eye sight, maintain healthy bones, reduce the risk of fractures, treat gastrointestinal issues and help in preventing cancer.
With inputs from Dr. NILAM JAIN (Kothari) Consultant Dermatologist, Masina Hospital, Mumbai.