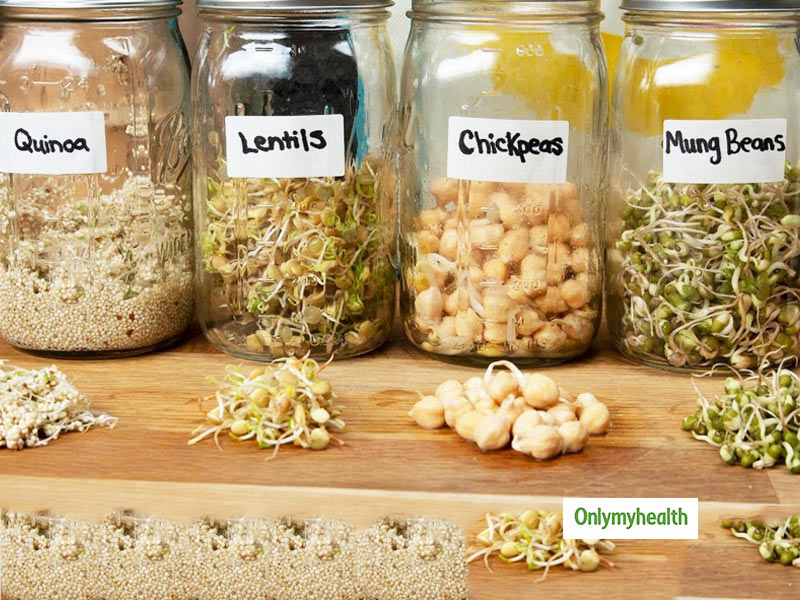 Sprouts are one of the healthiest foods you can find on the planet. Apart from being nutritious they are also fulfilling and can be made tasty by adding herbs and spices. Some people even like to cook sprouts and make meal dishes out of them. Bean sprouts are very common in Asian cuisine and it is most popular amongst all. But do you know that there are several other sprouted options that are as good as beans? Most people have no idea that many grains, lentils and beans can be sprouted. To find them, you would need to read this complete article.
Sprouting is a process where sprouts are made by germinating seeds, beans, grains and legumes. The reason why their sprouts are better than whole is that the sprouting process largely increases the nutritional value and allows the nutrients to get digested properly. Let us take a look at different sprouting options and their benefits.
Mung bean sprouts
As mentioned in the beginning, mung bean sprouts are the most common of them all. They offer low calories where one cup of mung bean sprouts provides only 31 calories. Along with that, they offer carbs, proteins, folate, vitamin C and iron. While mung beans are nutritious, sprouting enhances their goodness. It also makes them high in antioxidants. Several research studies have found that consuming mung bean sprouts can aid free radical damage and boost their anticancer properties. You can have them raw or saute them with veggies to make a perfect snack bowl.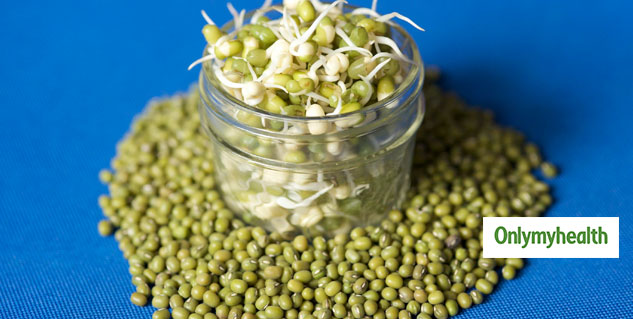 Kidney bean sprouts
Kidney beans or our beloved Rajma are other beans that can be sprouted. They come in different sizes and colour variants but most of them can be sprouted. Kidney beans are low in calories and high in protein. These also contain little fat and carbs which makes them supremely healthy. Besides, they also provide iron, folate and Vitamin C. After sprouting, kidney beans become high in melatonin which is essential in regulating the sleep cycle. Melatonin also possesses antioxidant properties that prevent cell damage by combating the free radical attack. Melatonin is lower in adults as though it might be produced naturally in the body, its production decreases over time. Thus, getting melatonin from other dietary sources like sprouted kidney beans can prevent sleep disorders and other age-related health issues. By eating these, you can also safeguard yourself from other chronic illnesses like type-2 diabetes and heart disease. Sprouted kidney beans are slightly hard and therefore, these are best consumed cooked. You can also add these to noodles and vegetable curries.
Also Read: Know The Risks Associated With Eating Raw Sprouts
Bengal Gram Sprouts
Another very common sprouts are Bengal gram or kala chana sprouts. Unlike beans and kidney beans, these are high in carbohydrates and Vitamin B6. The best thing about these sprouts is that they do not affect cholesterol and aids weight loss, diabetes, etc. conditions. You can make delicious sprout chaat out of these. In fact, you can also mix these with other sprouts and chopped onions, tomatoes, green chillies. Squeeze some lemon juice on it and a tasty sprout salad is ready.
Pea sprouts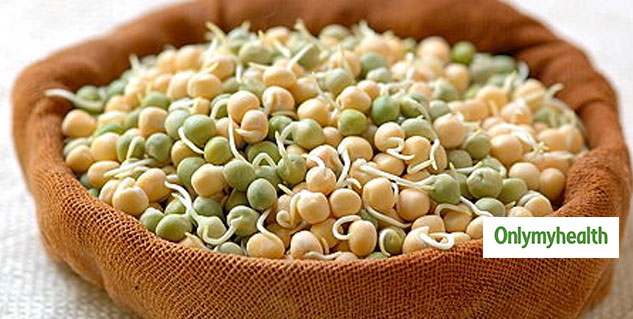 Peas are naturally sweet and therefore their sprouts would also have a sweet flavour. There are two types of peas- green and yellow. Both can be sprouted and are supremely nutritious. The only drawback of these is that they offer high calories(one cup of peas provides 149 calories). However, they also have high protein and carbohydrates along with low fat content. The good thing about sprouted peas is that they provide twice the amount of vitamin B9 or folate that uncooked peas. This is a potent vitamin as its deficiency can cause birth abnormalities like neural tube defects and heart defects. Mothers must consume this vitamin to prevent birth defects in their unborn children. Instead of taking supplements, you can have sprouted peas for their high folate content.
Also Read: Try This Healthier Alternative To Eat Brussels Sprouts
Chickpea sprouts
Chickpea or chhole can also be sprouted in the shortest span of time. Just like mung beans, chickpeas can also be sprouted within two days which is relatively faster than others. Chickpea sprouts offer more protein and are high in essential nutrients. 150 grams of chickpea sprouts provide 480 calories, 36 grams of protein and 84 grams of carbohydrates. The amazing thing to note here is that the isoflavone content found in chickpeas increases by 100% after sprouting. These are basically phytoestrogen which has similar properties and functions as estrogen hormone. Since this hormone drops in women with age, it is important that they consume these sprouts to increase the levels. Consuming chickpea sprouts is undoubtedly the best way to amp up the levels. You can consume thee either raw or cooked but it is better if you cook them and consume them. You can prepare chickpea soup with these.
Soybean sprouts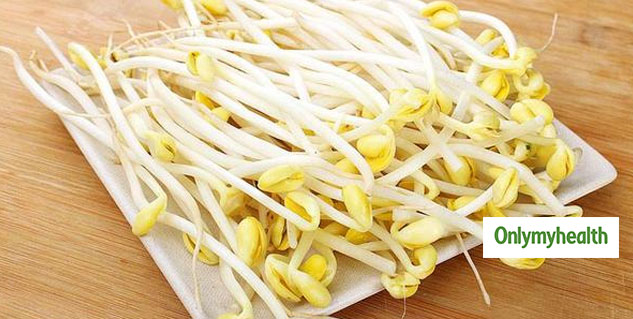 Soybean sprouts are most popular in Korean cuisine. The whole soybeans are sprouted and eaten. They also make various dishes out of these soybean sprouts that are delicious and nutritious at the same time. Soybean sprouts have lesser calories than other sprouts but they are high in protein content. Soybean sprouts can prevent anaemia condition as it allows better iron absorption in the body. You can have them raw but to enhance their taste, you can prepare stews and soups. In addition to this, soybean sprouts can also be added to noodles.
Wheatgrass
This is not a conventional sprout that you may have heard about but wheatgrass is a very popular food. This is prepared by sprouting wheat grains. Wheatgrass has a very good flavour and it is easily digestible. It is mostly consumed in the juice form but sprouting wheat berries increases the antioxidant potential and provides many benefits. This should be consumed for thyroid management.
Sprouted Nuts
Yes, nuts can be sprouted too! Just like other beans and lentils, nuts also become more nutritious after sprouting. Just like soaked nuts, sprouted nuts also enhance the taste, quality and nutrition of the nuts. These also become easily digestible. You must try sprouted nuts.
Also Read: Know How To Make Perfect Sprouts At Home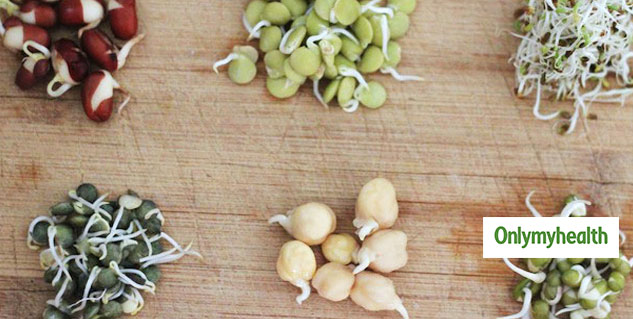 How to make sprouts?
A lot of people fail when it comes to sprouting as they do not know about the process of making them. They prefer buying sprouts from the stores that are packed. Also, you don't know for how long they have been kept. Thus, it is better to make them at home. Here is the step-by-step process:
Get raw beans and rinse them thoroughly with water to eliminate dirt.
Put them in a glass jar and fill it half with water.
Don't put the lid on the jar but cover it with a cotton cloth.
Keep the beans soaked for 12-24 hours.
After their size increases, drain the water and cover the jar with cloth again.
Rinse them and drain again.
Repeat this until you see sprouts coming from the beans.
You can keep doing this to get longer sprouts.
There are so many benefits of sprouts that everyone must consume them. Also, there are so many options of sprouts that you have got a choice to choose as per your liking. Some are high in protein whereas some have high carbohydrate content. Whatever is available to you, you can sprout accordingly and enjoy the benefits they provide.
Read More Articles in Healthy Diet