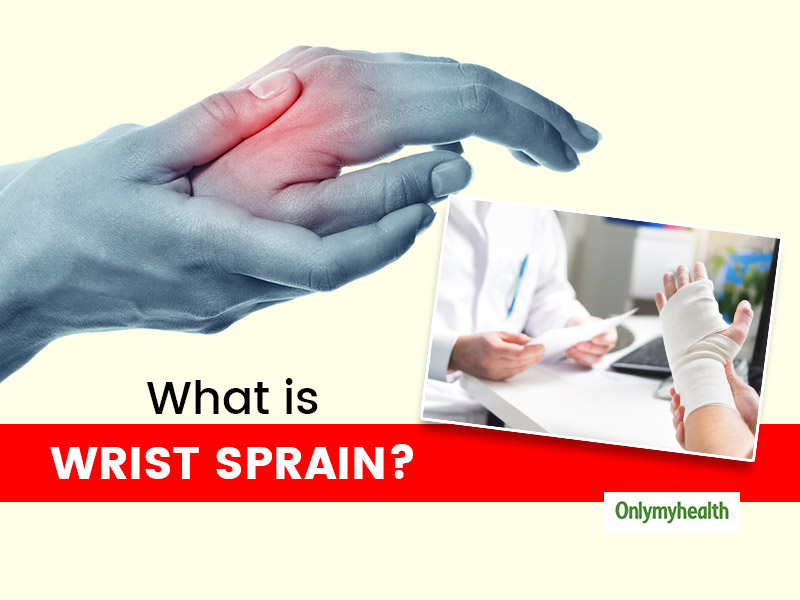 What Is Wrist Sprain? When should one seek medical advice? How long does Wrist Sprain last?
What is Wrist Sprain? A sprained wrist will be very painful. Nowadays, wrist sprain is commonly seen in people. A wrist sprain can be described as an injury wherein the ligaments present in the wrist are stretched or even tear. Owing to a fall, you may suddenly bend or twist, and as a result, your ligaments will be damaged. Minor sprains can be treated with home remedies, medication, and wrist exercises. But, the major ones may also require surgery. This joint pain and swelling in the hands and wrists is a symptom of carpal tunnel syndrome. The carpal tunnel is a narrow tube made by bones and other wrist cells, which protects our middle pulse. This pulse is connected to our thumb, middle and ring fingers. But when other cells in the carpal tunnel such as ligaments and tendons swell, it affects the middle cells. This pressure makes your hand injured or numb. So, do not take your wrist sprain lightly and seek immediate medical attention. Not doing so can worsen your condition and give you a tough time dealing with the pain.
Also Read: Get Relief in Joint Pain With These Essential Oils
What are the symptoms of Wrist Sprain?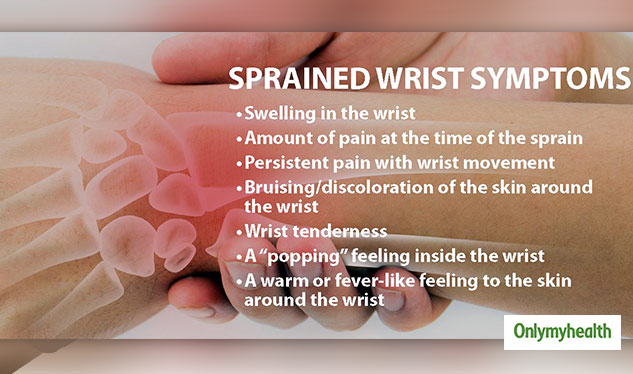 A wrist sprain is annoying, and the symptoms may vary from person-to-person depending on the underlying cause. But some of the common signs and symptoms may include popping sounds arising from the wrist that can be scary, difficulty in moving the wrist, feeling warm and tender around the area, swelling around the pain site, feeling weak, and even inability to grip the objects. You must immediately consult the doctor to examine you and make a correct diagnosis on spotting these symptoms. It is suggested that you must avoid ignoring these red flags. Just act immediately.
What are the causes of Wrist Sprain?
The outcome of wrist sprain depends on how severe it is. Two significant causes of wrist pain are carpal tunnel syndrome and swelling of wrist fibres. Both of these problems are believed to have arisen due to overuse of wrist and injuries. Wrist pain occurs for the following reasons if you:
Your wrist's frequent movements or movements such as typing on a computer keyboard, using a computer mouse, sewing, painting, writing, or using vibrating equipment.
The causes of wrist pain can also be due to some sports like gymnastics, playing racquetball or handball, basketball, moving the wrist in an abnormal position, and even bending it backwards.
Pregnant, menopausal or overweight.
People with diabetes suffer from premenstrual problems, less active thyroid or rheumatoid arthritis.
While minor sprains will be tackled by prompt treatment, the major ones may disrupt your life. Yes, you have heard it right! The sprain may interfere with your daily activities. It will be difficult for you to perform even simple tasks such as cooking, working, lifting objects, and even eating. Do not ignore this issue at all. Seek immediate medical attention.
What is the diagnosis of Wrist Sprain?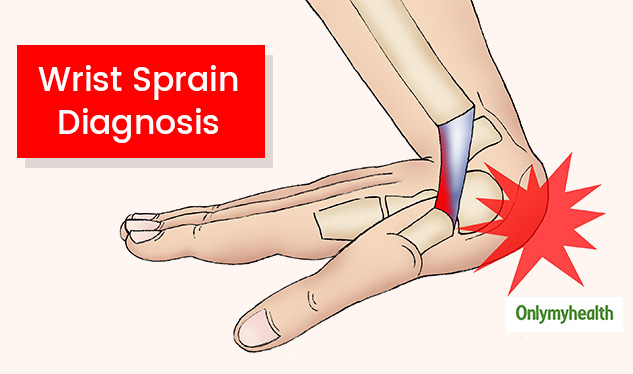 You will have to undergo specific tests and physical examinations to managing your wrist pain. Under your doctor's supervision, you will be asked to bend your wrist to check whether there is a tingling sensation, bruises, swelling, or numbness. You will also be asked to go for an MRI or CT scan to examine the wrists' ligaments and tendons. An X-ray will allow the doctor to understand the bone and joints that are inflamed. Once your doctor makes a correct diagnosis whether it is a grade I, grade II, or Grade III pain, you will only be suggested an appropriate treatment. Self-medication is not advisable.
Also Read: Best Sprint Workouts For Beginners To Burn Calories And Boost Metabolism
Wrist Sprain: When should one seek medical advice?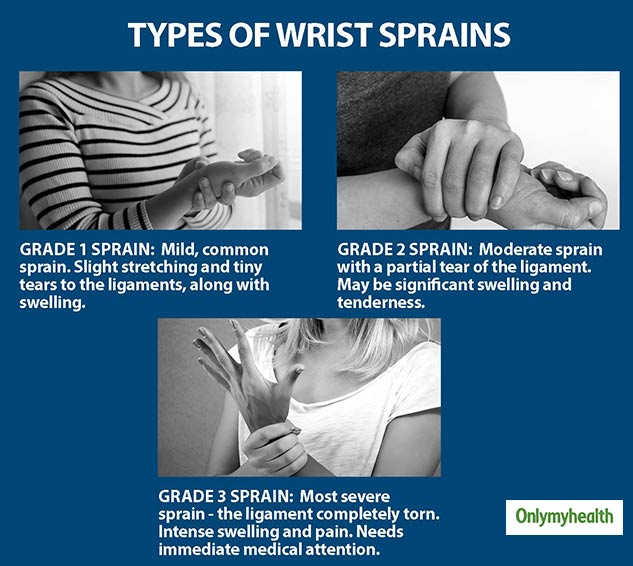 You must visit your doctor once you notice the symptoms as mentioned earlier. Moreover, the inability to do your real-world activities will also indicate that you are in tremendous pain and require medical help. You must not worry and delay the treatment. We understand the sprain is painful. But, excruciating pain can also indicate a broken wrist. Be vigilant and quick in understanding the intensity of the problem. This will allow you to get timely treatment and treat your pain before it becomes a bigger one. You will have to explain everything to your treating doctor so that he /she can come with an appropriate solution.
Also Read: Long-Breath Diet: Try This Japanese Technique For Weight Loss And Belly Fat Reduction
How long does Wrist Sprain last?
If your wrist pain is minor, then it may go within two days and may take a week or more than that to heal completely. In case your sprain is severe, it may take even a month or two to ultimately get back on track. And if you are scheduled to undergo surgery, then it may take over a year. Even moderate injuries will also recovery for around six months. But, you must always follow the instructions given by the doctor. One will also require to use a splint for some time. So, your doctor will be the right person to tell you about how severe the sprain is.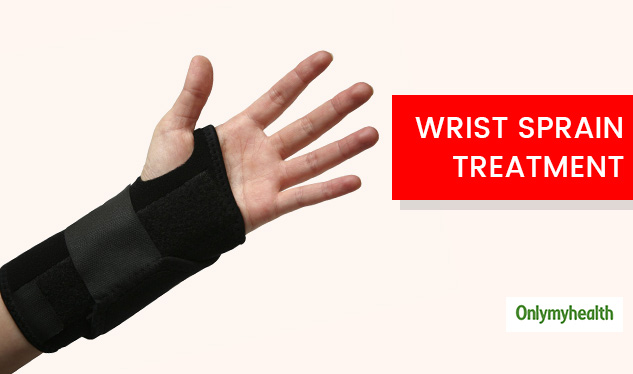 What treatment options are available for Wrist Sprain?
Do exercises that are beneficial for managing the wrist's swelling and will also help you gain mobility. If there is a lot of pain, you will be recommended surgical fixation or even arthroscopic surgery. Do not discontinue your treatment midway or else your condition will worsen. Hence, sticking to the treatment plan will be a wise decision.
Also Read: 5 Daily Habits That Might Trigger Sciatica
Opt for RICE
Rest: Get that much-needed rest
Ice: Apply ice or cold compression on the sprain to reduce swelling
Compression: Try to compress the area with a crepe bandage to prevent inflammation
Elevation: Raise the wrist above the level of your heart to ease the pain.
Cold fomentation: If you feel pain, burning and stiffness in wrists, then use the pack for 15 minutes and if the pain is more, you can use it again and again in between. If you do more typing work and mouse use, then take a break after every 40-50 minutes.
Here are some tips to prevent Wrist Sprain
If you work continuously on the computer, use a mouse pad with wrist support gels. Or take a mousepad that has to cushion for wrists. This will support your wrist during work and keep it straight. Also, do not hold the mouse very firmly and take a mouse that is not too big or small and fit your palms.
Be cautious during the rainy season and wear proper shoes.
You will also have to make sure that you avoid accidents as that can also invite sprain.
You can wear a wrist guard while playing sports like gymnastics or basketball or even cricket.
You must try to lift heavy objects properly to avoid wrist sprain.
If you work all day by sitting in one place or sitting in one posture, try to change it. Support your back and try to sit up straight. In a normal sitting position, your elbows should be in a relaxed position on both sides of the body. Your head and neck should be straight and unmistakable, so that blood circulation is done correctly.
Avoid bending your wrist inappropriately to avoid sprain. Do not pressurize your wrist. A sprain in the wrist is worrisome and shouldn't be taken lightly at any cost.
(Inputs by Dr Girish L. Bhalerao - Super Specialty Consultant Orthopaedic and Spine Surgery at Wockhardt Hospitals, Mira Road)
Read more articles on Other Diseases