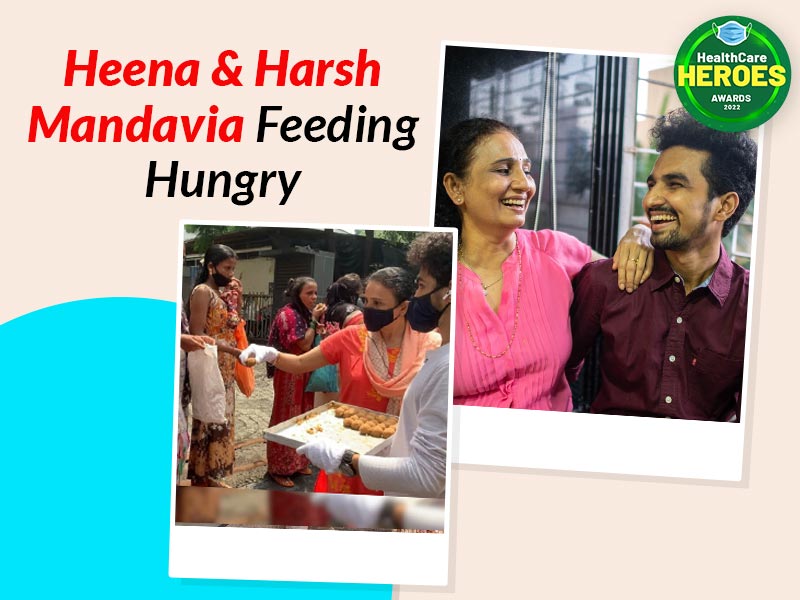 Who: Harsh and Heena Mandavia
What: Prepared and distributed over 28,000 meals to the needy during COVID pandemic
Why: For distributing food to tens of thousands of people in need during the COVID pandemic
When Harsh Mandavia put out a social media appreciation post for one of the regular customers of her mother's 'Harsh Thali & Paranthas' in Mumbai, he never knew it would blow up to such a degree that would help him and his mother, Heena Mandavia, to distribute meals to tens of thousands of people during the COVID pandemic. What started as a food distribution drive for 100 needy people that a customer had paid for, became so big that in two years, the duo raised over Rs 27 lakh and distributed over 28,000 thalis and 65,000 rotis. For their work in distributing food to those in need as COVID ravaged the city of Mumbai, Onlymyhealth nominates Heena and Harsh Mandavia for our ' Cofsils Presents Healthcare Heroes Awards 2021'. The duo has been nominated in the 'Poshan Warriors' category. This is their story:
From 100 To 28,000
Harsh was five when he lost his father in 1998 to a car accident. His mother, hailing from Jamnagar, Gujarat, now had the sole responsibility of raising him single-handedly in a city that was fairly new. So, the next year, she started her tiffin service to sell food to those working in the nearby offices. "As far as I can remember, I have been distributing food prepared by my mother since I was six," Harsh told Onlymyhealth. The business picked up and in 2003, they switched from a home-based to a shop-based premise. 22 years since starting, the business functioned smoothly.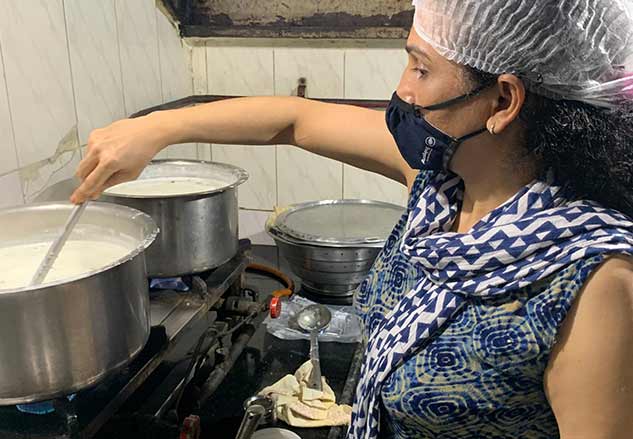 Then, COVID hit India and a nationwide lockdown was announced in March 2020. "Several businesses were affected and we too, had to shut for a couple of weeks," Harsh said. At some point during the lockdown, a regular customer of ours, Abhinav, called and said he wanted to feed 100 needy people, but wanted them to distribute the meals. It was during that time when economic activity came to a halt and many people found it difficult to make their ends meet. "Without a thought, I said yes," Harsh said.
So, on May 7, 2020, he fed 100 needy people outside a Gurdwara in Malad, Mumbai. That evening, he put out a social media appreciation post for that customer and shared some pictures from the drive. "That post somehow clicked with the audience. I started getting calls, DMs, with people saying they, too, wanted to feed the needy," he said.
Two years after that first drive and social media post, the duo raised over Rs 28 lakh and distributed over 28,000 thalis, 65,000 rotis, and over 8,000 sugar-free sweets.
It Was For A Social Cause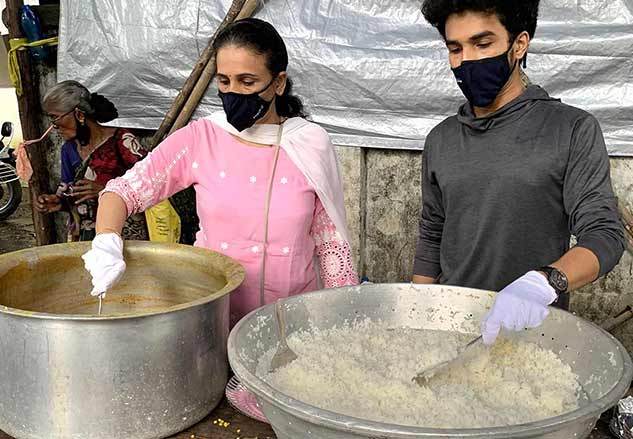 As told by the mother-son duo, the funds raised in due course were completely spent on preparing nutritious meals, packaging and reaching out to various destinations while following the COVID protocols. "Even though everyone around us were struggling, our motive was to help the needy wholeheartedly by using our expertise, that was cooking healthy and clean meals. Without giving much thought on actually if any profits were made, the only thing my mother focused on was to cook tasty food, and my job was to make that food available to everyone in need. We are glad to get funded by people who actually wanted to help people but had a limited reach to actually go out and help."
Social Media Blow-Up
Although villainised at times, in Harsh's case social media became the means through which what started as a drive for 100 meals became a cause for distributing food to tens of thousands of needy. "No, never," replied Harsh when asked if he had anticipated that the post would blow up this much. "People often say that 'neki kar aur dariya mein daal' (Do a good deed and forget about it). But in my case, if I had just fed those 100 people and hadn't told anybody, that would have stopped there itself and the help wouldn't have reached the tens of thousands of people," he said.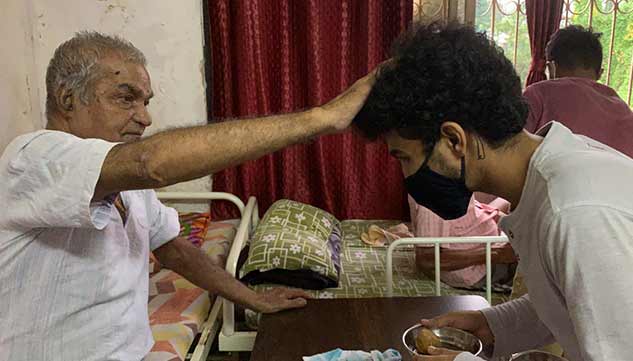 During those two years, there were several moments the duo felt very deeply. For Heena, it was people asking for a little more food as they had to save it for the evening, which was what moved her. "There were times during our struggling days that we had to survive on one meal a day. So, my mom felt that very strongly," Harsh said. For him, it was kids queueing up as they spotted his car, which moved him. "They queued up because they knew food had finally arrived," he said. Starting with 100 meals and reaching over 28,000, Harsh's message for our readers is that "no help is small."
We at Onlymyhealth give a big shoutout to Harsh and Heena Mandavia for providing meals to those in need during the unprecedented times that is the COVID pandemic.
To cast your vote, Click Here: https://www.onlymyhealth.com/events/healthcare-heroes-awards/nominations