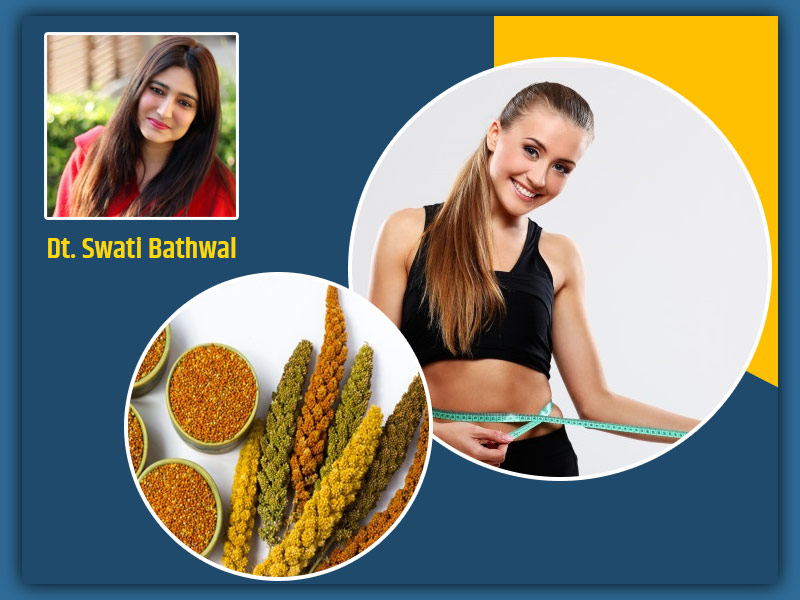 A zero size figure, flat belly and leaner legs is what people aspire for. From trending diets to numerous workout routines, there is a whole industry that thrives upon a person's insecurity about their weight. Some people have caught up the weight loss fever to such an extent that they spend most of their time engaging themselves into heavy workouts where others have given up eating in order to lose weight. Where neither of these methods are good for your health in the long run. Losing weight can be quite difficult and doing it in a healthy way can be challenging for many people but as always we have got your back. With millets being one of the healthiest grains out there, it is a very least known fact that its consumption can help in weight loss as well. Read along to know about the types of millet, their health benefits, how it can help in losing weight and some simple ways of including it in your regular diet as shared by ace Dieititian and Diabetes Educator Swati Bathwal.
Millets for weight loss
When it comes to the family of whole grains, millets surely hold a special place. Rich in protein, mittelts help you to stay fuller for longer and hence helps in shedding those extra kilos by reducing that snacking in between the meals. Not just weight management but these grains come with several other health benefits as well such as aiding digestion, strengthening immunity and reducing the risk of cardiovascular diseases. Where this wonder grain comes along with so many health benefits, it is important to know that there is not just one but 5 types of millets available out there. So let us take a step ahead and learn about the types of millets and their weight loss benefits.
#1. Ragi
One of the most popular grains in the family of grains, ragi or finger millets is known for its iron rich content which helps in increasing the hemoglobin levels of the body. This iron content present in ragi, not just helps in preventing diseases like anemia but also aids weight loss by reducing the body inflammation. Said to be one of the best weight loss grains, finger millets consist of high fiber content that helps you to feel fuller for long. The fiber rich content of millets takes a longer time to get digested which makes you feel fuller for long and helps in weight loss by reducing the snacking in between the meals.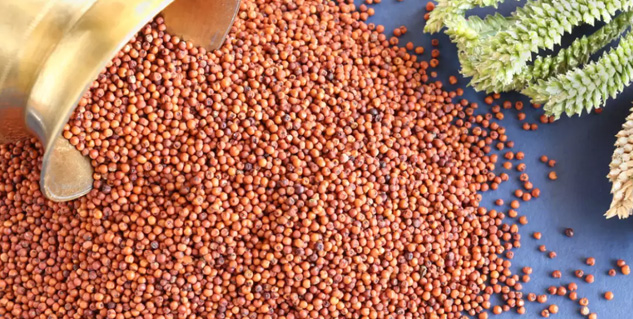 Also Read: Here's Why Should You Consume Ragi In Winters
Being a gluten free grain, the regular consumption of ragi helps in losing weight faster and especially in the abdominal region. It is believed that contributes to weight gain, but Dietitian Swati Bathwal busted this myth by telling us, "Gluten doesn't cause weight gain, it may cause bloating in some people who have intolerance to gluten, allergies and conditions like IBS, Crohn's disease. . Gluten rich foods, when they are processed ( refined) , cause increased insulin spikes post meals which makes them feel hungry and eat more food as they lack fiber."
Ragi is known to provide energy to the body and prevent issues like obesity by improving digestion. Apart from Iron and fiber, these finger millets are also rich in minerals such as calcium and potassium which in turn makes it a good choice for weight loss and is something that can benefit your overall health.
Ragi Dosa
One of the best ways to include ragi into your regular diet in order to lose weight and get a slim waist is to prepare ragi dosas. Prepare this quick recipe by adding some water to your ragi flour. Mix it well and spread the batter onto a hot non-stick pan. Cook it well from both sides and enjoy.
#2. Kangni or Foxtail Millet
Commonly available rice flour for semolina, foxtail millets or kangni is a grain that is rich in nutrients such as calcium and iron. Where kangni is one such grain that comes along with myriad health benefits like fighting cancer, helping in brain growth and consists of some anti aging properties. As this grain helps in protecting you from severe diseases like cancer, it can also come as rescue when it comes to losing weight. Due to the presence of an amino acid called tryptophan, foxtail millets help to slow down the digestion rate due to which a person feels fuller for long hours and refrains from consuming any extra calories. This grain is also helpful in balancing the blood sugar levels and strengthening the immune system. Regular consumption of kangni can help you in improving digestion, provide good heart health and induce low cholesterol levels.
Fox Millet Upma
To make kangni a part of your regular diet all you need to do is:
Soak this fox millet into a pot of water for about 2 to 3 hours
Drain the soaked millet and set it aside
Heat some oil in a pan and add mustard seeds, curry leaves, chillies, onion, ginger and urad dal to it.
Let it saite for a few minutes and then add in your drained fox millets to the pan.
Combine it well and add some water to it.
Cook this for a few more minutes till the water dries up and enjoy.
NOTE: Fox millet upma is a great alternative to people who are trying to lose weight, have type 2 Diabetes, Insulin resistance or at risk of Pre-Diabetes. Put remember millets still have carbohydrates although healthy carbohydrates, portion size and use of oil should be minimized. Increase the volume of food by adding more vegetables - as they are fiber rich, less in calories, full of antioxidants and keeps us full for longer.
#3. Jowar
A whole grain and gluten free millet that is popularly known is the "new quina". This grain is loaded with nutrients such as magnesium, vitamin B phenolic acid, antioxidants and tannins. The presence of vitamin B in jowar helps in weight loss by boosting metabolism. High metabolism helps in burning calories when at rest and while performing various activities. The high concentration of dietary fiber present in jowar results in lower consumption and higher satiety. This property of jowar keeps the hunger pangs at bay and reduces your appetite. A reduced appetite means that you would be consuming less calories than usual and hence it will make it easier for you to shed those extra kilos.
Apart from weight loss jowar also comes with various health benefits like improving heart health, bone health, aid digestion, boost blood circulation and improves energy levels.
Jowar Roti
What could be the better way of including jowar into your diet that replacing your regular wheat rotis with the jowar ones? Take a bowl of jowar flour and knead it into a dough with a little warm water. Make small balls out of this dough and sprinkle some dry flour onto it. Roll these dough balls with the help of a rolling pin. If your rotis are sticking then place a zip lock back or butter paper. Heat a tava and place your flattened rotis onto it. Flip it with the help of tongs or a turner once it becomes golden brown. Cook it well from both sides and enjoy.
#4. Rajgira
Most of you might have heard about the rajgira flour or amaranth. An ancient grain which consists of high amounts of magnesium protein, phosphorus, iron fiber and manganese, it is considered to be a grain more nutritional than quinoa. This super grai has recently gained a lot of popularity due to its potential to fight various diseases and treat severe conditions such as cancer, promoting heart health, aiding digestion, promoting bone health, fighting inflammation and building muscle strength. When it comes to weight loss the consumption of amaranth grain has proven to be very beneficial. Its high fiber content slows down the process of digestion due to which it takes much longer for the food to digest and hence it makes you feel full for longer hours and helps in avoiding the urge to binge eat and consume extra calories.
Rajgira Upma
Another simple yet delicious upma recipe that would not just help you to lose weight but also provide several other health benefits such as strengthening bones, fighting inflammation and aiding digestion. To prepare this tasty rajgira upma all you need to do is saute onions, garlic and chillies with a few spices of your choice and add chopped vegetables to it. Once the vegetables turn a bit soft vadd in the rajgira flour to it and pour some water on top. Combine everything well and cook until the water evaporates.
#5. Bajra
Well even if not as a grain but you might have heard this name as a part of one of those viral social media trends.Bajra or pearl millet is a gluten-free grain which is a rich source of nutrients such as calcium, magnesium, fiber and iron.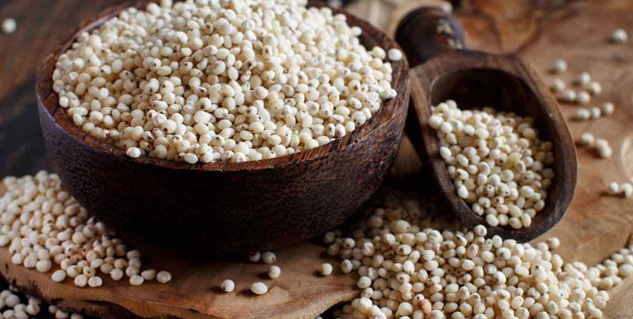 Also Read: Bajra Benefits: 5 Reasons Why One Must Eat Pearl Millet Or Bajra In Their Routine Diet
While adding bajra into your diet is known to aid the treatment of severe conditions such as asthma, cancer and diabetes along with lowering the cholesterol levels, it can be a good option for you if you are someone who is aiming to shed those extra kilos. Replete with vitamins and fiber, bajra helps in speeding up the metabolism and helps in burning those calories at a rapid rate. Along with burning those calories, rich in fiber, bajra also prevents any weight gain by preventing you from snacking in between meals.
Bajra Khichdi
There couldn't be a better food option available for weight loss than khichdi. A light and delicious khichdi made with gluten free bajra can be your go to meal when it comes to losing weight. A low calorie dish that can be prepared within a few minutes, this is the best option for all the people who are on a weight loss journey. To prepare this easy and quick recipe all you need to do is wash and soak the bajra daliya for an hour. Saute some chopped onions and garlic along with raw spices. Add in the tomatoes and salt to the pan along with chopped veggies. Cook it for a few minutes and add bajra daliya to it. Cook it on medium-high flame for 5-7 minutes and serve.
Expert Tip- Bajre ki Khichadi is best eaten with green leafy vegetables like saag and digests well with the help of chaach.
Image credits- freepik