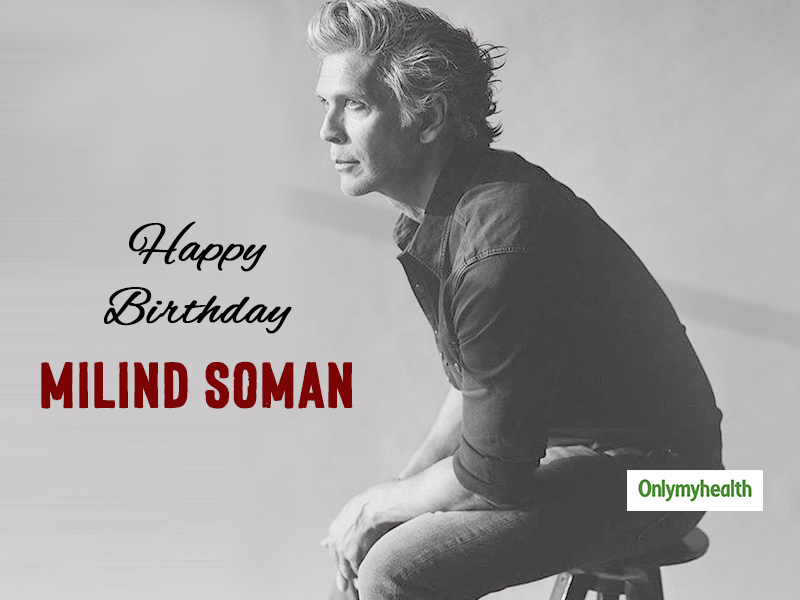 Milind Soman Birthday Special: Age is no bar when it comes to fitness for this man. Know how he keeps himself fit & active all the time.
'Tree lover and running person' that's what Milind Soman's Instagram bio reads. From being India's first supermodel to a fine actor to a runner, Milind Soman is the epitome of fitness. He qualified te toughest triathlon in record time after which he got the title of 'Ironman' along with holding a Limca record. After 50, when people plan their retirement, he is seen running barefoot on a kilometers-stretch without stopping! This is certainly something to look out for. When asked about his exercising routine, he revealed that never went to a gym! Only running, trekking and swimming(he's an international level swimmer) are the go-to exercises that he can do anytime. Let's take you through some of his fitness secrets that he has revealed from time to time.
Running
Fitness is constant rest is temporary in Milind's life. He has got this from his mother who is 80+ and runs a marathon! You'll always find him running either on the busy streets of a city or by a seashore or a rocky mountain track. Running is his passion which made him win several accolades. He ran his first marathon 15 years ago and since then, he is unstoppable. This might surprise you but those washboard abs and toned muscles he's got are not made in the gym! To top it all, he runs barefoot most of the times.
Yoga
While running is his forever love, yoga is something that he does for peace of mind. He is seen practicing yoga exercises at different locations. Check out this post where he is doing Chakrasana on a boundary wall.
Also Read: Kundalini Yoga To Bring Balance To Your Mind and Body
Trekking
Recently Milind and his wife Ankita climbed the highest point 'Uhuru Peak' of Mount Kilimanjaro. He took to Instagram to share this wonderful news with his followers. He has a positive attitude towards life which keeps him going irrespective of his age.
Also Read: Here's How Milind Soman's Mom Shows Major Fitness Goals, Diet Can Make A Difference
Healthy Eating
Health needs healthy eating. Milind knows and ardently follows this. He has completely restrained oily, processed and sugary foods from his diet. He loves home-cooked food and likes to prepare his own food even while traveling. He once revealed that instead of staying in a hotel, he rents an Airbnb with an equipped kitchen to cook meals at home. Also, he eats a lot of fruits and vegetables to reduce meat intake.
Read more on Exercise and Fitness