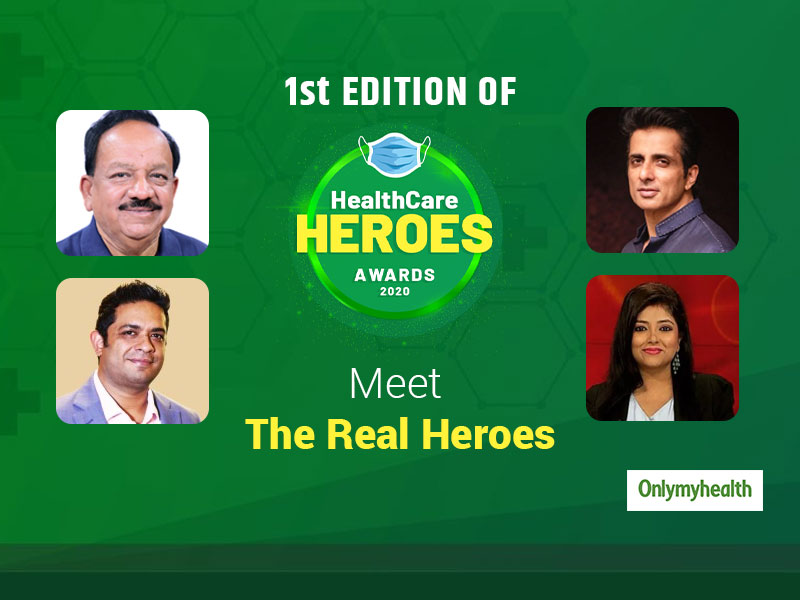 With the aim to find people who bravely fought and are still fighting the coronavirus pandemic and emerged out as 'Real Heroes', Onlymyhealth organised the first-ever virtual HealthCare Heroes Awards 2020. Many were brought to the limelight highlighting their contribution to the war against coronavirus. The sole aim of this award function was to felicitate the hard work done by people of different sectors and age groups but with the same intention- serving humanity. Let us take out some time in congratulating these heroes.
Union Health Minister Dr. Harsh Vardhan on HealthCare Heroes Awards 2020
The honourable Union Health Minister of India Dr. Harsh Vardhan graced the function with his presence and words of appreciation. He said: "It is my pleasure to be present here at the Healthcare Heroes Awards to honour and salute the services of India's Corona Warriors. Our battle against COVID-19 has found strength with the contributions of thousands of frontline warriors. Govt under the leadership of PM Narendra Modi remains committed to our health personnel as well as support & augment healthcare and diagnostic structure to battle the pandemic. We expect a vaccine in the coming months. I take this opportunity to salute all the corona warriors of the country & in particular, their mothers and family members, who always encouraged them to contribute towards the success of the fight against COVID-19. I want to congratulate organizers who have chosen this initiative of boosting the morale of those who work silently and resiliently in our fight against COVID-19."
It was my pleasure to address the '#HealthCareHeroesAwards 2020' ceremony, organised by @onlymyhealth honouring the service of our #CoronaWarriors

As we move closer to a vaccine, #ModiGovt is committed to inoculate our health care professionals & frontline workers on priority. pic.twitter.com/5efku5sg87

— Dr Harsh Vardhan (@drharshvardhan) October 8, 2020
Sonu Sood Awarded For His Selfless Service During The Pandemic
Sonu Sood was honoured with the Editors' Choice Healthcare Super Hero Award at the event. While receiving the awards, Sonu said that he felt the pain of migrant labourers that ought him to help them. Later people trusted him and with the help of other friends, he put forth his hand to help millions. About 2 lakh people from J&K to Kanyakumari were taken to their homes safely during lockdown with their cooperation and worked to meet the different needs of about 7.5 lakh people.
Meet The Winners
There were five categories with 3 sub-categories. Under each category, there were three nominees. It was a tough call for the jury to select one out of them but here is the list of winners.
Break Through Innovations (Technology) - Save Life Foundation
Break Through Innovations (Testing) - MOLBIO Diagnostics
Break Through Innovations ( Patient Care) - InnAccel Group
Beyond the Call of Duty (Doctors) - Dr. Susheel Bindroo
Beyond the Call of Duty (Paramedics) - Nayana Vartak
Beyond the Call of Duty (Front Line Warriors) - Ramakrishna (Microbiologist)
Also Read: Experts Speak: The Road Ahead As India Fights The Pandemic
COVID Heroes (Rural Health Care) - Sukhibhava Foundation
COVID Heroes (Youth Icons) - Dr. Bineesh Desai
COVID Heroes (The Unsung Heroes) – Team Khana Chahiye
Awareness Warriors (Best Out of the Box Idea) - Tara and Appa
Awareness Warriors (Most Impact) - Dr. Joelene Fernandes and Dr. Jornson Fernandes
Awareness Warriors (Hoax Busters) - Pavithra Venkatagopalan
Editors' Choice Health Care Super Hero Award- Sonu Sood
Editors' Choice Health Care Super Hero Award - Smriti Thakkar
Editors' Choice Health Care Super Hero Award- Jyoti Paswan
On behalf of OnlyMayHealth, CEO Bharat Gupta and Business Head of Health and Lifestyle, Megha Mamgain congratulated all the participants and winners.
Read More In Latest News