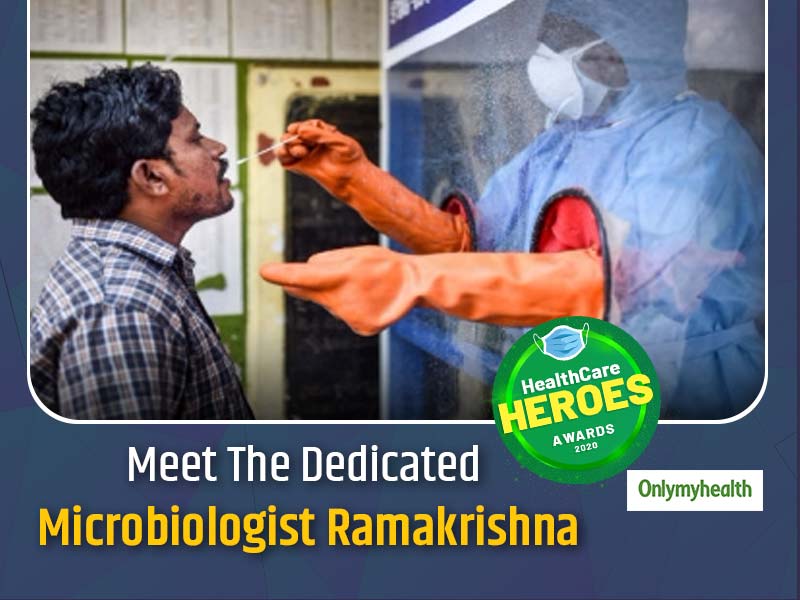 Category : Beyond the call of Duty

Vote Now
Who : Ramakrishna, Microbiologist
What : Travelled 1500 Kms during janta curfew to help COVID patients
Why : For keeping his duty of serving COVID patients over himself and family
An ordinary citizen in extraordinary circumstances, undeterred and committed – won't be wrong in calling him a Hero. To call Vangala Ramakrishna a hero would be no overstatement. This microbiologist put his life in Telangana on hold and went 1500 kilometers away to Lucknow, to do his bit in the war against the pandemic.
Onlymyhealth's Healthcare Heroes Awards is saluting India's Covid Warriors. We have carefully picked stories of dedicated work that have shown in the grim times of pandemic. We urge you to read these inspiring stories and vote for the nominee whose story touches you the most. This story is of Telangana resident Vangala Ramakrishna who has been nominated in the category of Beyond The Call of Duty- Frontline Warriors.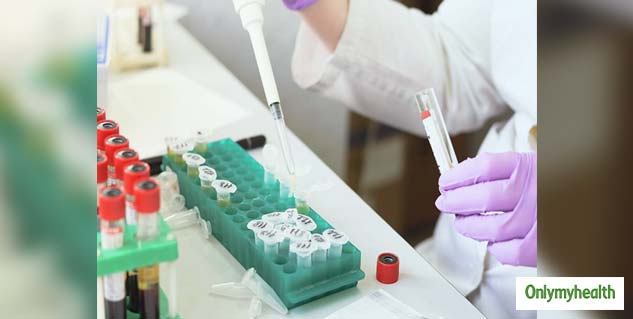 Also Read: Tata Group Gets Green Signal From DCGI To Launch Country's First CRISPR COVID-19 Test
Ramakrishna set an example by choosing his duty over family. In a spur of a moment, this PhD scholar at the microbiology department of Lucknow's King George Medical University decided to jump into the thick of testing samples for Covid 19. "I thought this was another opportunity to prove myself, as this is not the first time I have worked during an outbreak" the 29 year old microbiologist tells Onlymyhealth.com, recounting his work during Acute Encephalitis Syndrome (AES), ZIKA and Dengue outbreak. Worried parents, a nation in lockdown and the threat of infection, nothing could stop Ramakrishna from reaching Lucknow to join the pandemic war.
What makes Ramakrishna Stand Out In The Fight Against COVID-19?
Ramakrishna was in his village in Khammam, Telangana, he didn't have any project to work on in Lucknow and couldn't afford to stay there. He was helping his parents in the rice fields and working on his thesis. This is when his head of the department from King George's Medical University called. It was the 21st of March and Prof Amita Jain was asking him to come to help in testing samples for Covid 19. There was no doubt in Ramakrishna's mind about what he had to do. It was like a soldier being called to fight for the nation. He was going to go to Lucknow. But convincing his parents was not going to be easy.
A lie told for the greater good is pardoned, they say. Ramakrishna told his parents he was going to Hyderabad to his friend's place for his thesis related work. They reluctantly agreed. Little did they know that this was the start of a 1500 km long journey.
Roadblocks & Janta Curfew
Within the hour of getting the call Ramakrishna had packed his bags and was ready to leave. One day later, 22nd of March, Ramakrishna was in Hyderabad.
That is when the Janta Curfew was announced. And that could well have been the end of Ramakrishna's journey. But he was not going to give up so easily. In the wee hours of the morning of 23rd March, Ramakrishna set out for the Hyderabad airport. Stopped at many checkpoints and asked to return, Ramakrishna explained his predicament and was helped by the police. Finally he managed to catch a flight to Lucknow.
Recognition of Selfless Work
Upon reaching Lucknow, Ramakrishna joined other researchers and scientists in tirelessly testing upto 3000 samples every single day. Ramakrishna is part of the virology department at King George's Medical University (KGMU) that has been testing potential Covid-19 samples since February this year. An encouragement for his work came through Priyanka Vadra's tweet and letter of appreciation hailing frontline workers like Ramakrishna akin to soldiers on the frontline.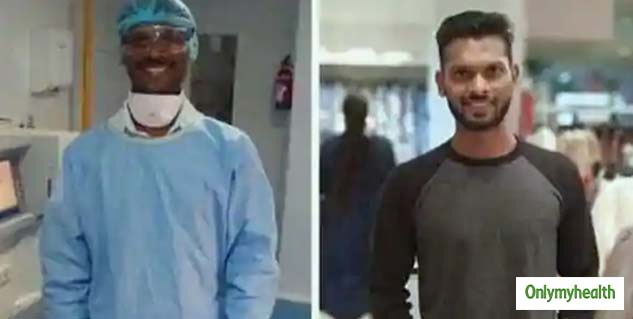 Also Read: Prone Positioning Could Save Life of COVID-19 patients But Can Cause Other Lifelong Damages
Vangala Ramakrishna's story is emotional and empowering. If you think he should win under the 'Front-line Workers' category, make sure to vote for him. Here is how you can cast your vote for Jagran New Media and Onlymyhealth's Healthcare Heroes Awards.
Read more articles on Miscellaneous