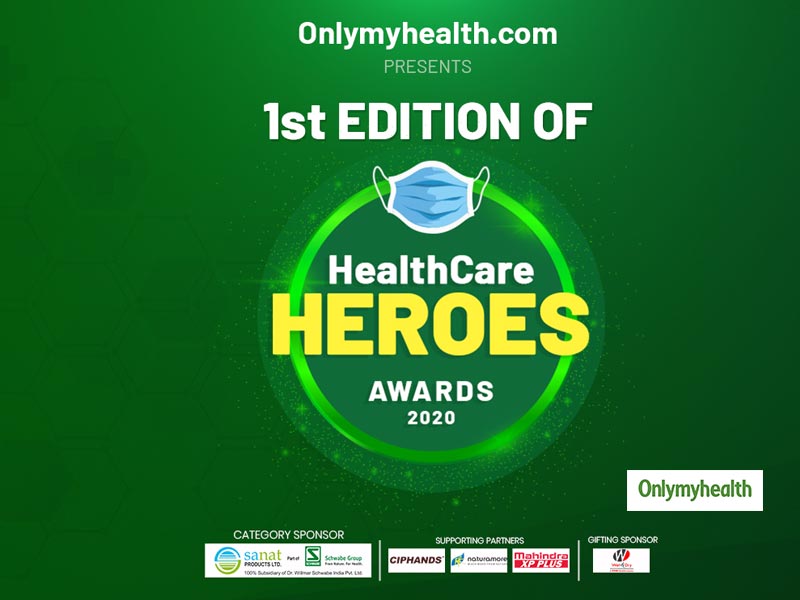 Onlymyhealth has always ensured to cater to all the health-related information, news and everything else on the block. From minute flus to disastrous diseases, we try to provide you the access to all the necessary information. This coronavirus pandemic has been the biggest hit to healthcare so far and the world is struggling to get safely out of its grips. During these tough times, various heroes have emerged who contributed to the society in different ways. Thus, to felicitate them and highlight their stories, struggles and contributions to the world, we are organizing OnlyMyHealth HealthCare Heroes Awards 2020. This is a virtual event that will be live streamed on Onlymyhealth's youtube channel today at 6 pm. Join us as our esteemed judges present awards to winners and chat conversation with these healthcare heroes.
First Of Its Kind Healthcare Awards
This would be first-time that an award show would be held online. We wanted everyone's support and participation for the event and therefore, Jagran New Media and OnlyMyHealth decided to go online and organize HealthCare Heroes Awards 2020.
Meet The Jury
To grace the event, we will have an esteemed jury panel comprising of big and respected names from the healthcare industry. The Union Minister of India Dr. Harsh Vardhan would be our key speaker for the event. Megha Mamgain, head of the editorial department of onlymyhealth.com would conduct a panel discussion with our jury members that include Padma Shri & Padma Bhushan Dr. Naresh Trehan, Padma Bhushan Dr. TS Kler, Padma Shri Dr. KK Agarwal, Prof Ramanan Laxminarayan, Professor Priya Abraham, Dr. Sandeep Nayar and Accredited Dietitian and Nutritionist Swati Bathwal.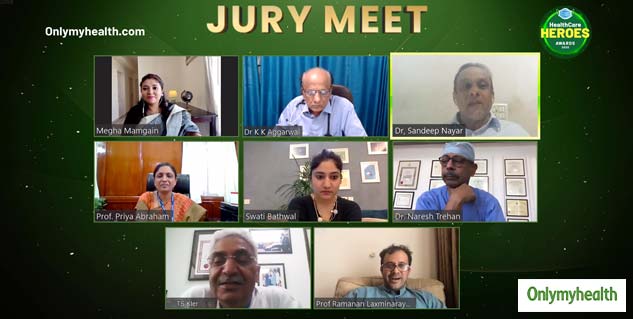 The Nominees For Different Categories
Let us take you through the nominations in each category.
Breakthrough Innovations
Technology
Corona Cleaner By Test Right Nanosystems- Corona cleaner uses UV radiation technology that gives medical-grade sterilization to disinfect objects placed inside it. This device was developed to replace fake Chinese sterilizers and sanitizers that don't work efficiently.
Also Read: An Innovation That Ensures Covid-19 Patients Reach The Hospital On Time
Save Life Foundation- SaveLIFE Foundation (SLF) put its traditional expertise to good use by developing two original smart technologies that optimise the State's ambulance deployments, and integrated additional emergency vehicles into the system.
Asimov Robotics, Karmi-Bot Robot- ASIMOV Robotics, AI and Robotics companies in India, has come up with a robot named 'KARMI-Bot' to serve food and medicines to COVID-19 patients with an aim to reduce risk of infections.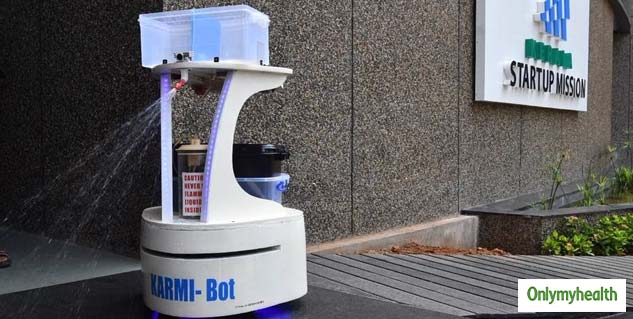 Testing
Mylab discovery solutions- Pune-based diagnostic company Mylab discovery solutions made the First ever covid-19 testing kit made in india.
MOLBIO Diagnostics- The trueNAT machine developed by molbio diagnostics conducts rapid testing to identify a rapidly spreading infection.
Chitra GeneLAMP-N- This COVID-29 test kit conducts rapid testing for covid-19 virus and produces results in less than 2 hours. Its makers tout it to be better than RT-PCR kit.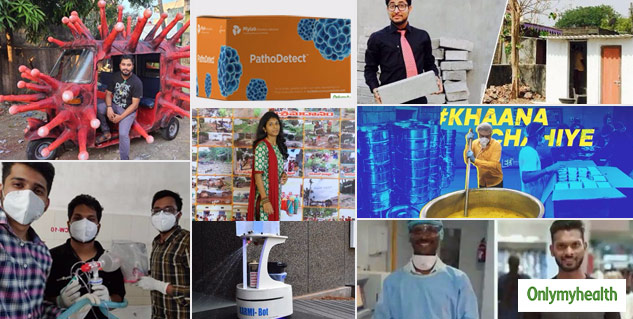 Patient Care
Turtle shell technologies- Turtle shell technologies created a amazing monitoring device called Dozee that will record your vitals including pulse rate, oxygen level etc. and alert you if there is any complication.
InnAccel- Developed VAPcare & SAANs Pro that are two affordable alternatives to ventilators helping millions of ventilator-bound patients.
SWASNER, IIT Bhubaneshwar- This is first of its kind helmet like ventilator device that aids patients with acute respiratory distress syndrome to get oxygen supply amidst the crisis of ventilators.
Also Read: An Affordable Alternative To Ventilator Is The Made In India SWASNER Device
Beyond the Call Of Duty
Doctors
Dr. Susheel Bindroo- He left his family in Delhi to treat COVID-19 patients in Mumbai and headed the COVID-19 Ward for 5 months.
Dr. Gautam Chhajed and Dr. Manisha Chhajed- This doctor couple provided 24*7 treatment to COVID-19 patients in home quarantine.
Dr. Aruna Kalra- She took utmost care of covid-positive pregnant women and treating expecting mothers for free.
Paramedics
Nayana Vartak- Nayana is a staff nurse who lives six months away from her family leaving behind ailing elders, husband and two young daughters to take care of covid patients.
Roopa Parveen Rao- Even in a heavily pregnant state, Roopa continued to serve in the hospital treating covid patients.
Yogita Kalra- Yogita lived away from family and worked hard to meet the deadlines of testing many suspected patients for more than 9 hours a day.
Front-line Warriors
Bontha Sai Kumar- A sanitation worker in telangana donated his two months salary to CM relief fund for covid patients
Imran Irfan Shaikh- Imran is phlebotomist from Mumbai who used to visit containment zones and high-risk areas for covid-testing sample collection.
Ramakrishna- Leaving behind a safe and peaceful life in hometown, Ramakrishna went to Lucknow to extend a helping hand in COVID-19 testing.
Covid Heroes
Hatri Bai Ghurdalia- Hatribai is an Asha worker belonging to a small village named Ghodadalia in Madhya Pradesh. An 18YO Young Woman who spread awareness about coronavirus in her area while overcoming everyday obstacles.
Sukhibhava Foundation- Sukhibhava Foundation made an emergency menstruation health helpline and provided menstrual hygiene products in marginalised areas during coronavirus lockdown times.
Israel Lalremtluanga- A pastor from Mizoram did a virtuous deed by transporting people from quarantine centre for free in these pandemic times.
Also Read: Sukhibhava Foundation For Addressing Menstruation Issues During Pandemic
Youth Icons
Rohan Ray- This teenager started a fitness club at the age of 16 to make money and donate it for covid relief fund.
Akhila Yadav- A 25-year-old woman sarpanch guarded at the entry point of the her Village to prevent entry of outsiders into the village in an effort to curtail Covid-19 pandemic.
Dr. Binish Desai- To recycle the medical waste generated in his area, Dr. Desai decided to collect the waste, disinfect it as per norms and then blend it with paper waste to create bricks.
Unsung Heroes
Meera Panjwani- Meera Panjwani started making face masks by involving the ladies of Ankleshwar, Gujrat.
Team Khana Chahiye- The team worked relentlessly in preparing and distributing food packets to underprivileged people who were unable to feed themselves food.
Darshan Ghosh- He and his team of 25 others distributed essentials to the cleaning staff and police personnel without any funding or help.
Awareness Warriors
Best Out of The Box Idea
B Gowtham- Local artist B. Gowtham, founder of the Chennai-based organization Art Kingdom came up with a unique COVID-19 virus-look alike helmet, which was used by officials to create awareness among masses to stay indoors.
Tara and Appa- Tara Hai Taiyar, a unique puppet series, was designed to reach thousands of children, parents & teachers in India, making them aware and prepare for quarantine.
Sunita Nagkirti- She worked extensively with the children of a slum in Maharashtra's Aurangabad to create awareness about COVID-19. She came up with unique ideas like a 20-second handwash routine to raise awareness about COVID-19.
Most Impact
ECHO India- To combat the acute shortage of healthcare professionals during tough covid times, ECHO India came up with an idea to link healthcare professionals with hospitals for help.
Dr. Joelene Fernandes and Dr. Jorson Fernandes- The father daughter duo have been working closely in training children, factory workers, ASHA workers, community members, etc. the basics of coronavirus prevention.
Swasthagram- With an aim to provide equal access to quality and affordable healthcare, Swasthgram set up screening centres in New Delhi, had over 100 health volunteers doing home visits, distributing pamphlets on the dos and don'ts for residents and essential service operators.
Hoax Busters
Pavithra Venkatagopalan- Pavithra Venkatagopalan is a Ph.D. scholar from Arizona State University and currently settled in Chennai came out as an awareness warrior in informing people about the fine line between COVID-19 myth and fact.
ISRC- A group of 10 scientists came together on the day PM announced the Janta Curfew with one intention to Bust fake News around Covid 19 Infection.
These were all the nominations. To find out who wins the race, you must join us through Youtube Live stream this evening from 6pm to 8pm.
Read More In Latest News