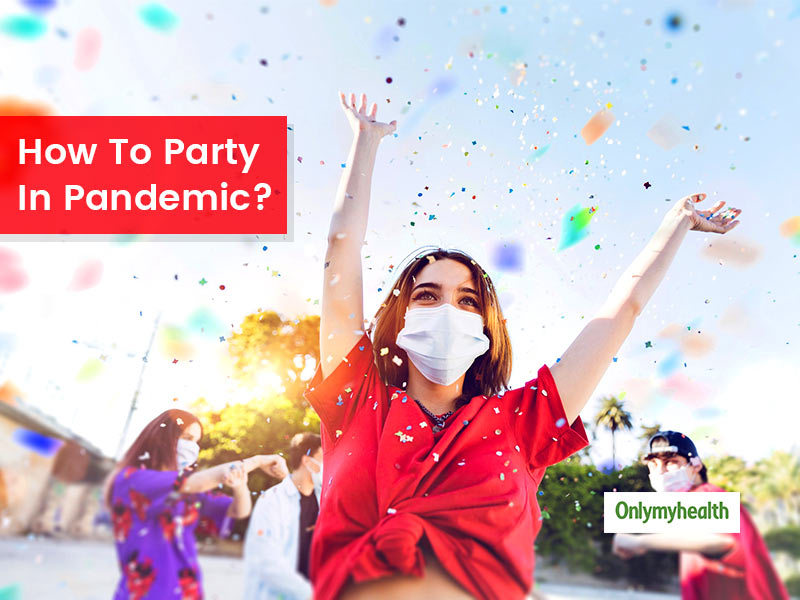 We have entered the new year with high hopes. Everything seems to differ from one year especially celebrations. Due to the coronavirus outbreak, we were not able to host celebrations in the first place for a good 5-6 months. And when we started to resume the old life, nothing seemed normal with masks, hand sanitizers and social distancing. Be it festivals or year-end Christmas and New Year celebrations, everything was different this time. But things are slowly getting back on track. As the COVID-19 vaccine is finally here, we can go out, meet friends and party(but with some restrictions). Dr. Sandeep Patil, Chief Intensivist at Fortis Hospital, Kalyan, Mumbai shares a few handy tips that you must consider while planning a get-together or party with close friends and family. These would ensure maximum enjoyment with minimum risk. Without further ado, let us take a look at the recommendations.
Keep the mask on
While you may be wanting to breathe-free, it is not advised. Coronavirus may be lingering in the air and so you must not take that risk. Asymptomatic people do not know that they are carrying the virus. Any of your family members or friend may be asymptomatic which can endanger the life of other guests. Since it is an intimate affair, it must be in a closed space or house. If that is so, keeping the mask on is a must. We all know that the COVID-19 virus spreads rapidly in closed places. Along with putting on your masks, you can also do these things:
Organise party setup in an open space such as a balcony or rooftop. This would reduce the risk of virus transmission from one person to another.
Avoid gathering in a group. Maintain distance or form smaller groups.
Make sure that if you are organising a party inside the house, it should have proper ventilation.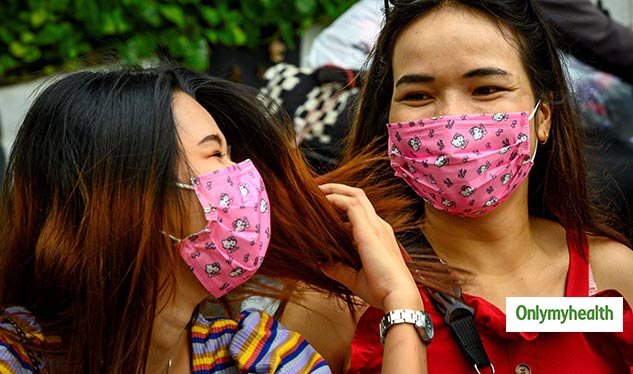 Don't forget to sanitise your hands at regular intervals
Ideally, we must wash our hands with soap after eating, using the washroom, coming from the outside or touching any external object. Handwashing may not be feasible at all times especially when you are in a party mood. The guests may be eating and touching the utensils with dirty hands. This increases the risk by 200%. You cannot stop your guests from touching anything or eating but what you can do is keep sanitisers at different places especially around the dining table. Ask the guests to sanitise their hands first before eating. All of us understand the criticality these days and therefore, everyone would cooperate.
Besides, you can also keep disinfecting wipes to clean the spaces and handling tools. Other than that, stock up on tissues and paper towels as they are easy to trash. If possible, install foot pedal trash cans at different places to allow easy disposing of the waste with zero-touch. Maintaining hygiene is extremely important for a safe celebration.
Don't play loud music
Imagine youngsters celebrating a birthday. Food is not important for them but music is and that too loud. There is no harm in playing loud music but Dr. Sandeep Patil shared something that we haven't thought of before. When loud music is played, people tend to talk louder in order to let the other person hear what we are saying. Also, during music play, we come close to talk. In such cases, our saliva may transmit! This is a potential risk that not everyone can think of. Thus, doctor suggests playing music at a regulated volume to dismiss this possibility.
Also Read: Healthy Party Planning Tips During COVID-19 Outbreak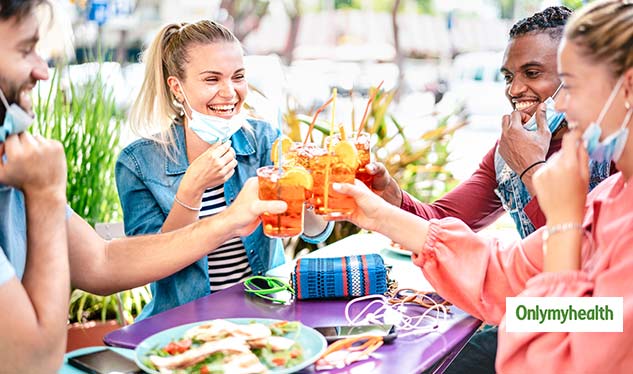 Use only disposable cutlery
Another important thing that we should note is that instead of using the fancy cutlery set that you save for gathering and special occasions, serve food in disposables. This might not look nice but it is the need of the hour. Firstly, this reduces the load of cleaning and washing the utensils, secondly, it reduces the risk of virus transmission also.
On the other hand, keep the dining slightly away from where you are hanging out. This is because scientists believe that gathering around food and drinks can increase the chances of coronavirus transmission. Raise a toast but remember your glass so that no one else takes a sip! Getting customised cutlery with guest names is also trending these days. If you can afford it, go for it.
Also Read: Don't Let Lockdown Affect Your Long Distance Relationship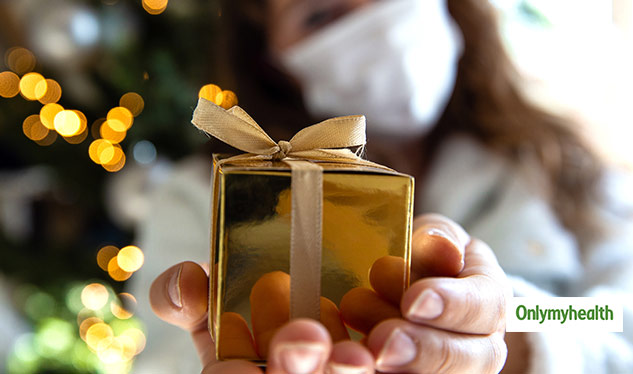 Disinfection shared surfaces from time to time
While you might be in the party mood, don't forget to disinfect shared surfaces and objects like chairs, doorknobs, etc. after the guests are gone. You might not be wanting to leave any trace of the virus in the house and therefore proper cleaning is a must. Use disinfectant spray and wipes to clean the surfaces and make your place virus-free. Washroom hygiene must also be maintained alongside as your guests must have used the restroom.
Eat and drink healthy
Party does not always mean fancy dishes with alcoholic drinks. You know how important it is to eat and drink clean these days. Your food menu should be healthy with tasty dishes that are great for your immune system. Let us just put it this way, keep the IMMUNITY theme for your menu. It would then become easy for you to plan out the dishes that are not only lip-smacking but also immunity-boosting. Instead of serving alcohol, you can serve these amazing mocktails to body immunity. Click here to get the recipe for immunity-boosting mocktails for parties and celebratory events. Keep the taste preferences of your guests in mind so that they go back home with their tummies full.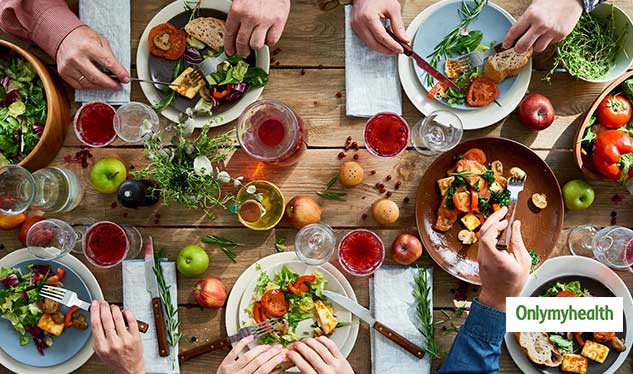 Also Read: Don't Let Lockdown Affect Your Celebrations, Make Your Wedding Anniversary Special With These Tips
Why not plan a virtual party?
Just like how you had virtual dates, virtual office meetings and festive gatherings, organise a virtual party. Even though the vaccine has arrived, it is best to take all precautions and keep social distancing seriously. A lot of people didn't even get to celebrate new years owing to restrictions. This pandemic has taught us togetherness and enjoyment without being physically close. Agree? Let us accept this digital transformation and host an amazing virtual party. Invite all your friends and family to join for a coffee party on a video call where all are dressed up as a real party. Play games, sing, dance on the video call to enjoy to the fullest. This might not be as enjoyable as the actual get-together but this would certainly be memorable. Something that you'll cherish throughout your life.
All you need is a set of people who are willing to join you virtually and have a gala time.
Select a date and time for the online gathering as per the convenience of everyone and make arrangements accordingly.
You can even send them cookies and cupcakes as a token of love and remembrance that no matter how tough life gets, you will stick together in the toughest times.
Partying is not just about eating and dancing but about making good memories. You wouldn't want someone to say that, oh! That person got covid-positive after attending your party. So, host a party that is safe for everyone. A small get-together with limited people at a time is a great idea. You can do host such events multiple times to accommodate all your friends and family and catch up with them. Virtual parties are also in trend these days. You can consider whatever you want but keep all the pointers advised by Dr. Sandeep Patil in mind.
Read More Articles in Mind and Body