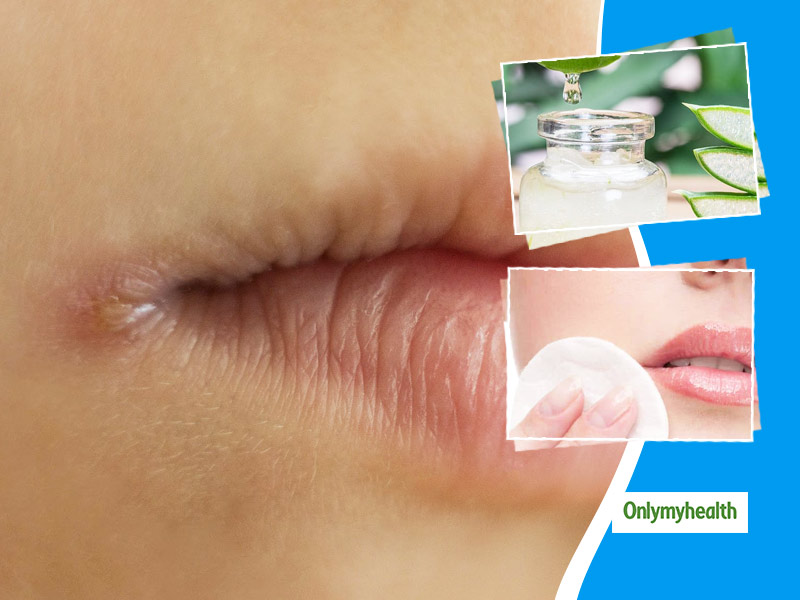 Cracked mouth corners is a sign of angular cheilitis condition. This skin issue can be easily taken care of with some simple home remedies.
Cracked lips are very common especially in the dry season but cracked lips or mouth corners aren't. Some people take this issue lightly whereas it can get serious overtime. Your cracked mouth corners might be due to angular cheilitis. In this condition, your lips and mouth corners become inflamed and painful. Blistering, crustiness and cracked skin are some noticeable signs of this skin condition. If you are experiencing acute pain along with cracked skin, you need to see a doctor. If not, you can find relief with certain home remedies.
What is Angular Cheilitis?
Before diving straight into remedies, let us give you a brief about this condition. Angular cheilitis or angular stomatitis is a common skin condition that leads to cracked mouth or lip corners. This is regarded as a lip infection that can occur at either or both sides of the lips. This infection can happen to anyone at any age and might be painful at times.
Apart from cracked skin, there are some other signs and symptoms of this condition as well that can help you in identifying angular cheilitis. These are:
Itchiness
Crustiness
Blistering
Redness
Pain
Bleeding
Swelling
Red spots around the corners of the lips
Dry and chapped lips
Burning sensation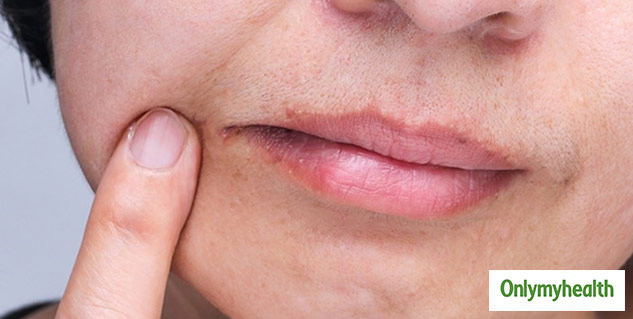 Angular cheilitis can be caused due to a number of reasons. Yeast infection in the mouth that is caused due to saliva is a major cause. When the saliva accumulates around the lips and gets trapped, it can cause this infection. This causes dryness and pain over time. Also, if the person licks the skin to get relief, the problem might worsen. The other secondary causes of angular cheilitis or cracked mouth corners are sensitive skin, smoking, wearing braces, diabetes, frequent use of antibiotics and anaemia.
How to get rid of angular cheilitis?
There are various treatment options to get rid of cracked mouth corners including medications, topical ointments, pain-relief injections and home remedies. The safest are home remedies as they naturally treat these cracked and chapped lips. However, to prevent this problem, you must keep good care of your lips. Applying lip balm daily especially before going to sleep helps in keeping lips healthy. Besides, these also prevent cracking and chapping.
Also Read: Read These Dangers Of Taking Too Many Painkillers Before Popping A Pill
Home remedies for cracked mouth corners
Let us now tell you some easy and effective natural remedies to treat cracked corners. These are easy and safe to address the problem without causing side-effects.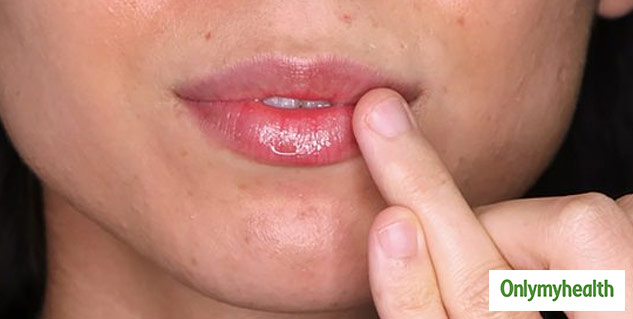 Castor Oil
One of the best oils for skin, this oil is the perfect remedy for cracked mouth corners. Castor oil treats the dryness issue and reduces the pain caused due to cracked skin to provide relief. Besides, it possesses antibacterial properties to soothe the infection and prevent it from increasing further. This is a thick oil and if you want, you can dilute it a bit with essential oils. This increases their effectiveness and rate of recovery. Tea tree oil is perfect for this problem.
In half a teaspoon of castor oil, add 2 drops of tea tree oil and mix well.
Using a cotton ball, dab this mixture on the affected area.
Keep it for 30-40 minutes and then wash it off.
Do this twice a day to get better and faster results.
NOTE: If you are allergic to castor oil, do not perform this remedy.
Aloe Vera Gel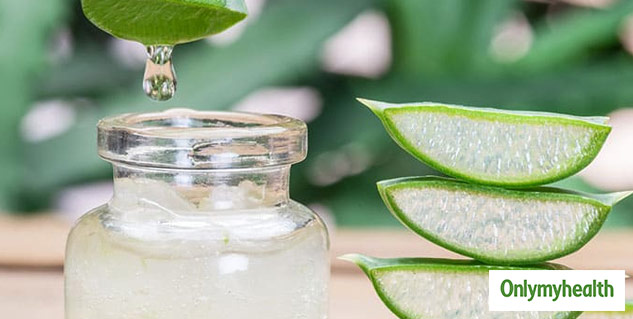 Talking about a skin infection, how can we not mention Aloe vera gel! This is another cooling solution for angular cheilitis or cracked lip corners. There are so many benefits of aloe vera and this is one of them. Aloe vera apart from cooling has antiseptic, antifungal and faster healing properties. If you are experiencing pain along with dryness in the affected area, you must try this remedy. It eliminated bacteria and fungi that combat the infection.
Pick a fresh aloe vera leaf and extract its gel.
You can apply it instantly or cool it a bit by keeping it in the refrigerator.
But always cleanse your face with an antibacterial cleanser before applying any of these remedies.
Apply the cool aloe gel on the affected area and leave it for 30 minutes.
Wash it off with cold water.
You can do this 2-3 times a day for quick relief.
Yogurt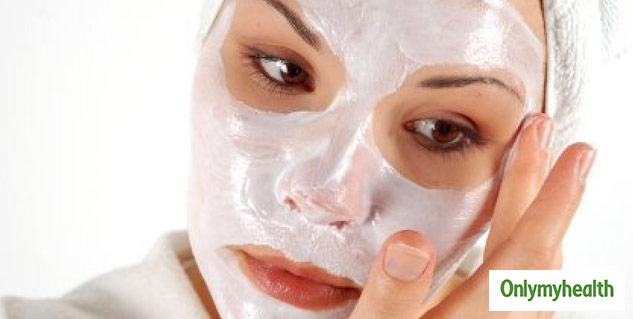 Another antibacterial solution for cracked mouth corners is yogurt. It is a natural probiotic food with good bacteria. Eating yogurt is great for overall health but applying yogurt on the cracked skin helps in treating the infection. The good bacteria reduces irritation and calms down the cracked and irritated skin.
For this remedy, take two tablespoons of unsweetened yogurt or curd.
Apply it all over your face including the cracked part.
Keep it until it is dried and then wash it off with cold water.
It is best to use it before bed and leave yogurt overnight on the face.
If not the entire face, you must keep it overnight on the affected cracked skin.
Keep doing this until your cracked mouth corners are healed.
NOTE: Apart from applying, you must also consume fresh yogurt as it fastens the healing process by multiplying good bacteria in the body.
Coconut Oil
Coconut oil is a boon for skin and almost all kinds of skin problems. It is equally effective in treating cracked mouth corners. This is because of its anti-microbial properties that prevent the growth of bacteria and yeast on the skin which further leads to cracked corners issue. Besides, coconut also has moisturizing properties that help in keeping the skin moist and hydrated to prevent dryness. Coconut oil also comes in handy for instant relief in itchiness caused due to dry and cracked skin. You can apply it at any time.
To prevent cracked mouth corners with coconut oil, mix equal parts of coconut oil and almond oil.
Apply this oil concoction to the affected area.
This would soothe the irritated skin and address dryness.
Massage the oil to allow it to get soaked in the skin.
Do this 2-3 times a day for better results.
Coconut oil has natural moisturising properties that nourish the skin and treat any underlying issue without causing side-effects. This is a completely safe and natural formula.
Also Read: Get Thick and Sharp Eyebrows Like Priyanka Chopra With Coconut Oil
Mouthwash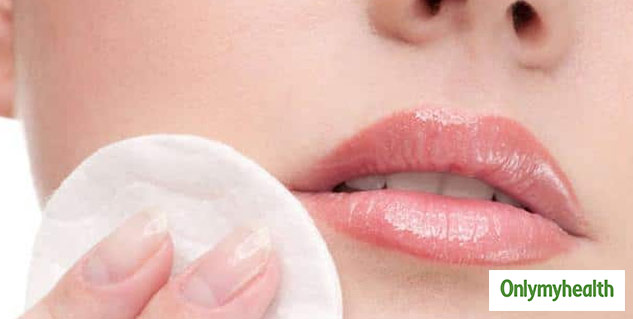 This isn't a treatment remedy but this is more of a preventive solution. If you happen to visit a doctor for this condition, they might advise you to use a mouthwash to fight this condition. This might not be an oral issue but it is partially related. These mouthwashes have antibacterial and antifungal properties that can reduce inflammation and eliminate infection-causing bacteria and yeast.
For better results, you can pour some mouthwash on a cotton ball and apply it to the affected area. Leave it for 20-25 minutes and then wash it off with water. Doing this twice daily would reduce the symptoms of angular cheilitis.
Conclusion
It is very easy to get rid of angular cheilitis or cracked mouth corners if you know the right solution. These were some of the home remedies that you can try to treat cracked lip corners. These are natural remedies with zero side-effects.
Read More Articles in Home Remedies