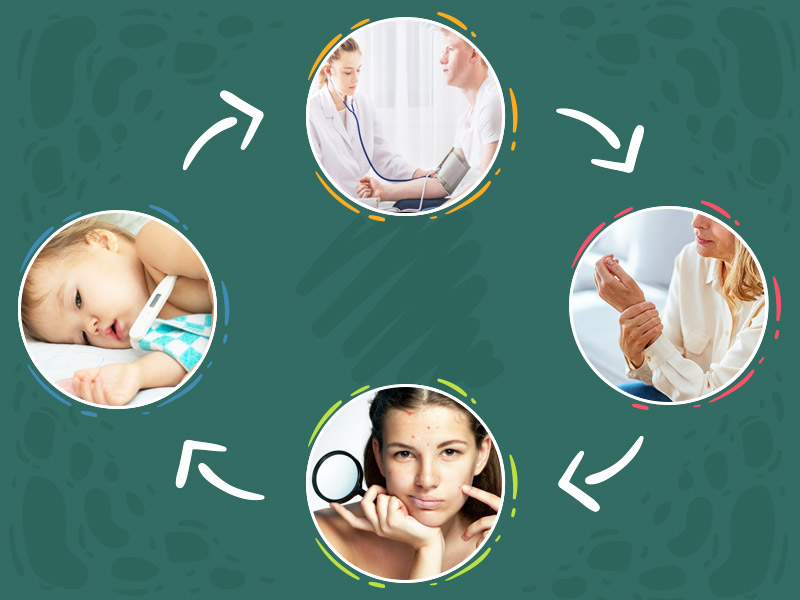 There are different diseases that can happen to people in different age groups. Read this article to know more details.
Have you ever thought about the common health diseases under a specific age group? Or have you ever googled the most common diseases that may happen to you? Honestly, diseases are unpredictable as anything can happen to anyone at any age. But knowing the potential issues beforehand helps in forestalling them and securing your health. Our idea for this world health day is to spread awareness regarding illnesses that are common in an age bracket. This would give you an idea of what you need to watch out for. Keep reading to know what diseases are prevalent in your age.
0-5 years
Infants and toddlers are prone to getting some common illnesses as their immune system is still in the developing stage. Parents need to be watchful of the symptoms to prevent the following common diseases in this age group:
Common Cold- Since their immune system is not so strong, they can easily catch viruses that cause the common cold. It may even lead to influenza that makes their condition critical. It is very important to protect them from cold weather and during seasonal shifts.
RSV- Respiratory syncytial virus is another common illness that affects the lungs. The symptoms however are milder than the common cold but if your child is ailing, it may affect him badly. You must consult a doctor for prevention and treatment.
Gastroenteritis- This is a stomach infection caused by a virus. Diarrhoea, vomiting and pain in th abdomen are initial signs of this condition. Generally, it takes a maximum of a week's time to heal on its own but you must take measures such as increased hydration, light meals, feeding electrolytes to the child, giving gut-friendly meals, etc. These would help in eliminating the virus sooner.
Fifth Disease or Slapped Cheek Syndrome- This is not highly common but is more evident in kids with fair complexion. Dr. Nivedita Dadu, Dermatologist, Founder & Chairman at Nivedita Dadu's Dermatology Clinic explains that This disease leaves behind a pinkish rash on the cheeks which may spread to the body. It can be accompanied by fever and a runny nose. This is a contagious disease and so, your child might get it from fellow friends.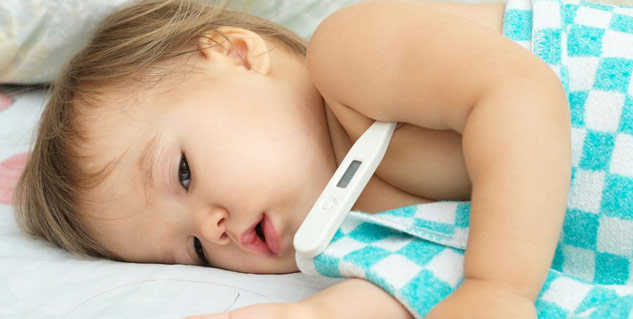 6-10 Years
Children in this age group are prone to the following illnesses:
Bronchitis and Bronchiolitis- This condition is caused when the airways to the lungs become infected. They produce a whistling sound while breathing and may even experience wheezing. It is important to feed them fresh fruit juice preferably orange and mosambi juices that are high in vitamin C.
Chickenpox- This is a common disease that causes rashes on the entire body that gradually develop into blisters and then dry out on their own. This disease brings along fever and diarrhoea. Chickenpox may cause scarring and so, you must ensure that the kid don't itch the spot. Feed him cold food and take paediatrician's advice.
Eczema- This is also very common in kids that cause itchy rashes and bumps on the face. Generally, kids with a family history of eczema get this. It can be treated with soothing topical medications and washing with mild antibacterial soaps.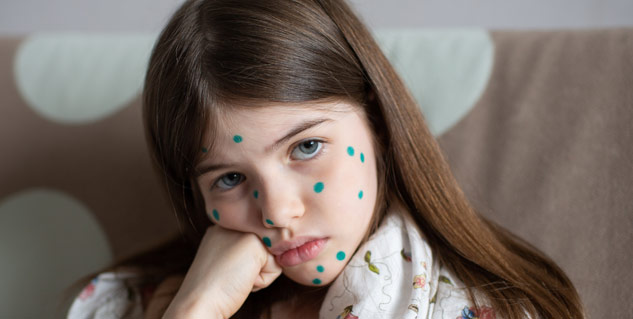 Teenagers
This is the age of puberty where children become adults both physically and emotionally. A lot of changes occur during this time including hormonal fluctuations that trigger these issues:
Acne- Acne is very common during puberty and these mostly arise because of hormonal changes that the body goes through. Teenagers get a lot of acne that usually subsides as they age.
Anxiety- This is a psychological issue that teenagers these days encounter the most. They are impulsive and therefore become anxious and depressed very easily.
Infectious mononucleosis- This is also called 'Mono' which is a bacterial infection that spreads through saliva.
Hormonal disorders- Teenagers suffer from hormonal disorders especially thyroid disorders the most. And you know that their hormones are to be blamed for this.
Urinary tract infections- UTI is also common in teenagers as they are easy targets for bacteria and poor intimate health only increases the problem for them. Maintain personal hygiene is a must for all.
20s
Let us come to the 20s who are sensible enough to understand the warning signs, however, it is not easy to prevent some common diseases. Here are some that they need to be careful from:
Sexually Transmitted Infections- STIs or STDs are common due to poor intimate hygiene and protection. Herpes, HPV and chlamydia are some of the common STIs. These can be prevented by practising sexual hygiene. Also, these are prevalent in men but women can also get bacterial vaginosis.
Skin issues- You might be surprised to know but skin cancers are common in this age group. The reason behind this could be increased exposure to direct harsh sunlight. As per Dr. Ajay Rana, Dermatologist & Aesthetic Physician, Actinic keratosis is common in men whereas melanoma is another cancer that looks similar to a mole. Pay attention to new dark spots and moles as these could be warning signs of skin cancer. Protect your skin from harsh UV rays to prevent this condition.
Diabetes- Another common issue is diabetes which could be due to ignored lifestyle and dietary habits. However, diabetes can also be hereditary and you may get it from your parents. Try to regulate your weight to prevent and manage diabetes.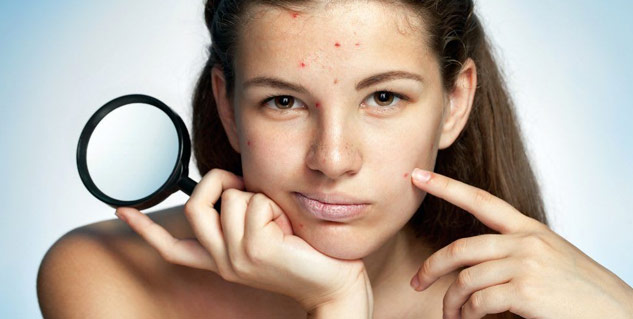 30s
If you are in your 30s, you need to be extra careful about your physical, mental and emotional health. This is a crucial age bracket where you go through a lot of ups and downs in life that impact your health. Following are some common illnesses that people in their 30s encounter the most.
Hypertension or high blood pressure- High BP or fluctuating blood pressure has become a common thing in adults these days. If you know you have this issue, you must take steps to control it or else it may lead to cardiovascular disease in near future.
Vitamin D Deficiency- A lot of us don't get the morning sunshine which makes us vitamin D deficient. This vitamin helps in preventing bone loss by increase calcium absorption in the body and improving nerve functions. You must take this vitamin to prevent fractures and osteoporosis later in life.
Infertility- If you decide to conceive in late 30s, you might be facing complications in becoming pregnant according to Dr. Manju Wali, Senior Consultant, Obstetrics and Gynaecology, Max Super Specialty Hospital, Patparganj, Delhi. This is because with age, childbearing tendency gets affected and this leads to infertility in some. You must go for a regular gynaecologist checkup to see if your reproductive health is in place.
Liver disease- If you consume alcohol a lot, you should know that this can impact your liver health. Most people in their 30s start to show symptoms of liver infections, jaundice, etc. Only lifestyle choices and dietary habits can prevent and control the situation.
40s
'Life begins at forty' This is an old adage but we cannot ignore body decline that also begins at this age. The wear and tear, aches and pains, chronic illnesses, etc. start at this point. Here is a list of the main illnesses that occur in and after 40s.
Aches and pains- While these aren't illnesses themselves but these are warning signs of chronic illness that are about to strike you. This includes arthritis, spondylitis, osteoporosis, to name but a few.
Hypertension and cholesterol- Along with high BP, you also need to watch cholesterol levels as these are common silent killers that invite other life-threatening diseases including coronary heart disease.
Osteoporosis- This is highly common in women as with age, their bone density tends to decrease resulting in osteoporosis. If you don't take enough of calcium and vitamin D, you are highly likely to get this disease.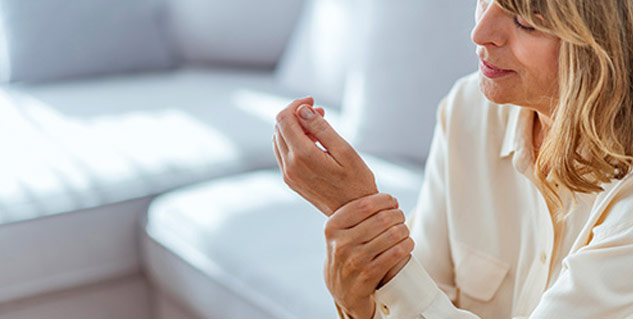 50 and above
Older adults aged above 50 years have a compromised body as they have aged and gone through so much physically, mentally and psychologically. Nevertheless, find below some of the common illnesses that oldies face:
Eye diseases- Do we need to tell you about age-related vision impairment? We all know that eyesight weakens with age which increases the risk of cataracts, glaucoma, macular degeneration, etc.
Arthritis- This is probably the most prevalent disease in older people. This affects their mobility and physical activity. Staying active in earlier years can prevent this from happening later in life.
Alzheimer's Disease- Weakening memory with age can cause Alzheimer's in them. This is why most grandparents become forgetful with age.
Conclusion
If you know the potential diseases that can be caused in a particular age bracket, you can take the necessary measures to prevent them. This world health day, pledge to safeguard your health and get a routine check-up done to know of the underlying diseases.
Read More Articles in Miscellaneous