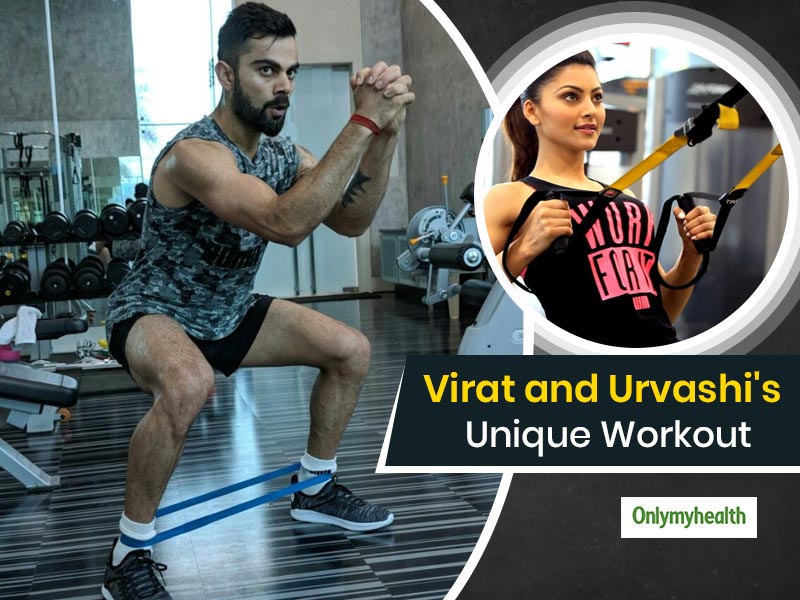 Virat Kohli, the captain of the Indian cricket team is often in the headlines, but this time a viral fitness video of him is the talk of the town. At the same time, another video of actress Urvashi Rautela is talked about. The interesting fact here is that both of them are working out in the somewhat same manner which is otherwise unique and different from the regular training sessions.
Virat Kohli has climbed the stairs of success in a short span of time. He is the youth icon of India where people follow his footsteps be it in fitness or game. He is the fittest cricketer of all times and often shares glimpses of his workout regime on social media platforms like Instagram to inspire people about the importance of fitness. His caption for this viral video reads: Putting in the work shouldn't be a choice, it should be a requirement to get better.
Also Read: 7 Easy Steps To Become A Fitness Enthusiast
On the other hand, a video has also surfaced with Bollywood actress Urvashi Rautela. In this, Urvashi is also seen doing workouts. It can be seen in the video that Urvashi's workout routine is also similar to Virat Kohli. Urvashi is also doing the same exercise that Virat Kohli shared the video. In both videos, they are seen jumping on a box and climbing.
Another video shared by Virat Kohli showcases the changes that he's brought in his body over 3 years. His fitness level elevated to an unmatchable level which is still a far-fetched dream for many.
Virat has around 48 million followers on Instagram. While Urvashi Rautela has 22 million followers. Along with posting the video, both have asked their fans to do such a workout. Virat Kohli has also said in an interview that he has given up many things to stay fit. His favorite food is chicken, mutton rolls, including many things.
View this post on Instagram
Also Read: Best Sprint Workouts For Beginners
On the other hand, Urvashi Rautela also works hard to keep herself fit. Urvashi follows a very different diet so that she can keep herself fit. The most important thing of both is that he never misses workouts. Photos of both Urvashi and Virat are often seen on social media. Which people also like a lot.
Read More in Exercise and Fitness