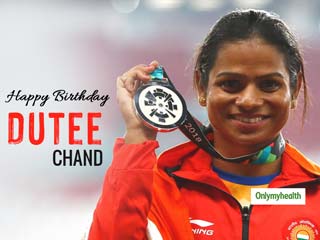 Born on 3rd Feb 1996 in Odisha, Dutee Chand is a professional sprinter who has made the country proud by earning accolades despite belonging to a BPL weaver family. Born and brought up in a small village in Bhubaneshwar, Odisha, she dared to dream big and achieved milestones crossing all hurdles that came her way. She is one of three women sprinters who have qualified for the Summer Olympic Games. Currently, she is the national champion in women's 100 meters sprint. Recently, Dutee was in headlines as she confessed to being a member of the LGBTQ community. Putting everything at stake, she came out in open to profess her identity and that she's proud to have born that way. She earned praises and got backlashes too but she chose to accept her real self which is worth applauds.
View this post on Instagram
Her Journey
Belonging to a weaver family, Dutee used to run barefoot in the village with her sister. In an interview given to a media channel, recalling her old days Dutee said, "I used to run every morning with my sister, and people in the village didn't know about the sport and used to call me mad, asking, 'why is she running?' because they only knew about cricket, hockey and football. They didn't know sprinting could be a professional sport. But, my family was very supportive. We used to run on the uneven ground, which caused a lot of blisters, and it was really cold as we didn't even have tracksuits or shoes. Proper clothing is crucial for any training."
View this post on Instagram
Dutee Chand Exercise Routine
Dutee who is busy preparing for the July 2020 Summer Olympics, Tokyo, Japan shed some light on her training schedule for the big event. Here is her training schedule:
Dutee's day starts at 5 am.
Her training begins at 6 am which is divided into three shifts- 6 am to 10 am; 11 am to 12 am and 3 pm to 6 pm. She takes to break in between to not overexercise her body.
Her exercise schedule includes running, sprinting, yoga and gym. Besides gymming, she also does weight lifting to strengthen her core.
Dutee runs a minimum of 7-8 km a day which sometimes goes up to 11-12 km.
View this post on Instagram
Dutee Chand Diet
Being an athlete, Dutee has to take care of her diet. As she is preparing for the summer Olympics, her diet is even more restricted. She consumes no-oil and a low-fat diet. Here's a glimpse of her current diet plan:
Dutee eats her breakfast at around 10 am.
Her breakfast includes milk, boiled eggs, idli, upma or dosa.
She eats typical Indian lunch with roti, rice, dal and a seasonal sabzi which is organic and fresh.
Herd dinner takes place at around 8 pm after she's back from the training institute. Her dinner plate is similar to lunch. She likes to have non-vegetarian food at dinner.
View this post on Instagram
This is what Dutee is doing these days to perform her best in all the upcoming events and bag as many medals as possible and make her country proud. She has put everything else such as studies and stuff on hold to stay focused and train harder.
Read more in Exercise and Fitness