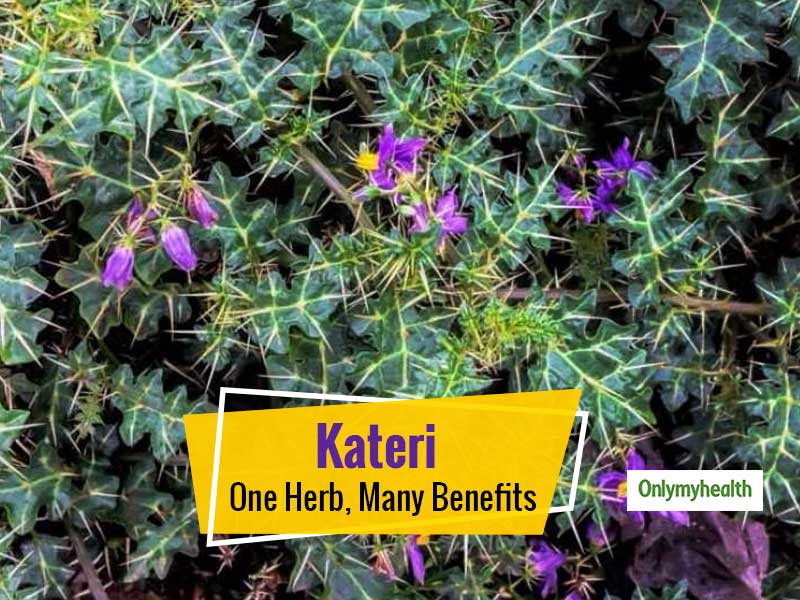 Kateri is an Ayurvedic herb whose root, stem and flower possess medicinal properties. This can treat a lot of health issues.
Kateri, also known as Kantakari and Bhatkataiya. It has many names in Hindi such as Chhoti Katai, Bhatkaiya, Rangani, Rigoni, Katali, Katayali, etc. This is a thorny plant that grows on the ground. Kateri is often found in abundance in shrubs and forests and people regard this as a wild plant. There are three species of Kateri plant namely Chota Kateri (Solanum virginiannumLinn), Bada Kateri (Solanum Bangui Lam) and White Kateri (Solanum lasiocarpum Dunal) which are all used as medicinal herbs to cure several diseases including migraine, kidney and bladder stone, liver enlargement, to name but a few. This article is all about Kateri herb and its exceptional health benefits.
Uses and Benefits of Kateri
Kateri is a powerful herb and is used widely in Ayurvedic medicines. Apart from treating seasonal common cold and cough, it is found to be effective in treating multiple serious illnesses naturally. Here is a rundown of the health benefits of Kateri and how to use it.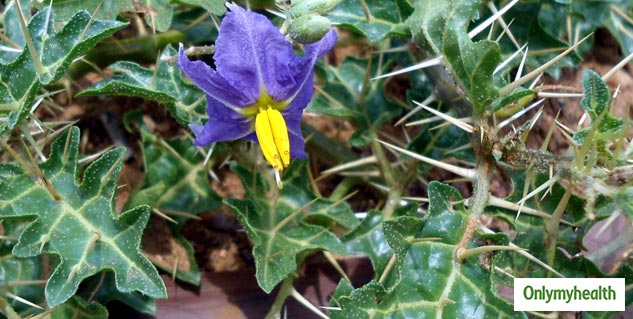 Kateri is useful in treating worms, colds, cough, fever, indigestion, muscle aches, and bladder stones. To treat kidney stones, make a fine powder of the root of Kateri, add two spoons of curd to it and eat this mixture for seven days. This will bring relief without any side-effects.
Use of Kantkari is very beneficial in migraine, and headache. Apart from this, mixing 500 mg asafoetida and 2 grams of honey in 2-4 grams of Kalki in small asthma is beneficial.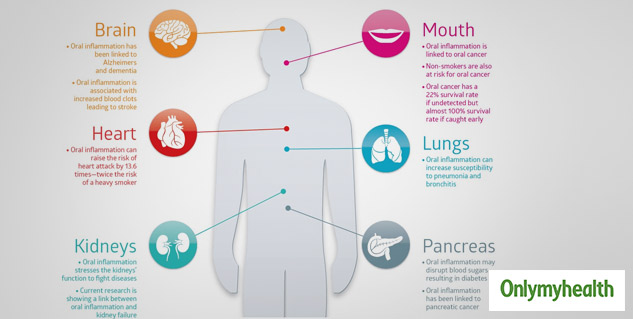 Jamun juice is used along with it to cure sore throat.
The use of Contakari is helpful in bloody piles.
Kateri paste is applied to the joints to reduce pain and swelling in arthritis.
Kateri is used as an expectorant for root and seed asthma, cough and chest pain.
To cure cough, a decoction of the root of Kateri is given with honey.
Kateri root paste is used in the treatment of snake and scorpion bites mixed with lemon.
Its stems, flowers and fruits have a bitter taste but consuming these can help to relieve burning sensation in the feet.
The fruits of Kateri prevent semen ejaculation. The fruit works as an aphrodisiac in men. Also, since this is an herbal ingredient, it won't cause any side-effect in men.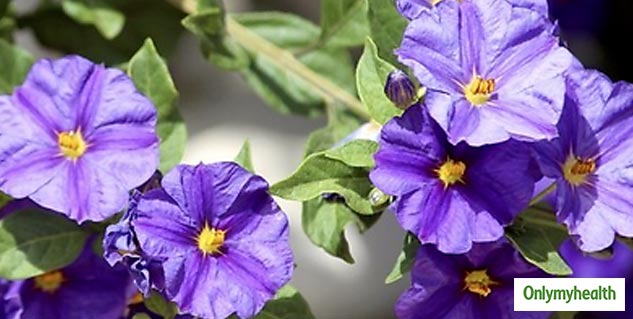 Its seeds are helpful for treating irregular menstruation and pain in women.
This herb is beneficial in the treatment of heart diseases associated with edema, as it acts as a stimulant for heart and blood purifier.
In physical weakness, juice of fresh leaves of Kateri should be drunk twice a day. You can mix and use sugar in it.
To prevent vomiting and nausea in pregnancy, take 5 grams of Kateri almanac and 5-6 raisins and boil it in water to make a decoction. Take this decoction regularly.
In liver problems, Kateri can be used. Regularly consuming a decoction of Kateri helps in reducing the infection and inflammation in the liver.
Note: Do not use Kateri by yourself, if you see symptoms of any disease, then you should take it only on the advice of an Ayurvedic doctor.
Read More in Ayurveda