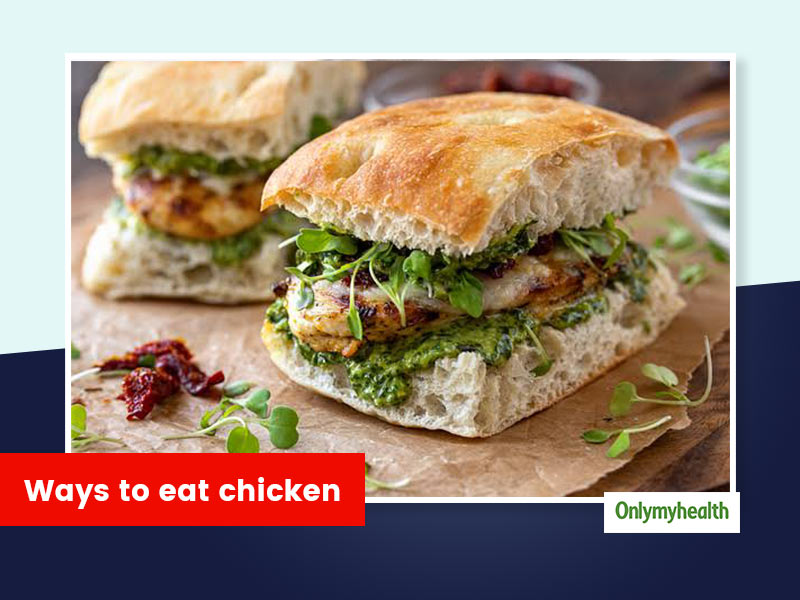 Chicken is full of nutrients and has many health benefits. Check out these different ways to include it in your diet. Read on.
There are several rich sources of protein but eggs and chicken are two best ways for good amount of protein intake. Protein helps in building strong muscles and bones, and plays a major role in your weight loss regime too. Chicken can be consumed everyday but it is important to chose the right kind and quantity. Chicken has many nutrients that contribute towards several health benefits. However, it also depends on the preparation, parts and what kind of chicken is being purchased to know how healthy your chicken is. The chicken breast is known to be the healthiest part and one should avoid having red meat.
Chicken is an amazing alternative for red meats. It is highly digestible and rich in Omega-3 fatty acids, Vitamin B12 and Vitamin B6. For many people, chicken is an essential part of their diet. Although, you cannot have a boring meal of boiled or fried chicken all the time. There is a need to make some changes in preparation and coming up with a healthy and tasty dish involving chicken. You can have chicken lasagna, chicken soup, chicken sandwich and many other chicken based meals. Read further to know about different ways to add chicken in your diet.
Ways to add chicken in diet
Incorporating chicken in your diet is essential as they are highly nutritious and offer a wide range of health benefits. Moreover, it has a good amount of protein and also plays a crucial role in weight management. Chicken can be consumed as appetizers or even in the main course. So, here are 10 different ways to add chicken in your diet:
1. Chicken soup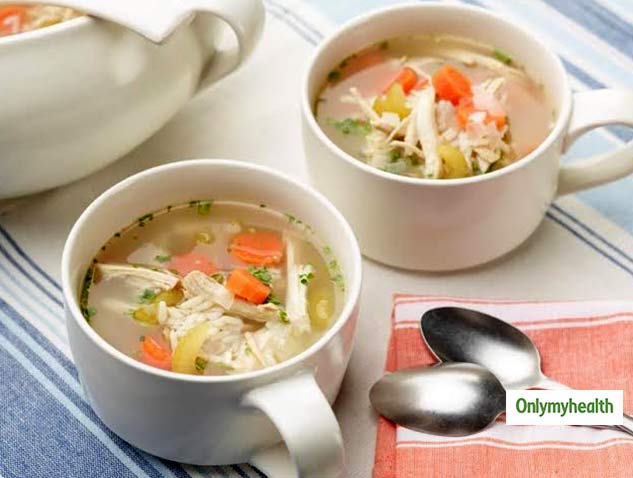 Another way to add chicken in your diet is by making a hot bowl of chicken soup. Having chicken soup will be even more beneficial if you are feeling under the weather. Both clear soup and regular chicken soup provide several health benefits. You can add chicken broth to your bowl of soup. A classic chicken soup lunch or dinner can prove to me very beneficial for you. Even veggies like spring onions and corn can go well with your soup.
2. Chicken sandwich
Chicken sandwich is one of the most common and delicious evening snack you can make at home. A chicken sandwich can make an extremely healthy and nutritious meal even if you have it during breakfast. You can also add several vegetables such as onion, capsicum, carrots, spring onions, mushroom and corn in your sandwich to make it even more healthy and delicious. Spread your favourite sauces and cheeze on your chicken sandwich. You can put a layer of boiled or grilled chicken on the bread.
Also read: Is Eating Chicken Good For Weight Loss?
3. Chicken lasagna
Homemade pasta sheets can be made at home using refined flour dough, egg whites can be used in flour to increase protein content in food. Ideally, a fresh tomato sauce is prepared, minced chicken is added and cooked. Lasagna sheets are then layered with the mixture and topped with cheese. Ideally beef is used but replacing it with chicken makes it healthier and a great alternative for red meat. Lasagna is very filling and can prove to be a delicious add on in your diet
4. Chicken dumplings
This is one of the most healthy ways to consume chicken for those who are trying to cut fats and oils from their diet. Minced chicken is mixed with vegetables and egg whites (optional) because it helps in better binding. This mixture is filled into thin rolled dough sheets, and then steamed. These can be served with a variety of sauces. Dumplings mostly have very subtle flavors, so it can further be used in dishes like thupka, which is definitely a comfort food during winters.
5. Chicken salad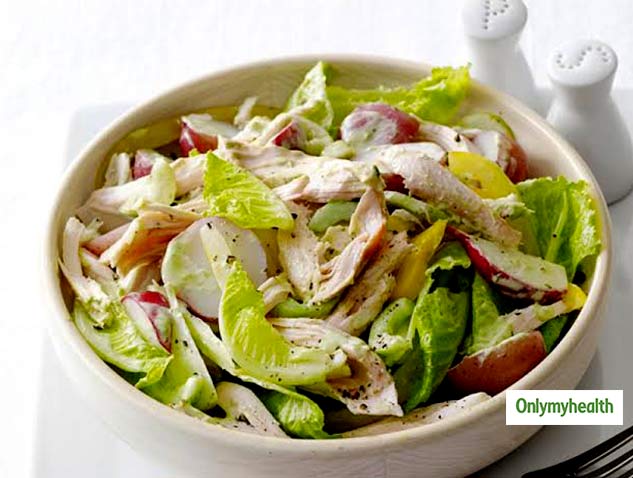 If you go to the gym, then having a chicken salad is the right choice for you! Boiled chicken is considered beneficial for your gym routine as it is full of good protein and you should try and consume it in moderation though. Boiled or roasted chicken can be eaten with some veggies and chutney in the form of a salad. You can also add a creamy ingredient to make is even more delicious. You can have a healthy and tasty meal in the form of a chicken salad. Having a chicken salad is also recommended for weight management but do not eat too many to avoid overconsumption of proteins.
6. Chicken curry
Chicken can also be easily included in your dinner in the form of a basic tomato and onion home made chicken curry. You can add tomato as the dominant ingredient for a tangy flavour in your curry. Chicken curry is a common and easy dish and is made by using the whole chicken, especially the chicken breast tossed in a tomato and onion based curry along with some curry leaves and several other herbs and spices to add flavour. You can follow your own style of making chicken curry by adding your choice of veggies and spices.
Also read: Christmas Special: Spend Time Home This Christmas With These 3 Yummy Recipes
7. Chicken burger
Burger patty can be made purely out of fried or roasted chicken. It is mostly made out of marinating a chicken breast piece. Chicken is the main patty in your burger. To make it even more healthy, you can add a number of fresh raw vegetables such as onion, lettuce, capsicum, and these can be layered along with various sauces as per your preference. You should try having this during lunch and compensate with a good workout routine too. In fact, you can also add various vegetable sauces to make it even more healthy and tasty.
8. Peanut crusted chicken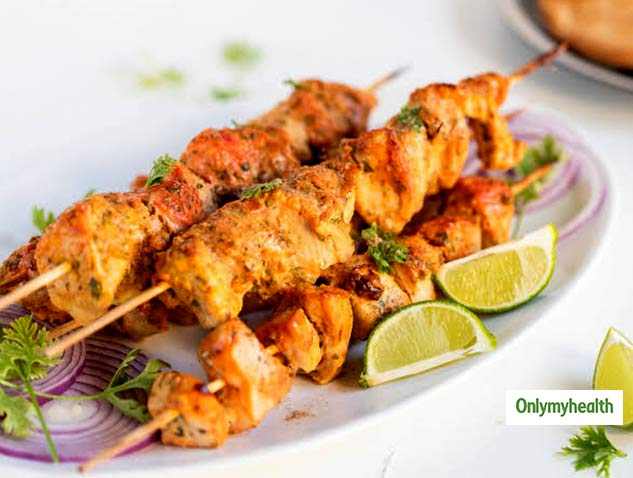 Peanuts are coarsely ground along with green chilli and ginger garlic. Chicken is marinated for about 4-6 hours for best results, chicken is then pan-fried. Breast prices are the best for this preparation. You can grill chicken instead of frying it will save some calories. Therefore, peanut crusted chicken is another way of incorporating chicken in your diet.
9. Chicken fried rice/ Chicken biryani
You can cook a traditional biryani layered with chicken pieces and many herbs and spices to enhance the flavour. Make a delicious bowl of chicken biryani in a pressure cooker easily at home. Firstly, marinate the chicken and add it in some cooking oil in a pressure cooker and put whole spices like cinnamon, cloves and cumin seeds in it. Add onions, green chillies, capsicum, garlic and ginger to add more taste and veggies to your egg biryani. After cooking it in tomato for a while, put salt, chillie powder, turmeric powder and yogurt in the cooker. Add biryani masala and mix everything together. You layering is done, now wait and let it cook for a while. Your wholesome chicken biryani is ready!
Also read: Eggs Vs Chicken: Health Benefits, Disadvantages And Ways To Incorporate In Your Diet
10. Chicken roulade
Another way of adding chicken to your diet is chicken roulade. Minced chicken is mixed with egg white and herbs, cheese can be added for layering, it's a great option if you want to have a protein rich diet. Adding vegetables is also a great option, spinach goes well with cheese and chicken. This mixture is then shaped like a cylinder using aluminum foil and poached/boiled. Chicken roulade can be served with various sauces made at home, i.e beetroot sauce. This dish is typically served with grilled vegetables.
You can have chicken through many others ways including chicken noodles and chicken pizza. So, these were some different ways to include chicken in your diet. Even many experts advice for the consumption of chicken, even to prevent many diseases. And, you can ask your nutritionist for other ways to consume chicken.
Read more articles on Healthy diet