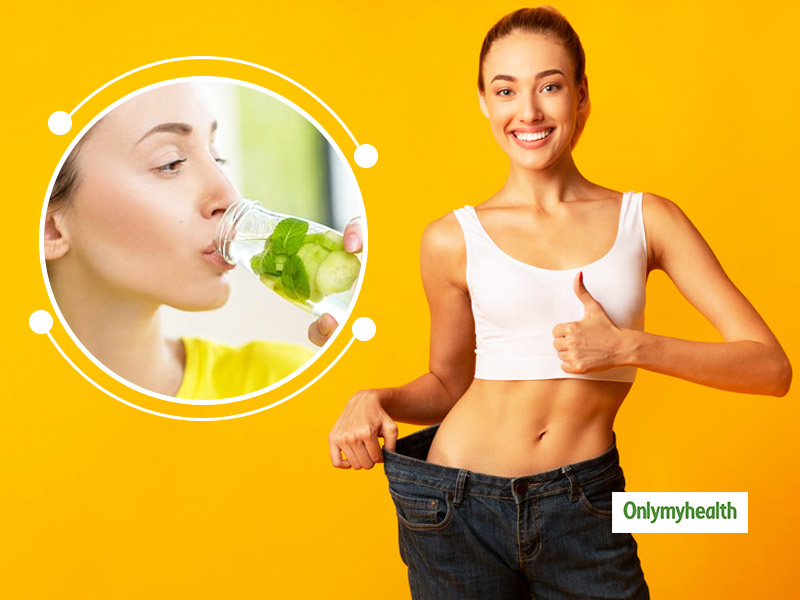 If you have been trying long to lose weight, you would be knowing how impactful is your diet. And in that, the first drink you consume is of utmost importance. Drinking plain water won't help you cut down fat but drinking detox drinks would certainly do. These aim at detoxifying the body, cleansing the gut, boosting metabolic rate and ultimately aiding weight loss. In short, these boost overall health. Made with fruits, vegetables and all-natural ingredients, these detox drinks are great for one and all. Also, we are giving you 11 options so that you can have them alternately without getting bored of one's taste. So what are you waiting for, read all the detox water for weight loss recipes down below.
Lemon And Cucumber Detox Water
One of the easy-to-make, delicious and beneficial detox drinks is this lemon and cucumber water.
Take a jar and fill it with water.
Slice a cucumber and cut the lemon into wedges.
Add all of these into the water.
Add a few fresh mint leaves also for a refreshing flavour.
Consume this water first thing in the morning on an empty stomach.
Drink this throughout the day to stay fresh.
Why It Works: The reason why this is the best drink to have first in the morning as it helps in upscaling metabolism and keeps you charged throughout the day. It is very low in calories and therefore best to keep you hydrated while controlling the calories.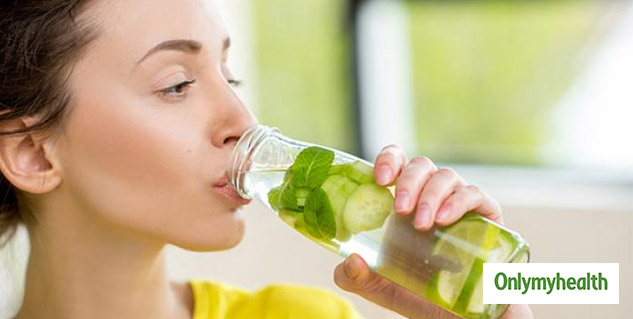 Lemon, Ginger and Honey Water
We know the individual benefits of honey, lemon and ginger in terms of weight loss and holistic health. This drink brings them together and provides supreme benefits.
Boil one glass of water.
Crush ginger root and add it to the water.
Now add half a lemon juice and one teaspoon of honey to it. Stir well.
Cover it with a lid and keep it aside for 2 minutes.
Strain the water and drink it hot.
Cinnamon and Strawberry Detox Drink for Weight Loss
If you have a sweet tooth, this is the best recipe for you. Cinnamon is proven in providing a multitude of health benefits apart from weight loss. Also, for the uninitiated, strawberries also aid weight loss. They contain a bioactive polyphenol named ellagic acid that is associated with weight management.
To make this detox water, slice 4-5 strawberries and put them into a jar.
Add a cinnamon stick and some fresh mint leaves to the jar.
Now fill the jar with water.
Keep it aside for an hour and then drink.
You can also prepare this drink the night before and keep it in the fridge.
Drink it cold the other day to reduce body heat in the summer season.
Green Tea with Lemon Juice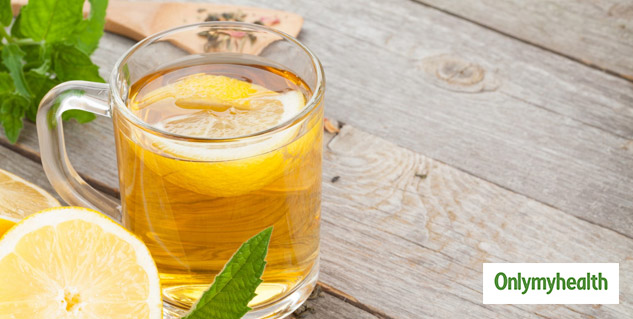 A lot of you drink green tea just because it is believed to tone the body, right? Well, this is half-correct. Green tea has antioxidants that promote weight loss. Lemon juice, on the other hand, has vitamin C and polyphenols in abundance that stimulate weight loss activity. Instead of drinking only green tea, add a dash of lemon juice to make it less bitter and better.
Prepare green tea either through loose leaves or a tea bag.
Squeeze half a lemon juice to it.
Stir and drink lemon green tea.
Pineapple Lemonade
Another fruity and refreshing drink that can help you lose pounds is this pineapple lemonade. Pineapple is a potent fruit that offers numerous health benefits. You must have this fruit as it triggers fatty acid oxidation that can aid weight loss. Let us tell you how you can make a refreshing weight loss morning drink with pineapple.
In a blender, add sliced pineapples and blend them.
Take out the juice in a glass.
Add one teaspoon of lemon juice, a pinch of black pepper and one teaspoon of maple syrup(to balance the citrusy flavour).
Drink this juice in the morning to feel full, fresh and energetic.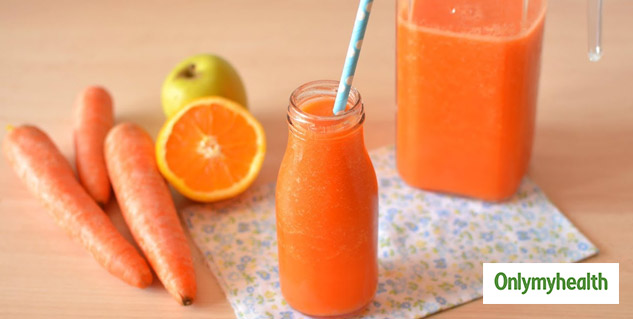 Carrot and Orange Juice
The next detox drink for weight loss is carrot and orange juice. If you had a heavy dinner, you can consume this drink the next morning to detox the body. Carrots are high in fibre and beta-carotene that induces a feeling of fullness. You won't feel hungry for a long time and that would result in less eating. Oranges, on the other hand, have high vitamin C content that is largely associated with weight loss. It increases the water content in the body to help you stay hydrated and lose weight.
Peel and chop a carrot. Add it to the food processor.
Now peel one orange and add it to the processor.
Take out the juice and add a pinch of black pepper and rock salt.
Drink this delicious juice.
Fruits And Vegetable Juice
You must consume a lot of fruits and vegetables to lose weight. These are high in fibrous content that helps prevent untimely hunger pangs and unnecessary eating. The fruits and vegetables that you can add to prepare this juice are carrots, apples, strawberries, blueberries, spinach, and beetroot. Most of these have a low glycemic index that is helpful in weight control. Also, these have natural sugar that won't add to your weight.
Add all the veggies and fruits that you can want to add to the food processor.
Take out the juice and add a pinch of black pepper and sea salt to it.
Stir and drink.
We recommend not straining the juice as then it will lose the fibre content. It may be difficult in the beginning but then you'll start to love it after a couple of times. In order to reap maximum benefits, you must have whole fruits and vegetables. That way, you can get all the nutrients.
Also Read: What is Apple Cider Detox? Learn Step By Step Method to Cleanse Your Liver
Beetroot And Mint Juice
The next juice we have is this nourishing and refreshing beetroot-mint juice. Beetroot has a naturally sweet taste with a lot of fibre that is sure to impress your palates and soothe your stomach. Beetroot is a potent cleanser that aids liver detoxification along with proper gut cleaning. You must also have beets in salad to get maximum nutrients.
Chop beetroot and blend them.
Now add some fresh mint leaves and some lemon juice. Blend again.
Drink this magical juice daily.
It is better when consumed fresh and unstrained.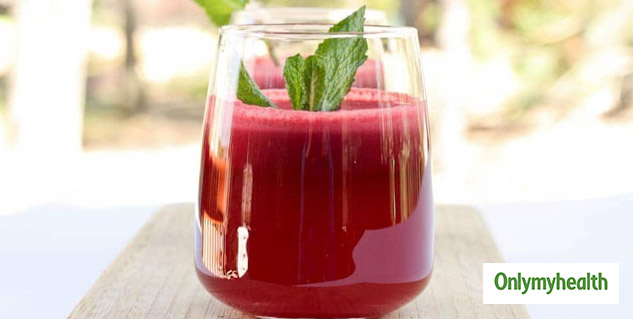 Buttermilk
Do you know that buttermilk or chhaas is also a potent detoxifying food? It has got probiotics that boost the digestive system. It helps in managing digestion, appetite control and weight loss. Having buttermilk daily is great for people having stomach issues. Let us tell you how to make wholesome and nutritious buttermilk detox for weight loss.
In a blender, add a glass of buttermilk.
To this add mint leaves or coriander leaves and half carrot(sliced).
Blend everything to make a drink.
To this add a pinch of rock salt and cumin powder.
Stir and drink.
This can be consumed either in the morning or with your meals. Both ways it boosts digestion.
Conclusion
You must consume these detox drinks to lose weight. Apart from helping you lose the extra kilos, these drinks are great for your gut. Consuming them in the morning will bring more benefits but you can have these at any time of the day except night. Also, there are so many options here that you can prepare different drinks on different days.
Read More Articles in Weight Management