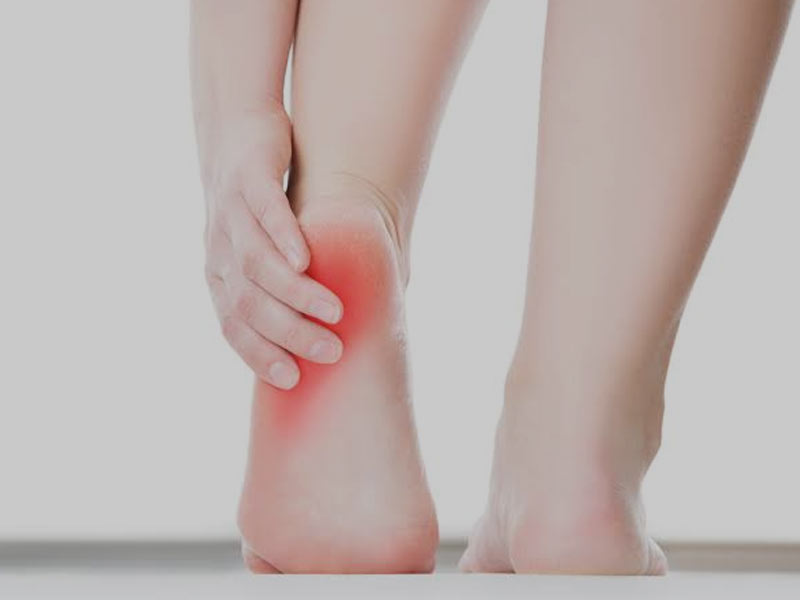 Your feet are always occupied with some activity or the other, such as walking, running, standing, dancing or any other stretches and exercising. Even walking at a normal pace for longer periods can be extremely difficult with pain and swelling. These daily chores have a tendency of causing pain in your legs and feet. However, it is not sure that only these can lead to sore feet, but there are other factors behind it like pregnancy and sprains. Women, in particular might face this problem because of wearing shoes that are too small.
There is basically a requirement of flexing the muscles and bones in your feet and legs. Injury, overuse or conditions causing inflammation involving any of the bones, ligaments or tendons in the foot can result in foot pain. One might even feel numbness along with the pain and swelling. Make sure to take proper rest if your feet feel tired at any point. A healthcare expert might recommend you to take a painkiller to relieve the foot pain. If your feet are tired and sore and your skin feels normal, then soak your feet in warm water to relax and soothe them. Read this articles further to know about some useful home remedies to treat sore feet.
Sore feet home remedies
Sore feet can be recurring or might happen once in a while. You can talk to your doctor for medical treatment, but mostly sore feet can be treated with simple home remedies. Before you try the natural remedies to cure sore feet, make sure to consider if you have a more serious health condition that should be seen by a doctor. There can even be a foot injury as a cause for sore feet, which needs to be seen by a doctor. Trying more than one of the home remedies can be even more effective in treating this problem. So, here are 6 tips to cure sore feet:
1. Warm foot bath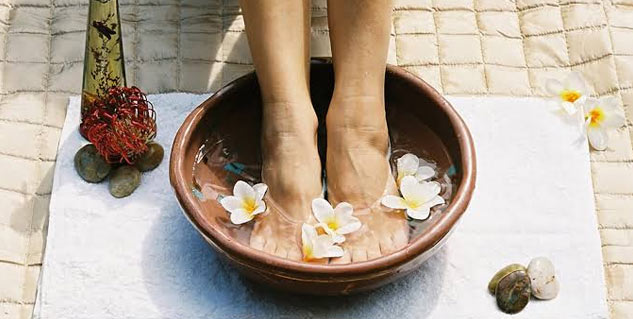 A warm foot bath is an effective way to treat temporary pains and injuries. It can provide relief to your feet, by curing the pain specifically. Adding epsom salts to a foot bath is considered even more effective as it will not only improve the circulation but also relieve your sore muscles by reducing the swelling in your feet. You might want to try other products in your foot soak like baking soda, but this ingredient has a higher chance of treating skin conditions, instead of problems like soreness or swelling. You can make an Epsom foot bath by adding one cup of Epsom salts to a tub or bucket of warm water. Soak your feet in this water for atleast 20-25 minutes to get good results.
2. Foot massage
You can massage your own feet to help soreness and improve circulation. In fact, a workout routine and fitness expert can guide you in overcoming this pain and inflammation. You just have to sit down in a comfortable chair and rub the bottoms of your feet. Another way is to bend and pull the toes to give a proper massage. You can use a moisturising lotion or oil that can help in lubricating your skin, making it easier to massage the foot. There are various products such as foot rollers that may also help massage the foot if you roll it on the floor with your feet.
Also read: Top 9 Tips To Keep Your Feet Clean And Hygienic By Following These Simple Steps At Home
3. Apply ice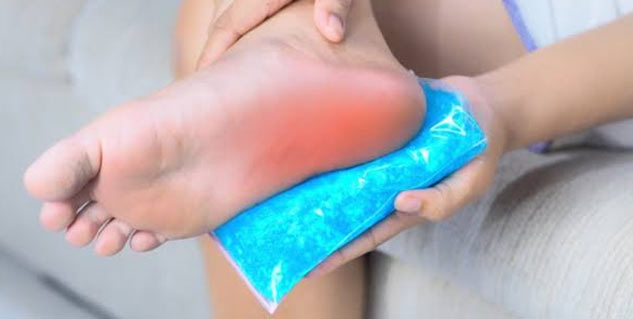 Another tip to cure sore feet is applying an ice pack on the affected area. Icing your feet can reduce the inflammation that mostly leads to soreness. You can also apply ice to sore feet by filling a plastic bag with ice or rolling your feet on a frozen water bottle. Try to place the ice bag on the affected area for around 20 minutes minutes a few times a day to help reduce the inflammation. A warm or hot compression is mostly useful in such cases. This remedy will surely work if the cause behind sore feet is an injury or pulled muscle.
4. Change your footwear
Your shoes could be a major cause behind foot pain and swelling. If you want to treat sore feet, then it is best to change your current footwear and move on to a new one. Wearing shoes beyond their life span, the wrong style of shoe, or a wrong shoe size can affect the health of your feet. High heels and shoes without appropriate soft material can contribute towards damaging your feet. Changing yoor footwear is something fixable and that can easily be done at home if the cause of sore feet is the footwear. If the change in your shoes is not helping, then you can try the other home remedies for relief.
5. Stretching
Giving a stretch to your feet regularly can help people in preventing pain and the pain caused by plantar fasciitis. You can try toe curl and marble pickups as some foot exercises to ease the pain and inflammation. Stretching can be beneficial for your overall health as well. You should do some foot exercises and stretching everyday, to keep your nerves and muscles active and opened up. An expert can help in suggesting some stretches and exercises to relax your foot and cure the pain and inflammation. Giving your feet a workout is good for foot health.
Also read: 10 Things that your Feet say about your Health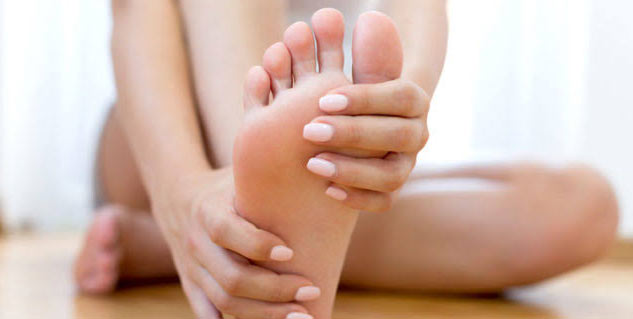 6. Eat bananas
Diet can have a major influence in preventing and treating many problems. It is important to consume all the fruits and vegetables, including bananas. If you are feeling bloated, have uncomfortable feet, you should consume foods that can balance out the fluid retention levels in your body. This will both prevent and cure sore feet effectively. Include bananas in your diet as it is a good source of potassium which plays a major role in relieving fluid retention.
How to prevent food pain?
You can always prevent a problem before jumping on to treating it, medically or through home remedies. For soreness in feet, you should make a habit of applying a lotion containing urea to rough spots before they can become an issue. Urea containing lotions might sting so start with a smaller amount only. Another effective way to prevent skin from paining and swelling is by soaking your feet in a bowl of warm water atleast once a week. Then, apply a moisturizing lotion and wear the right shoes. Also, choose shoes that fit well. Your footwear should be wide enough so that your toes fit properly and are not getting cramped. Therefore, you can prevent sore feet by following these simple preventive instructions.
Also read: Banish Heel and Sole Pain In Minutes With These Super Easy Remedies
Sore feet is a very common problem and issues with the joints of the foot, pregnancy, sprains, plantar fasciitis, and exertion can lead to foot pain. Some experts suggest that the above mentioned home remedies can be extremely useful in curing the pain and inflammation. Applying ice, stretching or elevating the feet and legs, wearing comfortable footwear and bathing the feet in warm water are just some very useful natural ways that you can easily try at home. Every remedy will work differently for every person.
Read articles on Home remedies