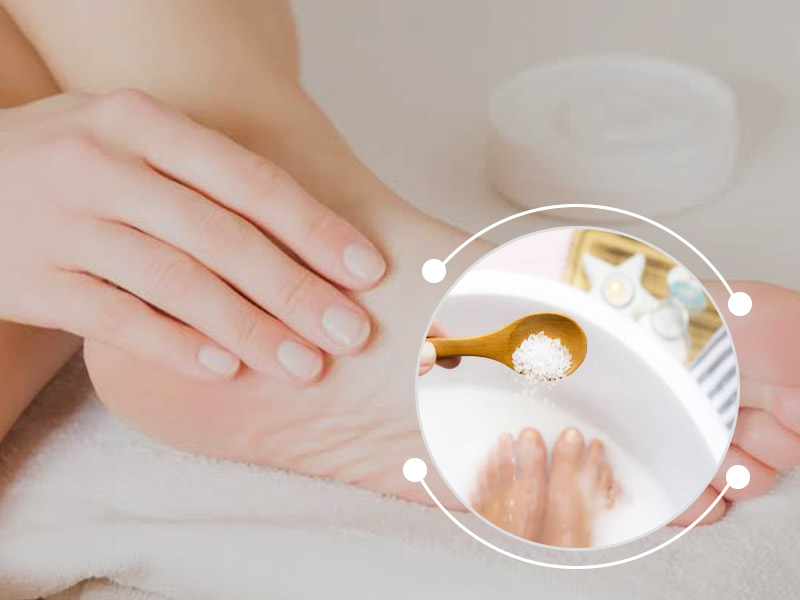 Dead or loose skin formation on the feet is a common problem and it is your foot's indication of exfoliating and removing dead skin cells naturally. Dead skin can build up due to lack of moisture, and this happens if your feet are in closed shoes or socks for longer periods, or from the friction of walking or running. In fact, it can also buildup if you do not take care of your feet. Time to time exfoliation and scrubbing is important. Dead skin on the bottom of your foot will mostly be dry, cracked, or loose or hanging. It is not painful unless the cause is medical, such as athlete's foot, eczema, or any other type of infection. If you have those symptoms, then get it diagnosed and medically treated. Otherwise, you may want to remove dead skin for cosmetic factors or because it is more comfortable.
Your feet go through a never ending process of wear and tear. They are an important part of our body and require the same amount of care and attention as other body parts. Along with your skin care and hair care routine, foot care should also be a part of your weekly schedule atleast. Starting from washing them regularly to moisturizing, foot hygiene is should be an addition in your beauty care regime. A lot of people constantly neglect the dead skin on their feet, which is not correct. There are many simple and easily available natural ingredients that can help in dealing with dead skin removal. Keep reading further to know about simple home remedies for removing dead skin on your feet.
Home remedies to remove dead skin from feet
Some of the physical activities that can lead to hardening of the skin are brisk walking or running in tight shoes, or playing instruments involving your feet. If you have recently developed corn in your feet, then it can also be treated at home with the help of a few simple home remedies. So, here are 6 home remedies to make dead skin removal from your feet easier:
1. Epsom salt
Epsom salt is available in almost every household. Epsom salt is basically a crystal form of magnesium sulfate, which is a mineral compound. You can soak your feet in Epsom salt foot bath after dissolving it in some warm water. It can help in exfoliating and making dry and cracked heels, smooth and soft. Hence, this helps in removing dead skin from feet easily. You can make an Epsom foot bath by adding one cup of Epsom salts to a tub or bucket of warm water. Soak your feet in this water for atleast 20-25 minutes to get good results.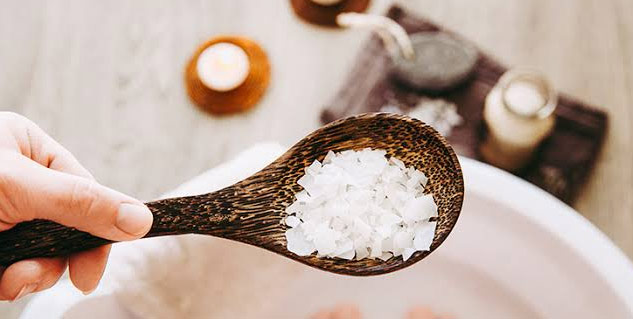 Also Read: How To Treat Sore Feet? Here Are 6 Useful Home remedies And Prevention Tips
2. Baking soda
Baking soda can also help in reducing the signs of eczema. A person's skin gets dry and itchy in this skin condition. Baking soda bath can help in reducing the itching levels on your skin. But, do not forget to moisturize your skin after the bath. It is an easy and affordable treatment for dead skin removal from feet. Just add around 1-2 cups of baking soda to lukewarm water and mix it up so that the baking soda dissolves. To make a baking soda bath, add between ¼ to 2 cups of baking soda to warm bath water and stir it around to let it dissolve. Then, after the baking soda gets dissolved, let your feet stay in the foot bath for around 40 minutes. After the bath, dry out and tap the skin with a towel.
3. Paraffin wax
Another effective home remedy for dead skin removal is paraffin wax. Many nail salons also use paraffin wax as an integral part of your pedicure treatment. Paraffin wax is a soft wax that is melted at a temperature of around 51°C. The wax should not be too hot to burn your skin. You can also do a paraffin wax treatment at home or you can melt the wax in a pan and then put it in a bowl for soaking your feet. While using paraffin wax, you have to dip your feet in the wax a lot of times. After applying many layers of wax, your feet will get hardened and covered with this wax. Then, you can remove the wax. Any dead skin on your feet will be removed along with the wax. This will make your feet more soft and smooth as well.
Also Read: Potato Is A Hidden Skincare Gem, Make Potato Scrub and Cream At Home
4. Pumice stone
Pumice stone is also easily available in most of the households. It is a light weighted yet harsh stone which is specifically used to remove dry and dead skin. This stone can be used on your feet as well. To use this natural remedy, you have to boil 2-3 cups of water and put it in a bucket. Then, add 2-3 cups of normal water to make it lukewarm. Put your feet in the bucket and soak the area of hard or dry skin in warm water for 10-15 minutes. You can also add various beneficial essential oil to the water. Now, use your pumice stone and start rubbing on the dead skin in a sideways motion. Do not go very harsh on scraping it off but be gentle with your feet.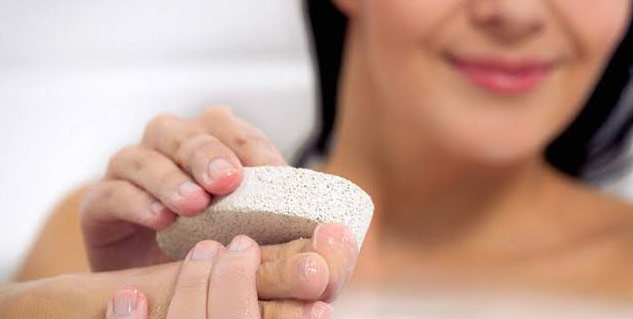 5. Oatmeal scrub
Draw yourself an oatmeal bath or scrub the dead skin using oatmeal. It will also help in dealing with dry, itchy and irritated skin. However, do not go for this home remedy without asking your doctor, because the treatment for dead skin can be different as well. And, there are useful oatmeal bath products available in the market as well. You can even use oatmeal to make a DIY natural exfoliator to remove dead skin at home. Oatmeal scrub is one of the best ways to remove dead skin from your feet. You can even mix it in lukewarm water instead of making soda and enjoy a relaxing oatmeal foot bath.
6. Castor oil
Castor oil is a multipurpose oil and is used to treat dryness, cracked heals and dead skin on your feet as well. It is an economical and effective home remedy for dead skin removal. Castor oil is made by pressing castor beans and it is a vegetable oil that people have been using since many years. Put some castor oil in a bowl. Clean your toes with soap or sanitiser before using the oil. Take a cotton swab or ball and dip it in castor oil and then massage gently on the dead skin. You can cover it with aluminum foil too. Let it stay for around 20-30 minutes. After you're done, just remove the foil and wash your feet properly. Don't let your feet become dry and keep applying moisturizing lotions.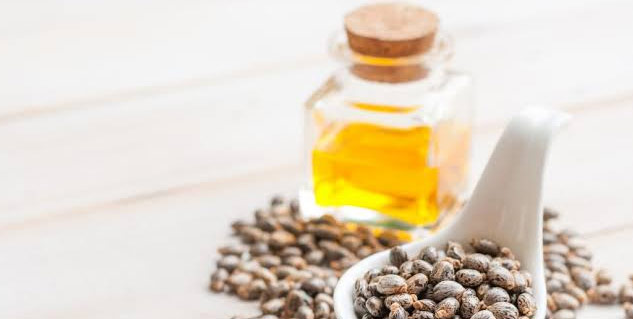 Also Read: Want Faster Hair Growth Tips? Here Are 12 Best Hair Oils To Make Hair Grow Quickly
These were some effective home remedies for removing dead skin from your feet. Dead skin is mostly nothing to worry about. It can easily be removed at home using the above listed natural ways. The best way to prevent dead skin from forming on your feet is by moisturizing regularly. You can ask a podiatrist to suggest some therapeutic oils, ointments, or creams that can help in dead skin prevention. However, avoid lotions that contain alcohol, which can make your feet even more dry. Baby oil or petroleum jelly are considered safe for this purpose.
Read more articles on Home Remedies