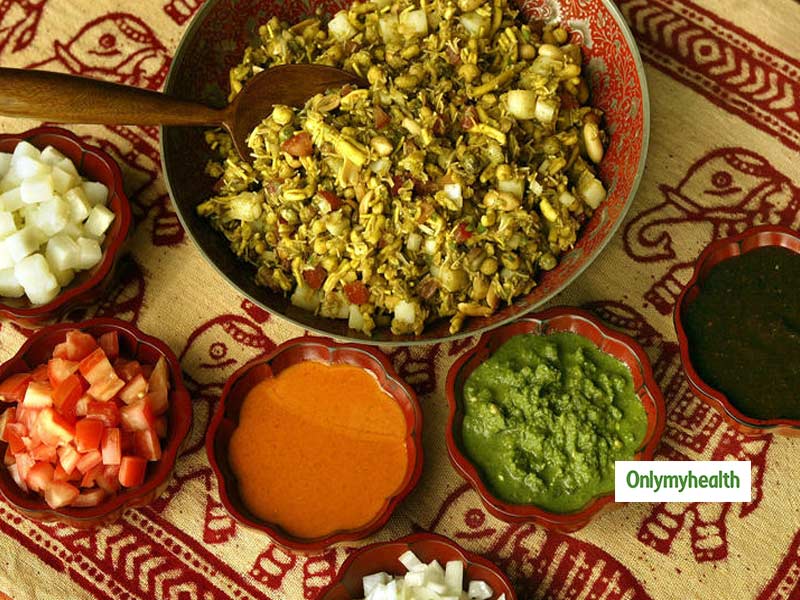 One of the famous street foods, Bhel Puri is easily available everywhere but because of the increasing health issues, people are not able to eat it and savor its taste. Welcome to the vibrant street food of India. Tickle your taste buds with this classy tangy bhel puri and make the most of your hunger. Bhel is an important member of the royal Indian chaat family. It has gained such a huge fan-following that nobody can refuse a platter full of it! Below mentioned are the three ways of making Bhel Puri that is not harmful to health.
Low-Calorie Bhel Puri
This bhel puri recipe is a complete diet-friendly recipe. Puffed rice, chopped onion, sprouts, green chilies, chopped ginger, tamarind pulp, chaat masala, coriander and pinch of salt will make the bhel puri delicious and healthy. Ingredients like coriander, onion, and ginger offer a lot of health benefits.
Onion - It is good for rejuvenation, improves skin complexion, useful in skin disease and its juice is good for preventing hair fall.
Ginger - Ginger is used popularly in ayurvedic treatment. It is used for detox, digestion, and immunity-boosting.
Coriander - Coriander also known as dhaniya helps in digestion and stomach cure.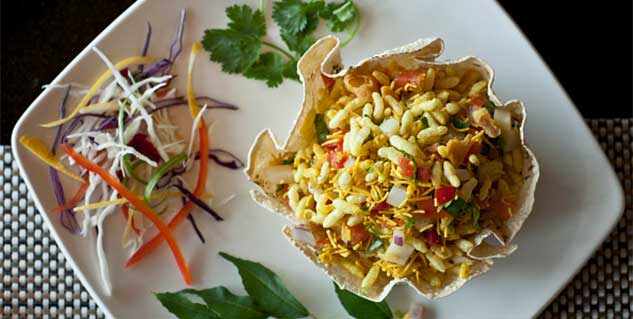 Key Ingredients
2 green chillies (finely chopped)
40 grams sev
3 teaspoons of tamarind sauce
100 grams of puffed rice
1 potato (boiled and cut into pieces)
½ teaspoon of chat masala
A pinch of amchur (mango powder)
Pinch of salt ½ onion (chopped)
This is how you make scrumptious bhel puri
Also Read: Moringa Leaves Health Benefits
Mix all the ingredients well in a bowl. Serve this Indian time pass with jaljeera to your family in rolled paper cones, when the match is on!
Corn Bhel Recipe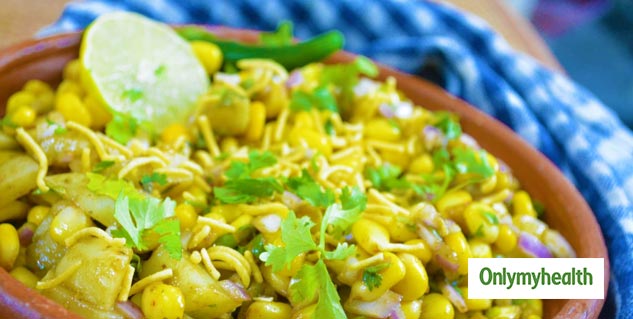 To give the typical bhel puri a different twist with health benefits, we can use steamed corn instead of puffed rice. Along with that chopped tomatoes, tamarind chutney or lemon juice, chaat masala, chilly powder or chopped chilies. To make it more nutritious fruits like apple, pomegranate is also added.
Corn - Corn reduces the risk of anemia. It is also a good energy enhancer and helps underweight people.
Moong Bhel Recipe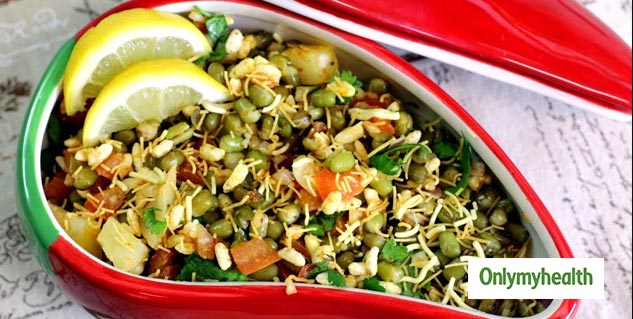 Now, this is again a new and healthy bhel recipe. This bhel puri contains moong dal sprouts, puffed rice, tomatoes, onions, chilly powder, lemon juice, chaat masala, sev and a pinch of salt will make this bhel puri mouth-watering.
Moong dal sprout - Moong Dal sprouts are rich in vitamins and minerals. These beans are one of the greatest sources of plant protein. The presence of antioxidants in moong dal sprout makes it a good food for reducing chronic disease risk
Nutri-check
It is low in fat & highly nutritious. Moreover, you can experiment with the bhel puri by adding potatoes and tamarind sauce, in order to make it tangier! Puffed rice is very light on stomach. It is rich in proteins and Vitamin B.
(Inputs By Mohamad Yusuf N Shaikh, Founder of Kudrati Ayurved Health Center)
Read more on Healthy Diet