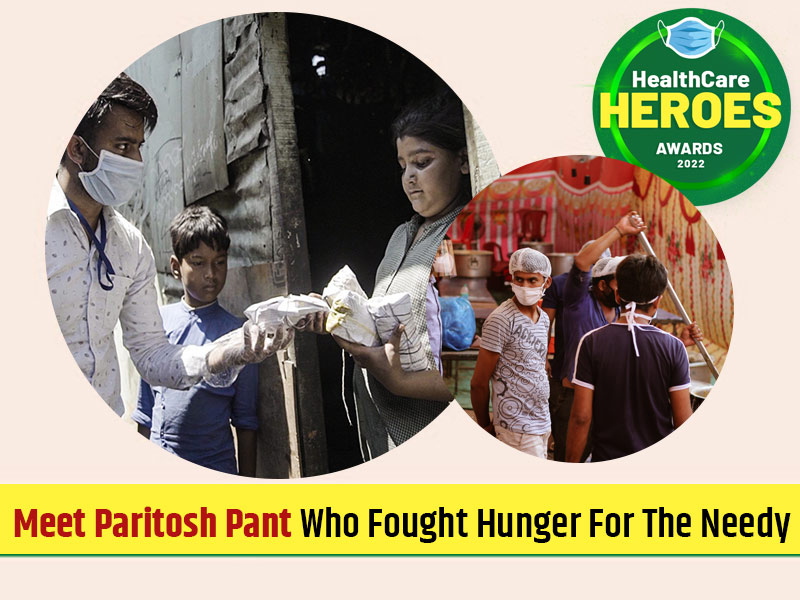 Who: Feeding From Far
What: A project that feeds and distributes ration kits to the poorest and unemployed members of society during the lockdown.
Why: Initiative which addressed the issue of hunger and food insecurity for the poor, migrant workers and daily wage workers who had no means of livelihood during lockdown. They have fed over 25 lakh meals till date.
Since the first coronavirus case was detected on 9th March 2020 in Maharashtra, the state has been a COVID-19 hotspot with nearly 22.35% of the total cases and about 30.55% of all deaths in India. During the second wave COVID positive cases spiraled at twice the pace compared to the first wave and this sharp surge overwhelmed the infrastructure of the country. While the people scrambled for hospital beds, critical drugs and oxygen for their friends and family, a large chunk of the population required something very basic for survival - Food.
Paritosh Pant, a Hotel Management graduate, was running a successful Restaurant chain in Mumbai - "cafe run by hearing impaired staff where you order by sign languages". When the pandemic hit, his business, like many in the hospitality industry, closed down. He fell into deep depression.
The Humble Pav And A Nobel Idea
It was one evening while baking Pav for his family, Paritosh realised how privileged he was to be able to make "comfortable meals" for his loved ones and share it on social media, while the daily wage earners had no work due to the lockdown and didn't know where the next meal would come from. To address the issue of hunger and food insecurity, he shared a plan on social media - an initiative to build a kitchen run by the community and asked his friends to help. His post was read and shared by his friends and many called to offer their help. Help came from expected and unexpected quarters and Feeding From Far was born on 27 Mar 2020. It is a community driven model, where the members of the community cook, identify those in need and distribute food, feeding the community they live in.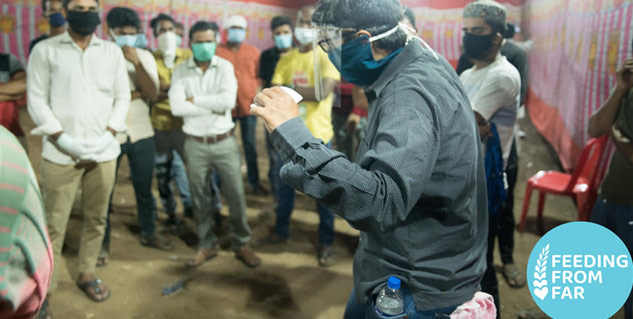 Feeding Govandi
A slum cluster called Govandi was zeroed in. Located in East Mumbai it has one of the lowest human development index, where the living conditions are so poor that the average life expectancy is below 40 years.
Pant's idea was to not just feed Govandi, but start an initiative where the community takes charge and thus develop a fervor of social service in people. Feeding From Far also ingeniously supported local businesses of Govandi. Pav's were procured from Govandi's bakeries. The Feeding From Far team cooked nutritious dry bhaji, inspired from Indian Thali - which has all the essential macronutrients. Special care was taken to ensure the great nutritional value of the bhaji as it would be the only food many families would have during the day.
Also Read: Healthcare Heroes Awards 2022: Pune Auto Driver Akshay Kothawale Used His Wedding Savings To Feed Needy During Covid
The Challenges
But what looked good on paper, or rather on a social media post, was not an easy task. First two days Pant witnessed chaos and the project, run mostly by inexperienced locals, went helter-skelter. To overcome this he made a project plan, divided Govandi into 45 sub locations, made teams, strong work ethics and set up the kitchen. Around 60 volunteers from Govandi were divided into kitchen team, packing team, storage team, delivery team, sub-location distribution volunteers and security team. A big burly bouncer at the entrance armed with a temperature gun and liquid soap ensured the team's entering would wash their hands, wear the mask and follow all COVID protocols. Teams had an ID card and were to finish their task in stipulated time and move out for the other team to take over. All this to avoid different team members gathering in the area when not required.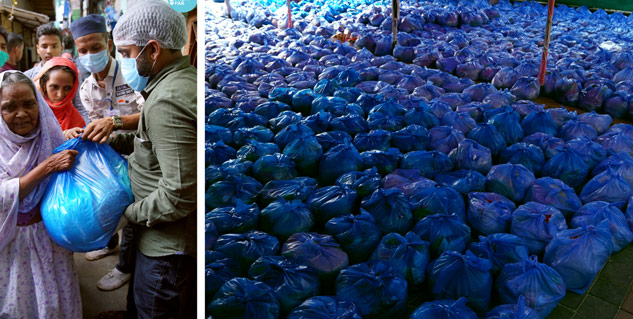 The first shift started at 6:00 a.m. when the kitchen team made the meals. Food was packed by the packing team and divided into batches as per the sub locations. The distribution team delivered the food on a scooter to the sub-location volunteers, who further distributed it to the already identified families who were in need. This was done twice a day.
Feeding From Far also had an aggressive social media campaign which promoted their work and requested donations.
During the second wave Feeding From Far faced a new challenge. There was an acute shortage of medical oxygen, Feeding From Far had to ensure that the people didn't forget the most basic requirement of food for the underprivileged.
Pant realised how operation heavy this initiative was. The funds were getting used and he had to come up with a new idea, as the initiative of feeding could not stop. A dry ration kit of rice, pulses, oil, salt and turmeric, was prepared. This kit would last a family for two weeks. Thus, some of the tasks were reduced and so was the overall cost.
Feeding From Far also started an initiative for migrant workers. Homebound migrant workers on constant move trying to reach home were handed nutritional food packets consisting of dates, glucose biscuits, roasted Chana, ORS sachet and bottled water to each person.
Also Read: Healthcare Heroes Awards: Hemkunt Foundation Supplied Free Oxygen During 2nd COVID Wave In India
The Accolades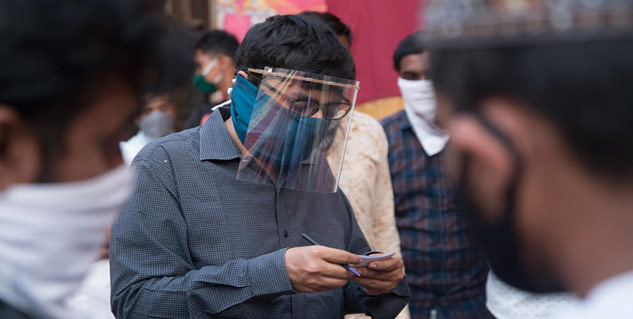 Feeding From Far has fed over 25 lakh meals till date and received shoutouts from various organizations and celebrities. More than 70 celebrities including famous cricketers, actors, singers and stand-up comedians from around the world have supported their Herculean initiative. They have 11,500 backers all over the world.
Eradicating Hunger
Pant is working on a project which would contribute towards eradicating hunger. He plans to identify 25 hyper local "privileged class kids" below 25, all over India, to inspire, to eradicate hunger for 20 people in their area.
If Feeding From Far's work during this pandemic has inspired or moved you, do cast your vote for them. Here is how you can vote for your favorite nominee for Jagran New Media & OnlyMyHealth's HealthCare Heroes Awards 2022.
To cast your vote, Click Here: https://www.onlymyhealth.com/events/healthcare-heroes-awards/nominations