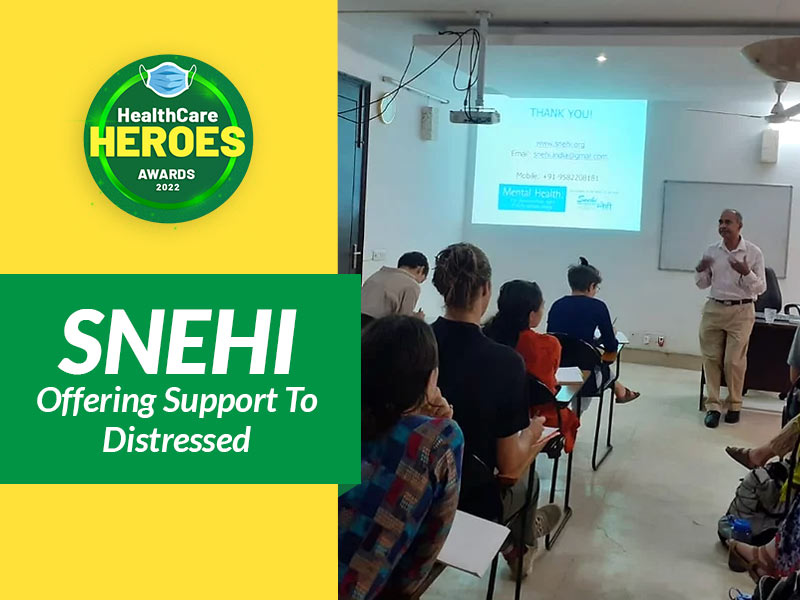 Who: NGO Snehi focusing on the psychosocial wellbeing of the community
What: Snehi, a non-profit organization focused on an extremely important, yet sometimes neglected aspect of the pandemic - mental health and psychological well-being
Why: Snehi saved lives & helped people overcome feelings of uncertainty, anxiety, alienation, post-traumatic stress disorder, depression, substance abuse, and thoughts of suicide during the pandemic. They promoted mental wellbeing & positive mental health through telephonic counseling & therapy.
The COVID-19 pandemic and the subsequent restrictions imposed through the lockdown has led to short and long term mental health implications for the general population. It has had severe ramifications on the socioeconomic lives of people and their psychological well-being, putting economic and psychosocial pressures on people across the nation. Irrespective of age, gender and socio-economic background, every person's daily life and routine has been affected and people have grappled with feelings of uncertainty, anxiety, alienation, post-traumatic stress disorder, depression, substance abuse, and thoughts of suicide.
The pressure to be the primary breadwinner, economic insecurity due to job/ employment loss, and reductions in earnings has greatly contributed to mental health issues in the working population. On the other hand, an increase in workload due to working from home drastically impacts people's mental health. Female professionals were at a double disadvantage as they not only had to manage their professional workload but also take care of domestic duties with no support from family members.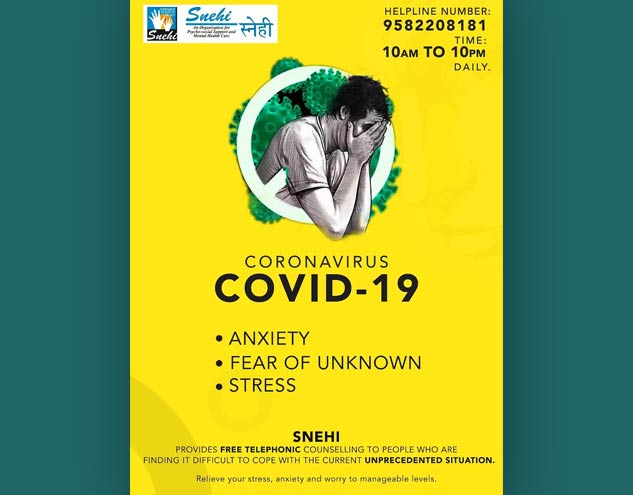 The pandemic has created a severe mental health crisis among students due to lockdown restrictions, financial difficulty, lack of access to the internet and smartphones/computers to attend online classes, loneliness, constant pressure and surveillance by parents, severe anxiety due to academic loss and its impact on their upcoming exams and careers and the frequent postponement of exams. The children find it extremely difficult and uncomfortable to discuss their problems with parents or teachers. Data tells a grim story, 11,396 children commited suicide in 2020, which is 18 per cent more than the previous year.
COVID-19 has adversely affected home-makers' mental health as well. Women have traditionally been overburdened with domestic work, but COVID-19 exacerbated their problems and increased their workload drastically. The increasing demands from family members, and the surge in violence and abuse against women, majorly contributed to their stress and anxiety.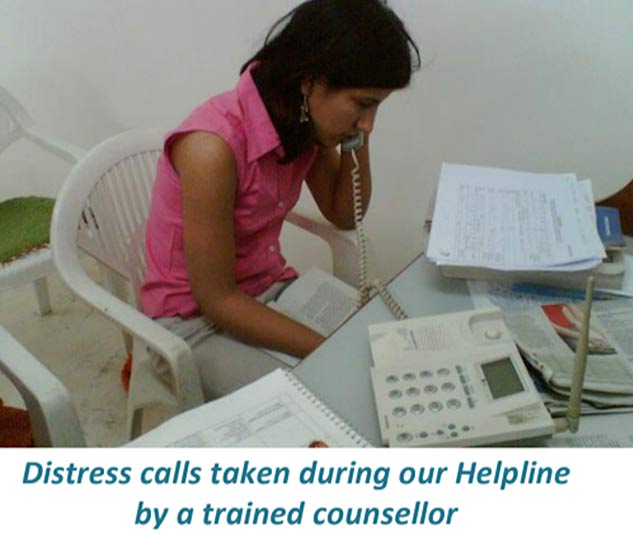 People also called the helpline expressing the feeling of guilt and remorsefulness if by chance, their family members were infected by coronavirus due to them.
In India, around 20% of the population suffers from mental health issues, but only around 12% of them are able to seek aid. There is a stigma associated with mental health disorders and seeking professional help. This is where an NGO focusing on the mental health needs of the community plays an extremely important role.
A group of concerned individuals from various walks of life came together on the initiative of Mr. Abdul Mabood and formed a non-profit organization focusing on the mental health needs of the community. In 1994 Snehi was born. Since its inception, Snehi is engaged in different projects to energize the society by addressing the emotional and mental health needs of the community. They provide psychological counselling and support to people in crisis to prevent suicides & mental disorders and promote positive mental health.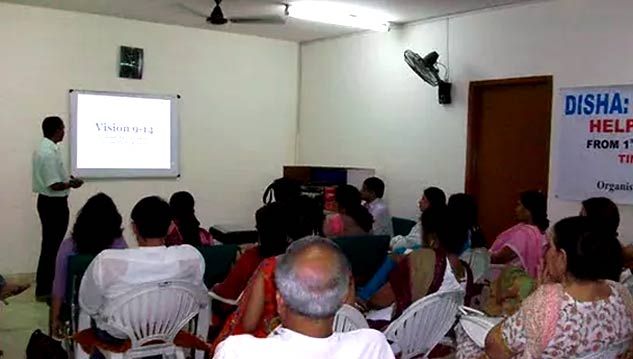 During the COVID-19 pandemic, Snehi recognized the crucial need to cater to the mental health needs of people. They did this by simply listening and counselling people in distress, knowing about their feelings and supporting them to come out of their depressed frame of mind. Snehi set up "Focused Telephonic Helpline and Crisis Intervention Support & Counselling" in March 2021 to assuage stress and work towards psychosocial wellbeing of people. Their team of trained volunteer counsellors took up this emotionally draining and mentally taxing task of providing support via this helpline. The counselling work is so demanding that their virtual platform's mechanism is set in a way that one counsellor does not attend two calls simultaneously. Throughout the pandemic there were 15 to 25 counsellors on pro bono duty, working in a team of two for a four hour shift. Snehi has been providing this valuable service for 12 hours a day.
During the worst of the pandemic (April 2020 – Dec 2021) Snehi received 9337 calls and counselled and saved 477 lives, who were suicidal or had attempted suicide.
The intensity of the burden on an individual's wellbeing and mental health, along with the huge socioeconomic burden, can be judged by the drastic rise in the number of suicidal calls. From less than 1% of all calls, in the last 25 years, suicide call shot up to 6.07% during the pandemic.
Snehi also ventured into uncharted social work and provided dry rations to 115 families and 50 individuals for 30 to 45 days in 2020. They also provided money for emergency COVID-19 medical treatment and care.
Snehi's Crisis Intervention Support Helpline is still continuing its great work. If Snehi's efforts during this pandemic in the leadership of Mr. Abdul Mabood, has inspired or moved you, do cast your vote for them. Here is how you can vote for your favorite nominee for Jagran News Media & OnlyMyHealth HealthCare Heroes Awards 2022.
To cast your vote, Click Here: https://www.onlymyhealth.com/events/healthcare-heroes-awards/nominations