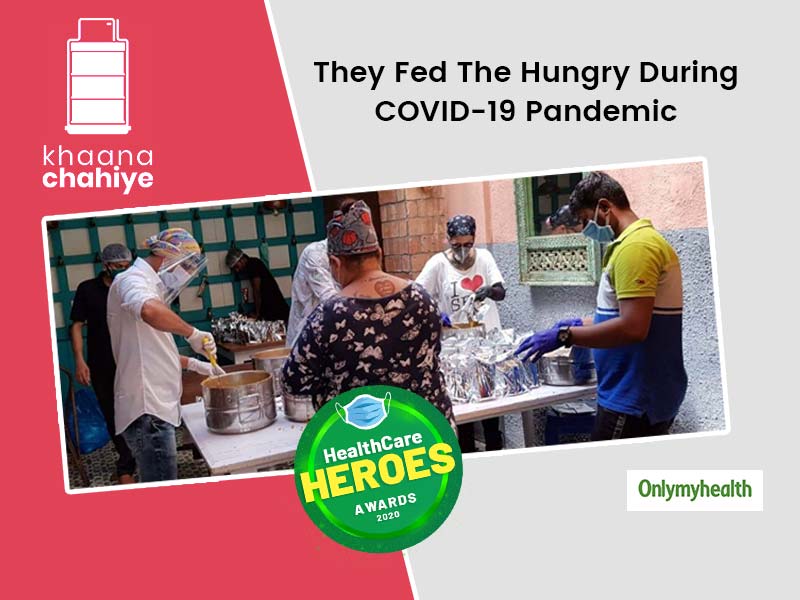 Category : Covid Heroes

Vote Now
Who : Team - Khaana Chahiye
What : Khana Chahiye fed the hungry souls during the COVID-19 pandemic
Why : Facing the virus headon by going out on streets to feed the people
Feeding the hungry has always been a noble cause but fighting hunger during a pandemic is a task of added responsibility. Covid19 global pandemic has brought with it various challenges. While testing, hospitalization and drugs remained in the forefront, the aspects of migrant exodus, feeding the hungry were no less crucial. OnlyMyHealth's initiative, The HealthCare Heroes Awards is bringing work of Heroes who have silently but resiliently fought in the face of a pandemic. This is the story of 'Khaana Chahiye' nominated in the category of Unsung Heroes.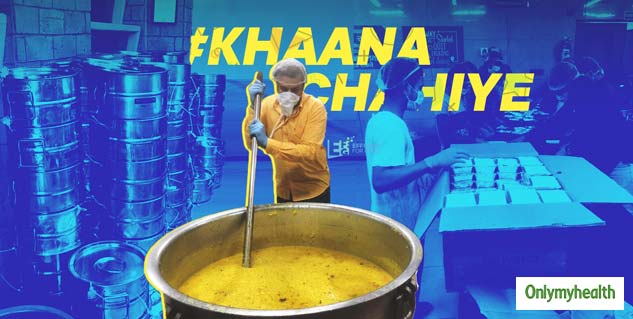 'Khaana Chahiye' is not just a word but an emotion, an expression of hunger, a call that had to be answered. 'Khaana Chahiye' was initiated by an eclectic team lead by Ruben Mascarenhas, Shishir Joshi, Neeti Goel, Pathik Muni, Swaraj Shetty, Anik Gadia and Rakesh Singh. Started on 29th March 2020, a few days after the lockdown was imposed, the team utilised the unused kitchen of restaurants that were shut because of lockdown to prepare food for distribution.
WATCH: Co-Founder Ruben Mascarenhas in conversation with Onlymyhealth about 'Khaana Chahiye':
Also Read: HealthCare Heroes Awards 2020: Dr Binish Desai's Midas Touch of Sustainability
System & Execution
They started with delivering 1200 meals and quickly realized they had to scale up. There were so many people on the streets of Mumbai going hungry. Khaana Chahiye partnered with NGO 'Project Mumbai' and generated a 'Hunger Map'. They opened their websites for hunger alerts and to croud source funds. This is probably the only charity organisation that raised funds of nearly 12 crores from direct funding campaign other than corporate funding by giant organisations like WIPRO, Godrej, Paytm, to name but a few.
The 'Khaana Chahiye' army grew. Onlymyhealth spoke to Ruben Mascarenhas who is one of the co-founders of Khaana Chahiye. Ruben says, "We have more than 150+ volunteers working as a team. We responded to every challenge that this pandemic threw at us. Apart from giving out food packages to people living in slums and streets, we also adopted CST, Bandra and Kurla terminus to distribute food packets to migrants travelling from Shramik Express Trains. Nearly all passengers of 284 trains received basic food packages, water, etc. from us to last their journey."
Impact
An average of 50,000 meals a day were distributed which even touched 1 lakh on certain peak days. Until now, 47 lakh cooked meals and monthly grocery kits to 20,000 families have been dispensed by Khaana Chahiye. Even after two people of the core team tested positive, it didn't stop them from continuing.
Thought was put into what was being served. Khaana Chahiye also kept in mind the nutritional needs. A set of food experts, nutritionists were onboard their team who kept a check on the nutritional aspects of food required to survive a pandemic. Teamwork, determination and pure intentions are the driving forces of Khaana Chahiye, says Ruben Mascarenhas.
If you are moved by their work, make them win this award by casting your vote. Here is how you can participate in voting in Jagran New Media and Onlymyhealth's Healthcare Heroes Awards.
Read more articles on Miscellaneous