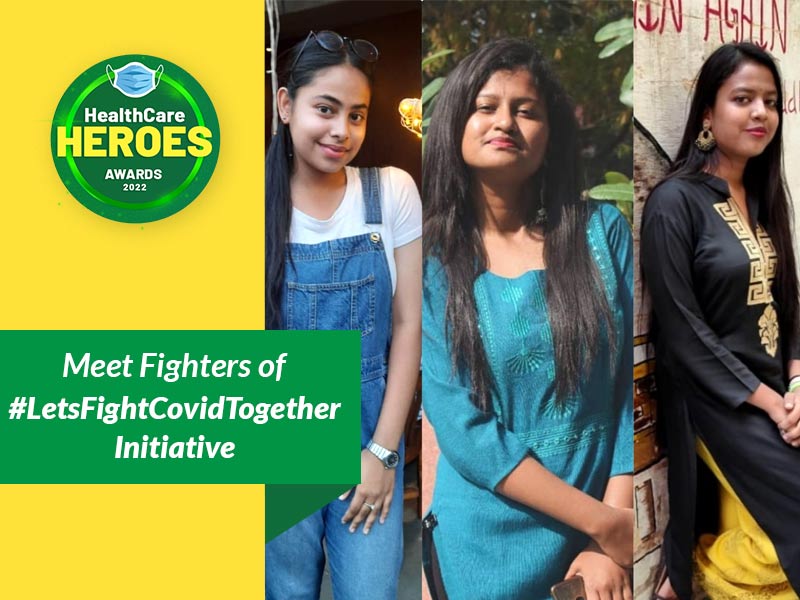 Who: Arpita Choudhary
Category: Digital Healthcare
What: Created a database of verified information on available hospital beds, medicines and oxygen cylinders
Why: For creating a database of verified information on available hospital beds, medicines and oxygen cylinders
Many have termed the second COVID wave as the worst tragedy India faced since partition (1947). Not just millions of people fell sick, and thousands died, we saw scenes of people scrambling for hospital beds, medicines, and oxygen cylinders, and desperate SOS calls by hospitals as they ran out of medical oxygen. During such a time of crisis, many individuals came forward to help people with medical oxygen, medicines, and other resources. One such person was 20-year-old Delhi University (DU) student Arpita Chowdhury. Arpita, along with her two friends, Aarushi Raj and Shivani Singhal, started an initiative called
#LetsFightCovidTogether under which they shared verified information on where people could get these essential medical supplies. With different social media channels, they tried circulating the database to as many people as they could. And in months, not just in India, they started getting calls from Indians living abroad who inquired about these medical supplies for their relatives living in India.
For her work in helping people with the right information, which was essential during that time of need, Onlymyhealth nominates Arpita Chowdhury for Cofsils Presents Healthcare Heroes Awards. She is nominated in the 'Digital Healthcare' category. This is her story:
Arpita On Why She Started The #LetsFightCovidTogether
Before she started the #LetsFightCovidTogether initiative on April 21, 2021, Arpita was part of many support groups on WhatsApp, Telegram, etc, which relayed information around medical resources. During that time, as COVID cases soared, there were major shortages of hospital beds, medicines, and oxygen cylinders, and "we were just sharing these random messages on these groups," she told Onlymyhealth.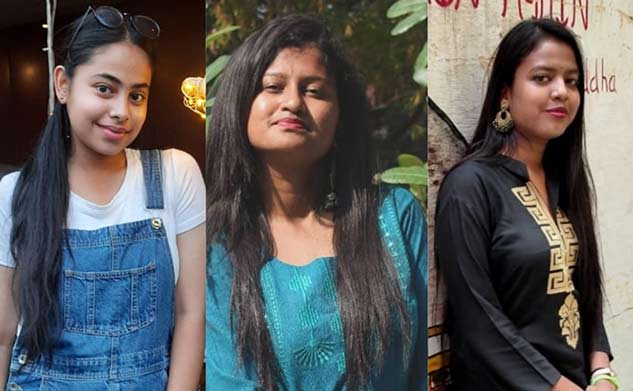 As a college student, there wasn't much Arpita could do. So she decided to ensure that at least these forwarded messages on social media were verified. Hence, she started preparing a database of all the COVID helpline numbers and the government's guidelines.
Soon, she realised that wasn't enough. Hence, two of her friends joined, and they started calling and texting all the people mentioned in those messages to verify if the information was genuine and if they had the medical resources available, and started adding it to the database. Social media was where they gathered information and made sure that the database was shared as quickly as possible as the situation changed rapidly.
'Called, Texted To Verify Information'
On how the trio verified the information, Arpita said they made a WhatsApp group where they shared such messages regarding available hospital beds, medicines, oxygen cylinders, etc. They divided these messages among them and would call each of those numbers to verify, and update the database accordingly. After doing this activity for two to three weeks, they realised, many providers were not in a position to take the call. Hence, they decided to text. Verifying there was no fraud was another task. For that, they took a screenshot of any conversation they had, and in one case, they even asked for the supplier's GST number to ensure it was genuine.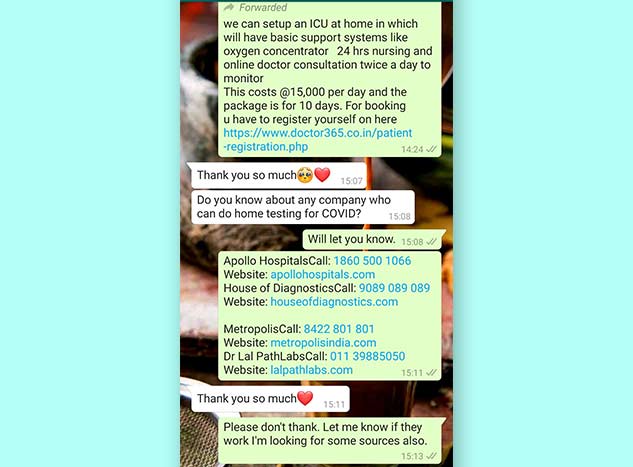 'Made The Best Use Of Social Media'
Sharing the information is as important as gathering it, and for that Arpita used social media. "As college students, we made the best use of social media as we don't have other channels of communication," she said. The trio shared the link to the database on all their social media profiles. They also updated their statuses frequently so that people knew that the database was updated, too.
Another thing, which made a lot of difference as per Arpita, was their collaboration with several youth pages. She reached out to several social media pages centered around youth asking for a small feature around their work. They ended up collaborating with four such pages, which created quite a buzz, and more and more people started contacting them.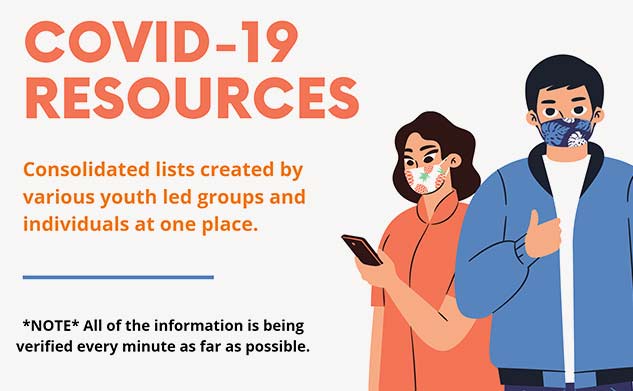 A leading international news outlet contacted her, too, to inquire about the COVID situation in India. When the article was published, many people living in Europe contacted her asking for any leads regarding the medical supplies, which they needed for their relatives in India, Arpita said. "I then realised that through these collaborations, we were able to reach out to so many people, which wouldn't have been possible on an individual level," she told Onlymyhealth.
On the role of social media, Arpita said, it has both pros and cons, totally depending on your intent. Students don't have that many resources, hence, social media when used the right way can be very helpful, she said. On how a common man, or woman, can make a difference during such a time of need that is the COVID pandemic, Arpita said, often we think we don't have money or resources to help. However, there are other ways, too, to help other than the other two, she said. "You just need to identify how you want to help and just go with it," she added. India is currently amid a third COVID wave. Arpita, along with her two friends, has started updating the database.
For her work during the second COVID wave, helping people with authentic and verified information, we give a big shoutout to Arpita Choudhary. If you too want her work to be recognised, then don't miss out on this opportunity and vote for her.
To cast your vote, Click Here: https://www.onlymyhealth.com/events/healthcare-heroes-awards/nominations