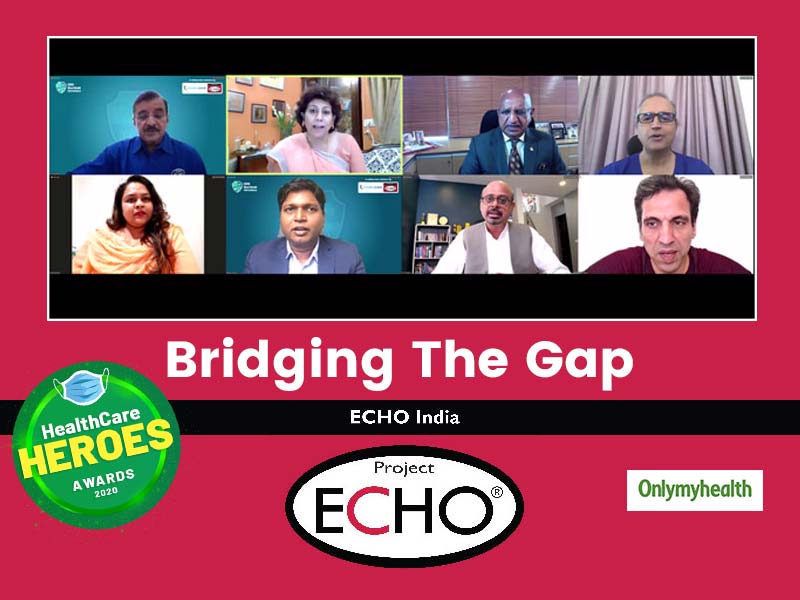 Echo India fills two needs with one deed, provided skilled healthcare professionals to hospitals.
Category : Awareness Warriors

Vote Now
Who : ECHO India
What : Linked skilled healthcare professionals to hospitals
Why : Bridging the gap between available healthcare professionals and rapid disease
Patients lacking access to basic healthcare, especially during the pandemic, is what nightmares are made of. Scarcity of qualified manpower in hospitals was threatening to worsen the COVID-19 numbers in the nation. According to the Ministry of Health and Family Welfare (2019 data) India had only 1 doctor for every 1,404 people and 1.7 nurses for every 1,000 people. On the other hand by 10th August 2020, a little over 6 months after India reported its first COVID-19 case, the total caseload reached 22,15,074. There was tremendous stress on our overburdened healthcare workforce, who were struggling due to scarcity of qualified healthcare and trained frontline personnel. Acknowledging this gap, ECHO India (a healthcare non-profit) and Naukri.com (a part of InfoEdge) joined hands to create COVID Healthcare Professionals (CHP) a unified platform connecting hospitals and healthcare facilities with healthcare professionals in an expeditious manner.
To address this important need effectively, Onlymyhealth.com is nominating Echo India in the category of Awareness Warriors-Most Impact.
Two Pronged Approach
Answering NITI Ayog's call to action for NGOs to be a part of India's war against Covid, Echo India joined hands with Naukri.com to link skilled healthcare professionals to hospitals that most need them. Echo aims to bridge the huge gap between available healthcare professionals and the rapid spread of the disease.
While on one hand there is an acute shortage of healthcare professionals such as doctors, nurses, lab technicians and support staff on the other hand many qualified healthcare workers have no jobs. Across the medical community, there are many untapped resources capable and willing to offer their services towards fighting the pandemic. ECHO India and InfoEdge India, the parent company of Naukri.com, came together in a philanthropic and voluntary endeavour to create a platform which would act as a bridge between healthcare professionals and hospitals across the country. Through this database of available healthcare professionals, hospitals and healthcare facilities can strengthen their workforce by hiring personnel with skill-sets meeting their requirements. While InfoEdge provides the technological support and hosts the portal on its data centers, ECHO India screens the suitable candidates and provides them with COVID-19 safety training online.
We started a journey to help healthcare facilities recruit skilled healthcare professionals.

As we are scaling the number of registrations every day, we are excited to share an experience of being a #COVIDHealthcareProfessional.

Presenting, #CHPInitiative: Success Story 🤗 pic.twitter.com/b9C18tcGux

— ECHO India (@ECHOIndiaTrust) September 7, 2020
Also Read: HealthCare Heroes Awards 2020: Dr Binish Desai's Midas Touch of Sustainability
A Vision to Strengthen The Covid War

The project was brought together by a group of distinguished personalities willing to lend their time, knowledge and resources towards a timely creation of this platform. Dr (Col) Kumud Rai, Chairman, ECHO India; Ms Rini Simon Khanna, Indian Television News Personality; Dr Arvind Lal, Chairman, Dr Lal Pathlabs; Dr Devi Shetty, Chairman & Executive, Narayana Health; Mr Bhaskar Ramesh, Director, Google India; Dr S. Prakash, Managing Director, Star Health Insurance and, Mr Hitesh Oberoi, CEO, InfoEdge- With decades of experience, this eminent board of advisors governed every aspect of the process, ranging from the design and user experience of the website and the advanced algorithms at the back-end that factor in multiple parameters to match skill sets with requirements.
Also Read: Healthcare Heroes Awards 2020: Sister Nayana Is A Frontline COVID-19 Warrior
Since its launch on 10th August, 79 hospitals across India have registered on the CHP portal, where they can connect with nearly 3,000 healthcare professionals with diverse backgrounds. Hospitals like Lilavati Hospital and Research Centre and Lokmanya Tilak Municipal General Hospital in Mumbai; Max Hospital in Delhi; and Apollo Hospital in Chennai, have registered to take advantage of the initiative.
This truly is a humbling honor. Thank you to the Institute of Liver and Biliary Sciences (ILBS).@ProjectECHO @ECHOIndiaTrust #PresidentKovind @UNM @UNMHSC #ECHOIndia #MovingKnowledgeNotPeople #AllTeachAllLearn #RuralHealth https://t.co/GX73VQhpca

— Project ECHO (@ProjectECHO) January 16, 2020
In the next three months, the teams at ECHO India and Naukri.com are aiming to ensure the registration of 10,000 healthcare professionals with diverse medical expertise.
If ECHO India & Naukri.com's work during this pandemic has inspired or moved you, do cast your vote for them. Here is how you can vote for your favourite nominee for Jagran New Media & OnlyMyHealth's HealthCare Heroes Awards.
Read more articles on Miscellaneous