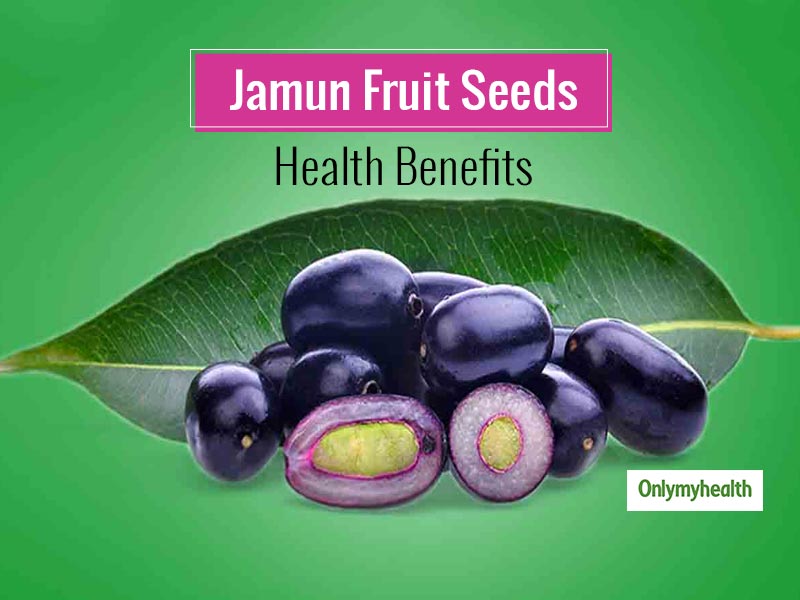 Health Benefits Of Jamun Seeds: You will be surprised to know the benefits of Jamun seeds. Jamun is traditional medicine, and do you know that this small fruit can be consumed in plenty in the summer? They contain anthocyanin, which helps prevent cancer and heart diseases. In the treatment of diabetes, it is no less than a herb. It contains calcium, potassium, iron and vitamins. Many types of health problems are overcome by consuming berries for a few days every day. The glucose and fructose found in it prevent heat stroke. Iron present in the seeds helps relieve anaemia and can also be consumed to increase the level of blood in the body. Apart from this, there are several advantages to eating berries. Today we will tell you about those benefits.
Useful in weight loss: Jamun seed powder is an excellent recipe for your weight loss, which you can include in your diet. In the morning, eat a spoonful of this powder regularly and drink as much water as possible. This will reduce your belly fat and help keep you healthy. This powder is useful for removing pimples and blemishes of the face. Apply this powder on your face before sleeping at night. Get up in the morning and wash it with lukewarm water. It will give a beautiful glow to your face—will help to erase your pimples.
Diabetes: Do you know that jamun is an old medicine in the therapy of diabetes? Yes, jamun is said to be the fruit of a diabetic patient because its bark, kernels, pulp and juice are all very advantageous in diabetes. Jamun should be eaten as medicine according to the season. It is rich in many types of nutrients such as carbohydrates, protein, fat, Vitamin A, Vitamin B, Vitamin C, Gaulic acid, Melic acid, Tannin, and Oxalic acid. Therefore, it also acts as Ayurvedic medicine.
Keeps the digestive system fit: Nowadays people prefer to eat junk food, due to which they have to face stomach related problems. Jamun seeds are beneficial for diseases like stomach ache and stones. You can make a powder of their seeds and eat it before going to bed at night, and your digestive system will be okay. This will prove beneficial for you.
Blood pressure problem: Most people are troubled by the issue of blood pressure. You can adopt a home recipe, which will be very helpful for you. You can take it with water after making the powder of the berries. This will be very beneficial for you. This recipe will prevent your blood pressure from getting low or high and will improve your body's blood flow.
Prevents cancer: Phytochemicals such as polyphenols are found in plenty in berries that prevent cancer. They contain anthocyanin, which helps prevent cancer and heart diseases. Eating berries boost immunity as it provides plenty of vitamin C, which is an essential element to keep the body healthy.
Toothache problem: Many times, you are very upset with the pain in your gums, despite millions of efforts, you do not get relief from this pain. Grind the berries of kernels after drying in the sun and apply it on your teeth. Using it as toothpaste will be very beneficial for you.
Relief from diarrhoea: Diarrhea starts due to drinking excess water, eating rotten food. To get assistance from the problem of diarrhoea, eat berries with rock salt. There will be relief in no time. Jamun seeds prove to be very beneficial in case of bloody diarrhoea.
Removing Acne: Berries are also used in the treatment of facial pimples. Grind the berries seeds and prepare the paste by mixing cow's milk in it and apply it on the face before going to bed at night and after drying it wash the face with water and wipe it.
Appendicitis: The problem of appendicitis is getting normal these days. To get relief from stones problem, eat berries instead of medicines. You can also grind the seeds and take them with water or curd.
Read more articles on Healthy Diet