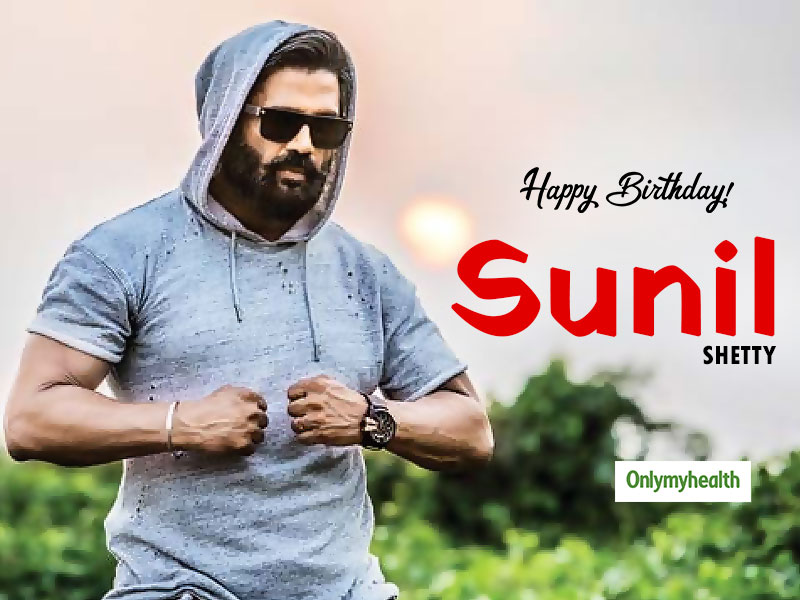 Here's to how the birthday boy Sunil Shetty keeps in shape and takes fitness and health as a passion. Get to know his diet, fitness and workout secrets below
The dapper action hero of Bollywood, known for his remarkable roles in films like Mohra, Dhadhkan, Hera Pheri, etc. celebrates his birthday on August 11. Sunil Shetty turns 57 this year, and it is difficult to guess his age the way he looks. A fitness enthusiast and known for his good looks, Sunil Shetty has been totally into fitness and bodybuilding. Even at this age, the actor has redefined the definition of looking good and fitness for fitness men across all age groups. Not just for older men, Sunil has been an inspiration for the younger generation when it comes to bodybuilding and exercising. He once quoted his love for working out and fitness in which he said that he feels great to stay in shape, and it comes to him like a passion.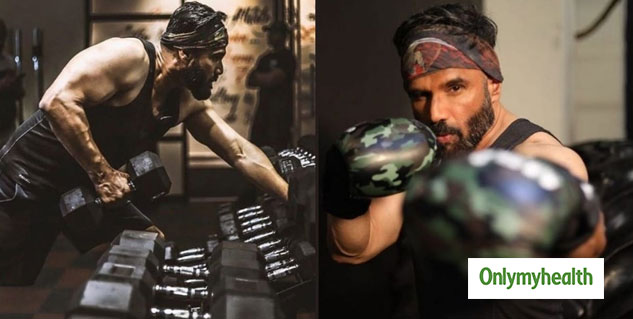 Transformation After 50
Even though he was always a fitness enthusiast, Sunil Shetty admits that his real fitness transformation started only after he turned 50. Back then, his teenage son took training from his father. That's when Shetty realised the time and energy he has to invest in fitness and exercising. Just to make his son learn the nuances of fitness, he started training in the gym and focused more on his diet and day-to-day activities. HE worked out even more what he did in his active years in Bollywood.
Also Read: Virat Kohli New Fitness Video: Watch Indian Cricket Team Captain's Gym Routine
Sunil Shetty Fitness & Workout Schedule
He emerged as a fitness icon over recent years. Sunil Shetty, who has taken up the task of spreading awareness about fitness in the country, says that there has been no significant fitness campaign popularised in India. The problem of obesity is increasing rapidly in India, and every third person is in the grip of it. Everyone wants to stay fit, but due to the myths and misconceptions associated with it, people fail to get the right guidance. The Bollywood actor believes that we have to stop thinking that staying fit requires a lot of money to invest in gyms. Fitness, according to the actor, is all about working out with passion, irrespective of the place. According to Sunil, exercising and playing sports are two different things. He workouts a minimum of three days a week and enjoys swimming or cricket for the rest of the days as a fitness activity. Many years ago, one of Sunil's shows' Biggest Loser Jeetega' was also focused on fitness.
He believes in functional training involving day-to-day activities. He launched a gym named Shivfit, which promotes functional training across its outlets. Following are the takeaways from Sunil Shetty's electrifying workout schedules:
He wakes up at 5 every day and keeps two hours for some form of exercise
He starts his day with yoga and pranayama. Further, he sweats it out in the gym for 40-50 minutes.
He does a minimum of 20 reps of lightweight training owing to the age bracket.
He focuses on doing 304 sets of different forms of exercises, focusing on a different set of muscles.
As per him, the real workout only starts after 20 reps
Also Read: Ranveer Singh: Padmavat Actor's Workout, Training and Diet Plans Revealed
Sunil Shetty Diet
Surprising to hear but Sunil Shetty's breakfast consists of rice. He feels that eating rice is not a problem but the quantity matters. He believes that once you know the real amount of food needed, that's when you can become your fitness guru. Sunil does not eat in between meals, but he ensures that whatever he is eating, it is right for his fitness routine. He also takes green tea, fruits, and white eggs or breakfast. He loves home-cooked food and steers clear from junk and fatty food available outside the home. He even gives out tips to his fans on his social media accounts.
Read more articles on Exercise Fitness