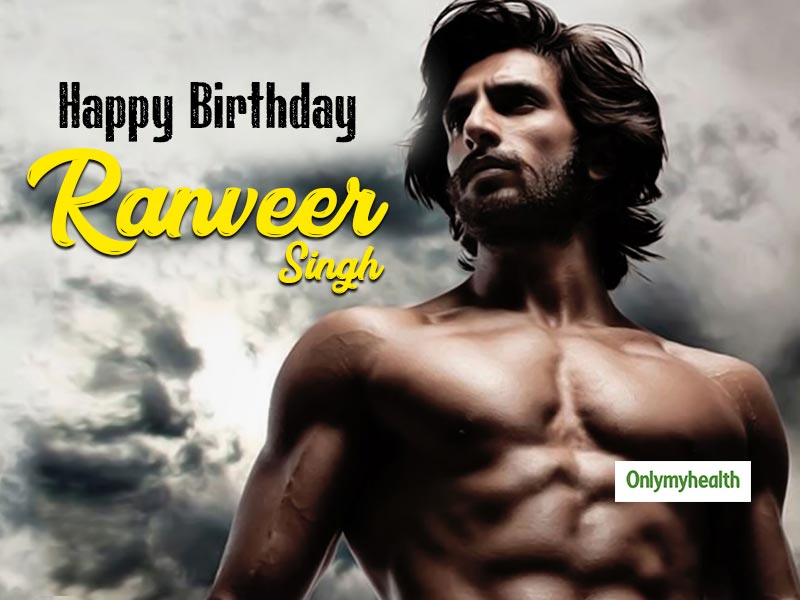 Ranveer Singh celebrates his birthday on July 6. As jazzy as his dressing his, Ranveer Singh follows a strict workout, diet and is totally into abs fitness. Here's how the birthday boy ensures to stay in shape. Takeaways from his fitness and
Ranveer Singh has given some stellar performances in his movies. Right from a breakthrough debut in Band Baaja Baarat to his dapper performance in Simmba and Gully Boy; he has been in the news for several reasons. His statement dressing has won several him accolades and even some criticism. He ensures to look his fit best in all his performances and appearances in public. Right when we were coming out from the hangover of his wedding with the love of his life Deepika Padukone and his breakthrough success of Gully Boy, he is yet again working towards portraying the character of Kapil Dev in the docu-drama 83. The birthday boy ensures to indulge in regular exercising and a perfect diet for a fit body. His fitness levels were much-appreciated in films like Padmavat, Bajirao Mastani, Goliyon Ki Rasleela Ram-Leela and Simmba, where the star portrayed the character of a dapper policeman.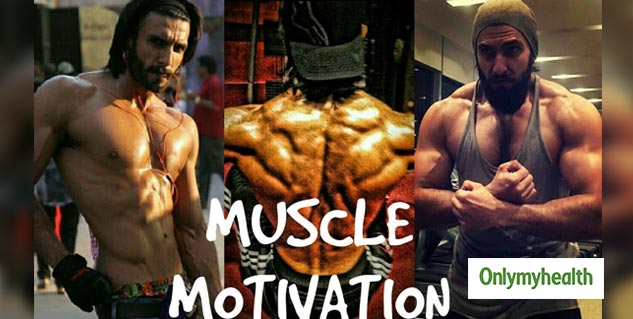 With super handsome looks and a body die for, we all need to know what keeps him so fit and energetic. Here are some tips coming from the actor for a healthy and yummy body:
Also Read: Jacqueline Fernandez Fitness Routine: Know the Secret Behind the Bollywood Diva's Fab Body
Ranveer Singh Workout and Fitness
He swears by HIIT training, which is the high-intensity interval training. His transformation from a chocolate boy to Alauddin Khilji in Padmavat was much dependent on his workout schedules. His regular workout includes squats, deadlifts, burpees, push-ups and lots of running and cardio. He equally loves to swim and cycle. Starting with a warm of 10 minutes, the actor heavily focuses on abs exercises daily. He said in one of his interviews, "It is difficult to main six-pack abs. One should thoroughly focus on abs exercises every day, equally focusing on water and food intake. A lover of HIIT exercises, his HIIT training schedule includes biceps curls, shoulder press for strong and sturdy shoulders, lateral raises, and trunk curl for abs, etc.
View this post on Instagram
He believes that your state of mind dramatically reflects on your body. It is advisable always to stay happy and enjoy workouts for maximum results. His exercise schedule revolves around enhancing and maintaining core strength and likes to divide his workout due to time constraints. The morning he keeps for burning fat and evenings for the heavy training sessions. However, he thoroughly believes that diet makes up at least 80 per cent of the wellness in the body.
BUY: Mi Band 3 (Black), MRP: Rs 2,199, OFFER PRICE: Rs 1,999
View this post on Instagram
Also Read: Bottle Cap Challenge Viral Trend: From Akshay Kumar to Tiger Shroff, Bollywood Stars Ace The Challenge
Ranveer Singh Diet
Ranveer's diet is mostly home-cooked meals. He loves to eat home-cooked food and steers away from consuming junk food. His diet mainly consists of a high protein and low-fat diet, helping him work towards greater muscles He loves his lamb, chicken and seafood and never misses to have a protein shake in between meals to supplement his body with the required nutrients. His regular meals include:
Breakfast: Egg white, salmon and some bananas
Lunch & Dinner: Chicken or fish with boiled or lightly tossed vegetables
Snacks: Dry fruits and protein shakes in between mails
Ranveer stays away from consuming alcohol as it disturbs his workout routine. He credits his looks and physique only to the fact that he doesn't drink. He believes that alcohol weakens the immune system, and it is challenging to have rock-solid six-pack abs despite the entire workout schedule.
Read more articles on Exercise and Fitness