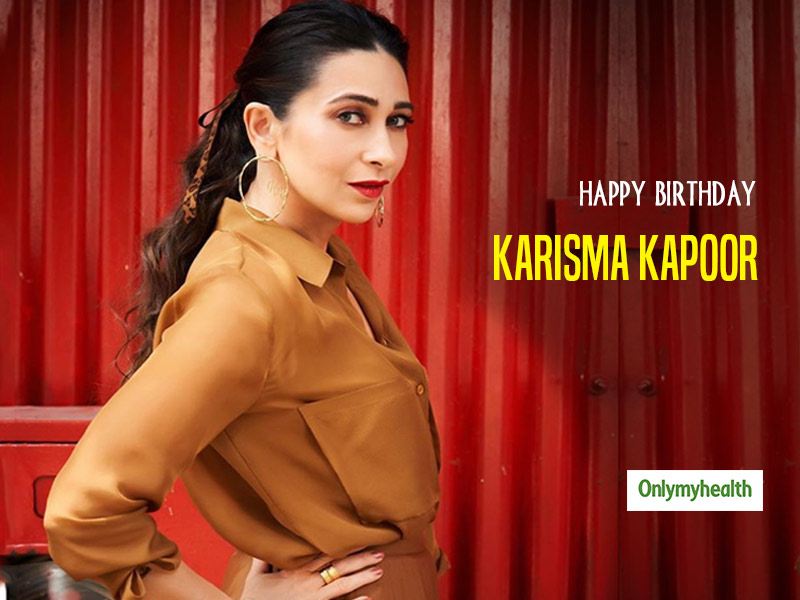 Happy Birthday Karisma Kapoor: It's the gorgeous and charming Karisma Kapoor's 46th birthday today. Karisma, who is also known as Lolo by loved ones, has some enthusiastic followers on Instagram who keep a tab on the prima donna's whereabouts. Over the decades, Karisma has been an essential part of Bollywood and has given more than twenty years of her life to it. Fans have adored her for her excellent skills of acting and dancing and most importantly, for the utmost fashion and fitness idol that she is. The unbelievable part is that how she is still the same? Even at the age of 46, how does she manage her alluring face and gorgeous figure? To answer your questions, here we bring you some of the secrets of the iconic Bollywood diva.
Karisma's health mantra
Lolo believes in spiritual connection, and she thinks that yoga is the ultimate goal to stay fit. Last year, the Hero no.1 actress shared her picture in the yoga pose on World Yoga Day (June 21). Like Karisma, several other celebs are following yoga to stay fit and pliable in a comprehensive manner. Yoga helps in reducing fat, and it also enhances blood circulation. There are several yoga asanas, for instance,
Surya Namaskar,
Gomukhansan
Setu Bandhasan and several others.
These asanas can help you to get a sleek waistline and toned legs and body. Lolo prefers to walk as much as she can. She takes the stairs instead of the lifts whenever it's possible.
READ: Understanding the Pranic Value in Food
Lolo's tips for diet
Lolo ensures that she intakes a healthy diet. Her social media fans must have known her selective food options, as she posts it quite often. Check out the post to know more about her diet. Karisma is fond of fruits, and her Instagram is often filled with several types of berries, including blueberries. Berries are full of essential antioxidants, which helps the body to stay clean from damage by heat. Berries are enriched with Vitamin K, Vitamin C, fibre and manganese. Considered as one of the sceptics' fruits, berries improve the blood circulation and control glucose levels in the body.
Lolo's craze for fruits does not limit to berries, as her love for watermelons is even more than that. Watermelon is fat-free and has a low amount of sodium in it. However, one must understand that these juicy fruits are the ultimate guide to Karisma's gorgeous figure.
View this post on Instagram
Further stalking Karisma's Instagram posts, we came to know that Lolo is an addict to coffee beans. So, here's for you the coffee lovers, if you take coffee in a limited manner, it helps in the reduction of fat too. Coffee also has other benefits such as it enhances the functioning of the skull. It also helps in various cardiovascular diseases.
Let's have a look at the anti-ageing diet plan of Karisma Kapoor
READ: Watch Out Your Health While You Endure Cricket World Cup Fever
For high metabolism, start your day with lukewarm lime water
Eat breakfast with whole grains such oats
citrus fruits, green leafy veggies, and mixed salad
protein, carbs, chapati, brown rice, one subzi
vegetable soup or chicken broth for dinner
Karisma's overall health and her charming face at the age of 46, is due to healthy eating and yoga. Follow the following tips to maintain your fitness:
Almonds for the facial glow
Get rid of wrinkles with chia seeds
Eat protein and carbohydrates
Soups for dinner
One day is your 'cheat day'
Stay Hydrated
Karisma Kapoor's Skin Care Tips
A natural scrub by Lolo which enhances the glow of your face. You need brown sugar and olive oil for this. Take sugar and oil in equal quantities. Whip them nicely until it converts into a paste. Apply the paste on your face, chin, neck, lower neck and back. Wash it with lukewarm water after 60 minutes.
Read more articles on Healthy Diet