The bountiful summer season brings a decadent array of seasonal, farm-fresh fruits and so many ways to enjoy them. Juicy watermelon, soft and ripe peaches, delightful mangoes, chin-dripping plum, vibrant cherries are bursting with bright flavour from the season's best. Summer fruits, paired with walnuts, may help you stay full for longer and beat the afternoon crash on a hot day. To understand the benefits further, listed below are the health benefits of melons, pineapples and walnuts for a healthy mind and body:
Pineapple Health Benefits
For stronger bones, include pineapple in your diet for its manganese content.
Swelling in the mucus membrane can lead to irritation in the nose. Hence, the anti-inflammatory properties in pineapple help in getting relief.
Pineapple contains Vitamin C, which helps prevent plaque problems in the teeth. Apart from this, pineapple can also remove many types of gum problems. Pineapple contains bromelain, which helps to maintain the shine of the teeth.
Consumption of pineapple keeps your heart healthy. It has antioxidant properties, which help to keep cholesterol levels balanced, thus preventing a variety of heart problems.
Also Read: Pineapple Fruit Juice Can Give Quick Relief From Cough, Says A Study
Melon Health Benefits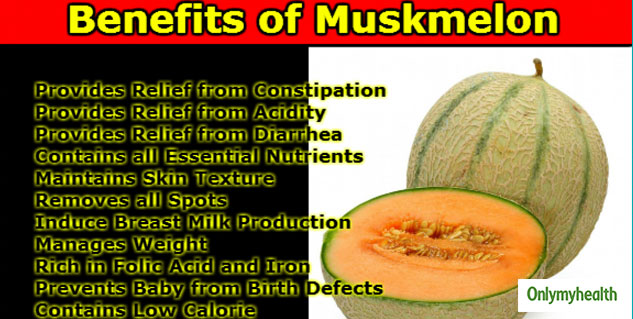 Eating a fibre-rich diet works to reduce your weight and melons are fibre-rich fruits.
Consuming melons can be beneficial for you in many ways. One of the advantages is to better the eyesight. Vitamin-A is found in plenty in melons, which is considered extremely beneficial for the eyes.
Melon consumption may prove more useful for diabetes. Melon contains oxycaine, which can help balance the level of sugar in the blood. It also works to keep oxidative stress away.
Melon can be beneficial in pregnancy. During pregnancy, melon can supply nutrients in the body and folic acid, found in it, can act as a protection against neural tubes.
Walnuts Health Benefits
These crunchy delights not only amp up the flavour of your favourite summer indulgences but elevates their nutrition value too. The versatile walnuts, combined with your favourite summer fruits, can help put together an entire menu, complete with starters, salads, and even a dessert. Here's why one should eat soaked walnuts everyday:
Here are simple and easy recipes by Celebrity Chef Sabyasachi Gorai using just a few staple ingredients, seasonal fruits and California walnuts.
California Walnut Pineapple Salsa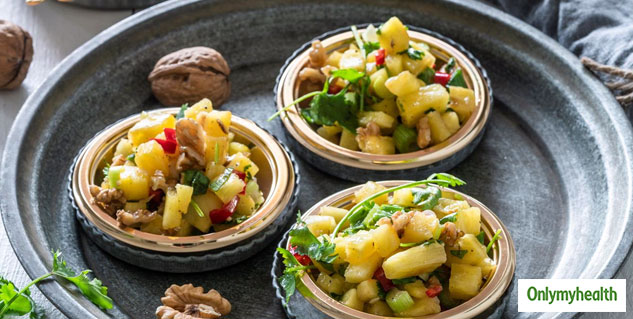 Ingredients
1 ripe pineapple, medium size
1 red chili pepper
2 spring onions
1/3 bunch coriander
Juice of 1 ½ lime
2 tablespoon olive oil
Salt
Pepper
Sugar (if necessary)
50 g California walnuts, chopped
Preparations
Take a pineapple, remove the flesh from the skin. Heat a pan and fry pineapple pieces over medium heat until they are brown and slightly softened. Always make sure that they do not burn. Set to cool afterwards.
In the meantime, halve and wash chilli pepper, scrape out seeds and partitions and chop finely. Then wash spring onions and cut into thin rings including its green parts. Besides, wash coriander, pluck its leaves and chop them too.
Slice the cooled pineapple into about five-millimetre cubes. Mix everything with the finely chopped herbs, lime juice as well as olive oil and season with salt and pepper.
Finally, fold in the walnuts and serve.
Tip: If it is not sweet enough, add some sugar and let it sit.
Melon Stuffed With Pineapple, Plums and California Walnuts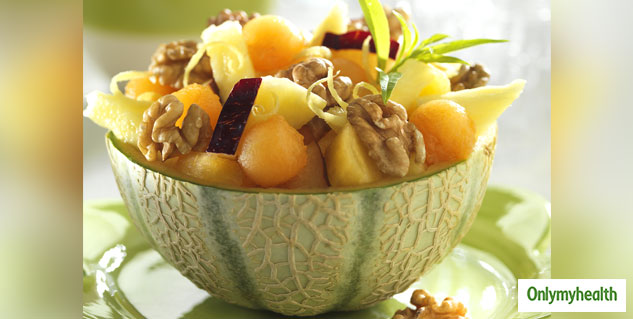 Ingredients
2 small melons
40g California walnuts
4 plums
4 natural pineapple slices
1 lemon
1 sprig of lemon verbena plant for decoratio
Also Read: From Dr Swati Bathwal's Kitchen: Try These Simple Mood-Lifter Recipes For A Stress-Free Mind
Preparations
Remove melon pulp with a spoon after cutting it into half. You should obtain little balls. Put them aside covered in lemon juice.
With a grooving knife, cut thin lemon peel strips and scald them for 5 minutes in boiling water. Drain them and let them cool.
Stuff the melon with the balls, the chopped plums and the diced pineapple. Sprinkle walnut halves and lemon strips. Decorate with a lemon verbena leaf and serve.
Read more articles on Healthy Diet