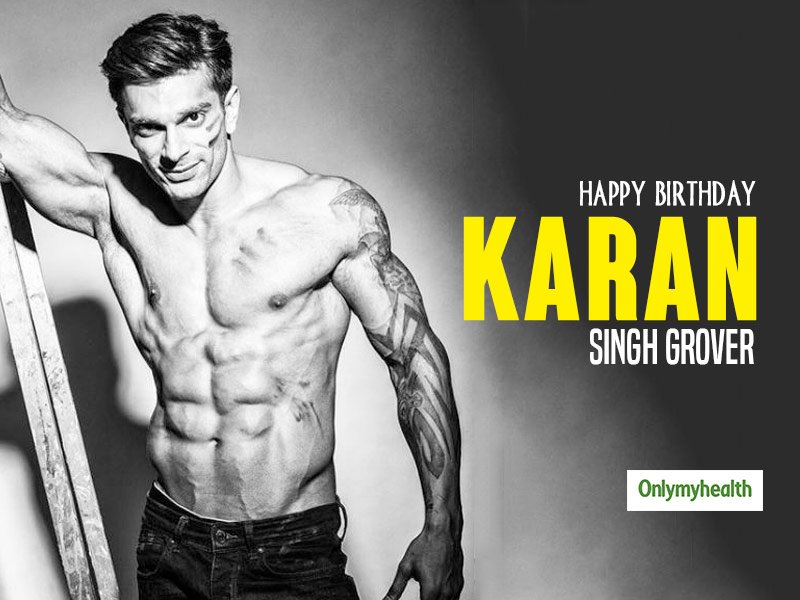 Karan Singh Grover aka KSG is one of the fittest celebs in the Bollywood Industry. He has got an envious muscular body that is difficult to make but it is extremely challenging to maintain that with age. Karan is in the late 30s but he makes sure to not look like one. His chiseled face, muscular arms and six-pack abs can give young men a run for their money! His Instagram profile is flooded with his drool-worthy muscled pictures. On the occasion of his 38th birthday, we bring to you some of his fitness and diet secrets.
Karan Singh Grover Fitness Routine
The fitness quote he follows is- 'Make friends with Chaos'. KSG believes that having peace of mind is of utmost importance and when you learn to get friends with chaos, you'll succeed.
His workout regime starts with a full-body warm-up with a day-specific body warm-up for 30-40 minutes where he stretches every joint in different days, he does stretching accordingly. He has divided his workout in days where he focuses on one part daily.
View this post on Instagram
Movement culture- Ido Portal method.
Karan keeps on changing his exercise routine to include more variations and evolve the body. Currently, he is following 'Movement Culture' which is developed by renowned Israeli trainer Ido Portal. This training method is focused on building core strength. In an interview given to an online portal, Karan Singh Grover said, "This movement training, helps me build my core strength. My ideal perception of being fit includes overall movement and not just aesthetics, as they are a by-product of the hard work that you put into your routine."
Also Read: Drew Barrymore Talks On The Importance Of Yoga and Balance For Wellness
Favorite form of exercise is Yoga
Apart from his gym and exercise, Karan Singh Grover swears by Yoga for fitness. The first thing he does in the morning is practice yoga along with meditation. He is been following this for years now for inner strength and peace.
View this post on Instagram
Talking about the best time of the day to workout, Karan believes that any time is best but starting the day with exercising keeps you energetic for the rest of the day. Therefore, preference is given to morning workout rest varies with an individual.
Also Read: Manage Migraine With Bhramari Pranayama or Humming Bee Breathing
Karan Singh Grover Diet
Breakfast- Juice which comprises of carrot, apple, beetroot, spinach, seaweed and apple cider vinegar. Along with that, he likes to wat some seasonal fruits for breakfast.
Lunch and dinner- Chicken, eggs and oats, vegetables, daal
Post-workout meal- Protein shake (20 grams of protein)
View this post on Instagram
Some takeaways:
Just listen and follow your body, mind, and soul.
To get a sculpted body, maintain the balance between diet, workout and sleep.
Add variations in your workout to improve results and escape boredom.
Chalk out your workout plan according to your body.
Read More in Exercise and Fitness