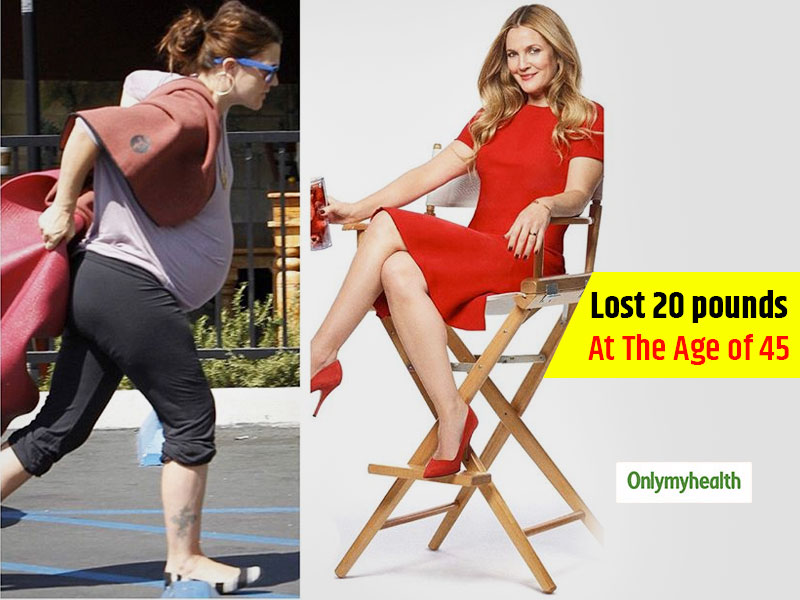 The body transformation journey of American actress Drew Barrymore is awe-inspiring. She recently disclosed her secrets to losing 20 pounds.
The renowned American actress Drew Barrymore recently became the talk of the town for her phenomenal weight loss story. She took to her Instagram handle and revealed some of the fitness secrets that helped her lose 20 pounds at the age of 45! She calls herself a long-time 'Yogi' as she is practicing Yoga for over 25 years now and finds this exercise incredibly welcoming and powerful. She expressed her love for Yoga and how it has helped in transforming her thoughts and body both.
Her transformation Journey
It is not easy for a mother of two to lose 20 pounds. She admits that a lot of hard work has gone to achieve this body being a mother to two daughters. "I go up and I go down. The rollercoaster of my body is a challenging, but beautiful ride. I made two kids," reads her Instagram post. She began this transformational journey for her role in a fiction series 'Santa Clarita Diet' with trainer Marnie Alton.
She has always struggled with body image issues as she has written in her Instagram post: "That said, there have been times I have stood in my closet and just cried. Hated getting dressed. Didn't feel good!" she continued. "It takes so much for me to look decent. I have to eat just right and Work my ass off! I cannot fight the fact that I have the propensity to be the Pillsbury dough boy! … So Don't Be fooled by what you see when people are thin right after baby."
Also Read: 7 Steps To Become Fitness Enthusiast From A Couch Potato
The Power Of Yoga
In the series of her #WellnessWeek posts, one post is dedicated to Yoga and she proudly calls herself a 'Yogi'. In the video, she is seen in a Yoga Studio with some soothing music. She explains how Yoga is a great form of exercise where allows you to shift from silence to sound with ease. she is a Yoga practitioner for over 25 years now and swears by it to keep her mind and body fit, balanced and positive.
View this post on Instagram
Also Read: Manage Migraine With Bhramari Pranayama or Humming Bee Breathing
Full Body Workout
She does not just do Yoga but also goes for a full-body workout class that incorporates a combination of Cardio, Weights, Bands, and Stretching all in one hour.
Her dedication to fitness is an inspiration to many women out there who think that fitness is defined by age. Drew Barrymore believes that one should not restrict oneself with age or other factors. She is a proud mother who wants to set an example for her daughters and all the mothers out there!
Read More in Exercise and Fitness