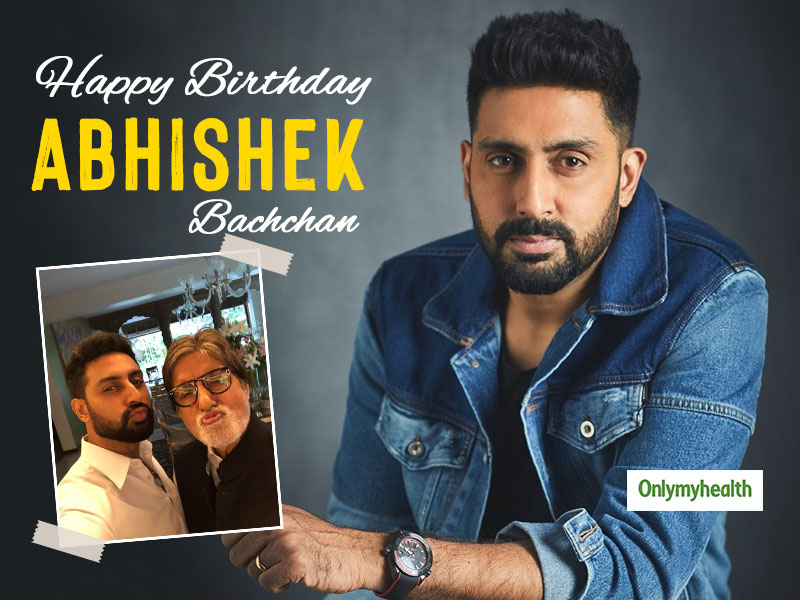 Abhishek Bachchan aka Junior Bachchan, in his mid-40s, is still a heartthrob. He is often compared with his father Amitabh Bachchan who is a legendary actor and has earned name and fame globally. Abhishek might not be as successful as his father but he is immensely proud of the fact that he is a Bachchan. He never takes criticism seriously which is something that makes him different. His Instagram bio reads a thoughtful quote by William Shakespeare: Have more than you show, Speak less than you know.
The lovable bond that Abhishek shares with his father Amitabh Bachchan is a model for others. The father-son duo is fun which is evident from their pictures that they both share on their social media profiles. Here is a collection of their best pictures that depict the depth and purity of their bond.
Here's a flashback picture that Abhishek shared on his Instagram. Both father and son are seem to be bonding well since forever. Their relationship has grown more like friends than father and son.
Also Read: Expert Tips For Working Parents
Amitabh Bachachan has always been a supportive father for both his kids. He never took advantage of his fame and power for personal benefits. He always encouraged Abhishek to achieve everything on his own. That's what Abhishek has conveyed through this picture.
Like father like son. Abhishek is a doting son since childhood. When father Amitabh met with an accident during the filming of his iconic film 'Coolie', Abhishek took utmost care of his father which speaks for his love.
A young Abhishek walking with his father who kept guiding him through his journey.
Also Read: What Is A Healthy And Intimate Relationship?
There should be friendship in every relationship. Abhishek Bachchan and Amitabh Bachchan are first friends and father-son later. This makes their relationship strong and transparent. As he has captioned the picture below, they are buddies for life.
Last but not the least, this post is extremely special where Abhishek has poured his heart out expressing his feelings and fondness for his father Amitabh Bachchan. Wishing Big B a Happy Father's Day, Abhishek mentioned that his father is his hero and biggest source of inspiration.
Read more such articles in Mind and Body