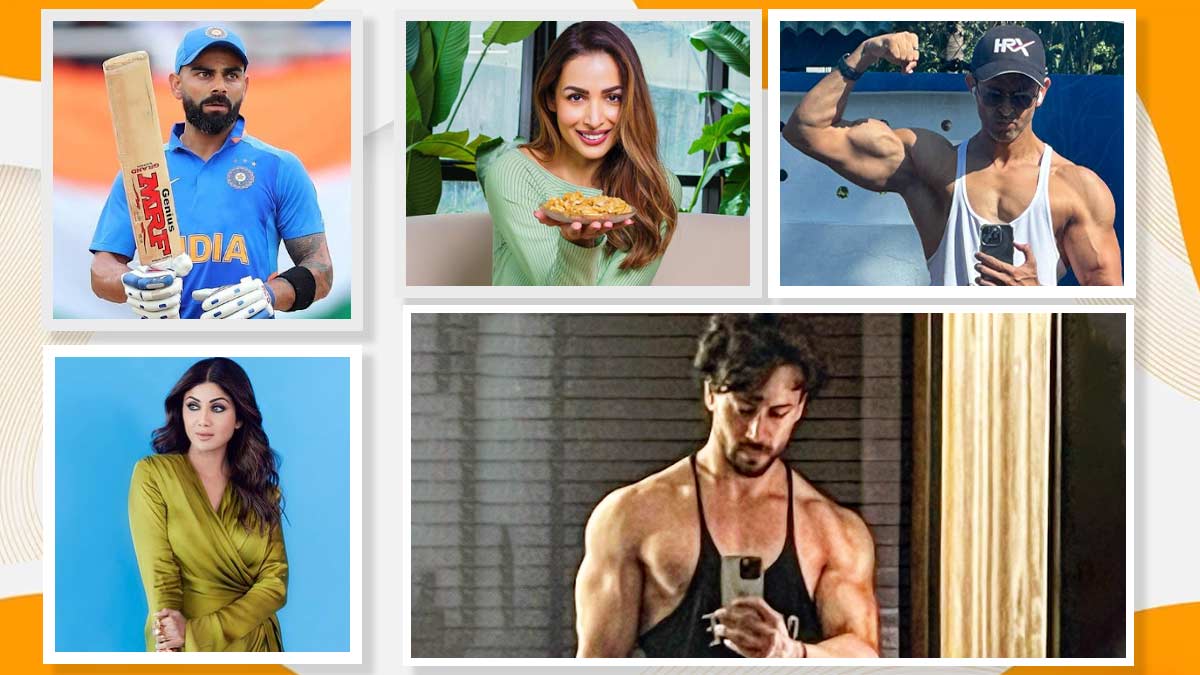 Have you ever wondered how celebs manage to stay in shape all year round? You might believe it's because they have access to world-class trainers and supplements. Having a skilled trainer and using supplements can assist, but the lifestyle you follow makes a tremendous difference.
Virat Kohli, Malaika Arora, Hrithik Roshan, Shilpa Shetty, and Tiger Shroff are the five Indian celebrities best renowned for their fitness and healthy lifestyles. So, if you've been wondering what lifestyle these celebrities adhere to stay fit, let's begin by understanding the role lifestyle plays in transformation and the secret behind these celebrities' fitness.
What Role Does Lifestyle Plays In Transformation?
The majority of individuals believe that going to the gym and then drinking a protein shake will help them transform. Going to the gym and exercising takes up only one hour of your day, but what you do in the next 23 hours has a significant role to play. A lifestyle addresses everything from sleep to hydration. To transform, a person must eat their meals on schedule, stay active, exercise portion control, and fast once a week to assist raise their metabolism.
Health & Fitness Tips From Celebrities
1) Virat Kohli
Virat Kohli began his international cricket career as a good player, but he achieved the excellence when he began weight training and eating healthily in 2012. Kohli revealed in a recent interview with Star Sports that 90% of his diet comprises steamed or boiled items. Not only that, but his diet also includes pan-grilled items with olive oil or other seasonings. Consuming steamed or boiled food helps vegetables keep their nutrients. If you want to lose weight, adopting Kohli's lifestyle may be beneficial.
Also Read: Gigi Hadid's Trainer Reveals Her Abs Workout, Here's What All She Performs
View this post on Instagram
2) Malaika Arora
Without a doubt, Malaika Arora is one of Bollywood's fittest divas. Arora is a big fan of yoga and often shares snippets from her yoga session. Despite her tight job schedule, the 49-year-old never skips a workout session. So it's most likely yoga that keeps Arora in shape, and if you want to flexible yet strong body, incorporate yoga into your routine.
3) Hrithik Roshan
Hrithik Roshan has one of the best flashboard abs in Bollywood. Roshan is trained by Kris Gethins, a US trainer. Gethins recently claimed that clean food, regular exercise, sleeping early, meditation, and consuming enough water have all contributed to his fitness at the age of 49. If you want to shed weight and gain muscle, including all of these in your lifestyle can help you transform.
View this post on Instagram
4) Shilpa Shetty
Shilpa Shetty enjoys working out more than anything else, and her workout is a combination of functional training, animal craw, and yoga, as evidenced by her Instagram. Function training aids in weight loss and muscle growth. Animal crawl is a bodyweight exercise that improves mobility and flexibility, whereas yoga improves mental fitness. Incorporate Shetty's workout into your plan if you want to improve both your physical and mental fitness.
Also Read: Virat Kohli Fitness: 5 Exercises The Indian Cricketer Swears By
5) Tiger Shroff
The workout diaries of Tiger Shroff are fascinating to watch. Shroff's go-to workouts are gymnastics and high-intensity training, which he shares on Instagram. Make weight lifting and cardio a staple of your routine if you want to achieve the figure you aspire.
Image Credit: Instagram