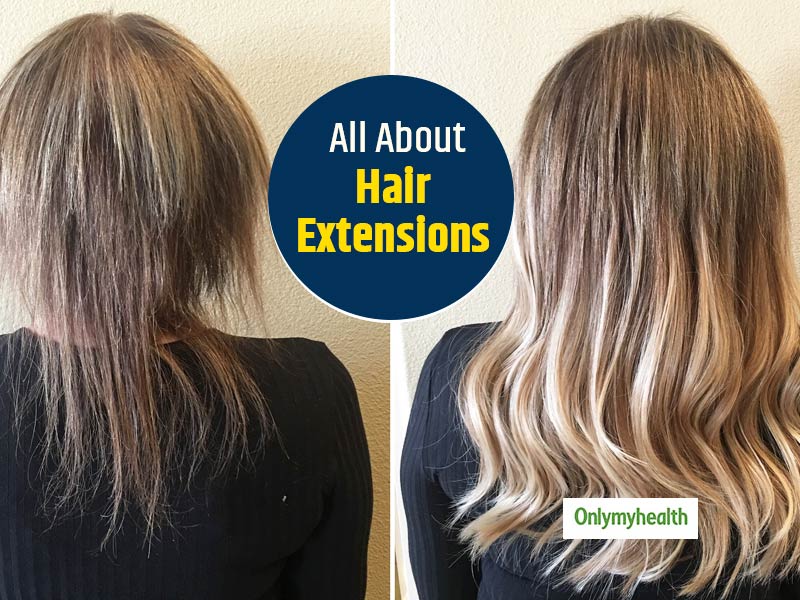 If you have ever prayed to god to get Rapunzel-like hair, you must have also chalked out the various ways to get long, lustrous and voluminous hair, right? Since your hair isn't growing the way you want, you have the option of hair extensions. But a lot of people do not know much about extensions and particularly different types of hair extensions and their pros & cons. If you are thinking to get dreamy hair with extensions, you must read this article for all the important information.
What are hair extensions?
Women with thin hair can try hair extensions to give volume to their hair. Also, women with short hair can increase their hair length for the short-term using these extensions. There are two types of hair extensions- natural and synthetic. If you want to use these for long-term, you must invest in good-quality extensions that are custom-made matching the colour and texture of your original hair. If you want short-term fix on a budget, go for synthetic hair extensions. However, they are high-maintenance as they can easily tangle and get burnt upon using heat styling tools.
Why To Wear Hair Extensions?
Here are some reasons why you may go for hair extensions:
These add extra length to hair with poor growth.
These provide desired volume to thin hair and enhance their look.
These can help you achieve the desired haircut or hairstyle.
You can fulfil your wish for coloured hair without damaging your original hair with extensions.
Types of Hair Extensions
Here are all the types of hair extensions including the benefits of hair extensions and their side-effects. Go through them before deciding upon which one do you want.
Tape-In Hair Extensions
For women who want quick extensions without much of hardwork, tape-in hair extensions are the best. These can be put on easily in a couple of hours. These come in hair wefts with single-sided or double-sided tapes and clips to stuck between the hair.
Pros
It takes hardly 1-2 hours to paste the extensions in the hair. It is indeed one of the fastest methods.
You do not any tool to apply these.
No heat damage is caused when applying for these extensions.
Do not put any strain on the head.
These extensions are reusable for 6-8 weeks.
Cons
You cannot oil your hair or apply any serum that may cause slipping of the extensions.
You cannot wash your hair for 24-48 hours after applying these.
You cannot do high-intensity exercising that causes extensive sweating after wearing these.
You cannot tie your hair.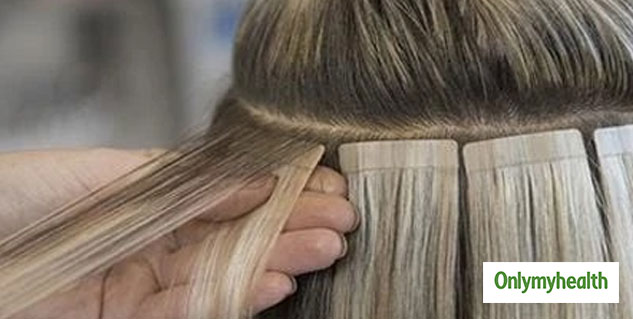 Micro Ring Hair Extensions
These hair extensions come in small bundles or rings of hair that are then tied to small hair sections and then a metal bead is clamped to them to secure them. Alternatively, there also come loop extensions that come with beads that can be fixed easily without any tool.
Pros
You do not need heat tools to attack these extensions and therefore, no damage is caused to hair.
You can adjust them up and down to increase or decrease the length.
These extensions and be easily taken out and reused multiple times.
You can wash your hair with these extensions on.
Cons
These are not for fine and short hair.
You cannot tie up your hair after wearing these.
Micro ring hair extensions can cause strain and pain to your scalp.
If not removed properly, hair damage may be caused.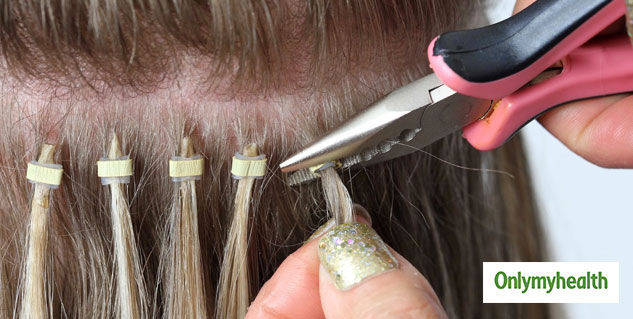 Weaving Hair Extensions
This is quite a delicate method of setting a hair extension into the hair. They are literally woven into the hair by first creating a horizontal cornrow in the head and then using cotton thread and needle, the extensions are sewed. It is indeed a time taking process but the extensions last for a good time.
Pros
You do not need glue or heat to fix these extensions.
There is no damage caused to natural hair.
These are apt to increase the length of the hair and keep them for a long time.
You can oil your hair or use styling hair care products.
You can wash your hair.
These last for 2-3 months if maintained.
These look natural without any visible gaps or taps or anything.
Cons
People with fine hair shouldn't get this
Heavy extensions can trigger scalp itchiness, headache and pain in the scalp
These are high-maintenance extensions
If you don't wash your hair regularly, you can get bacterial infections
Only a professional can remove this extension from hair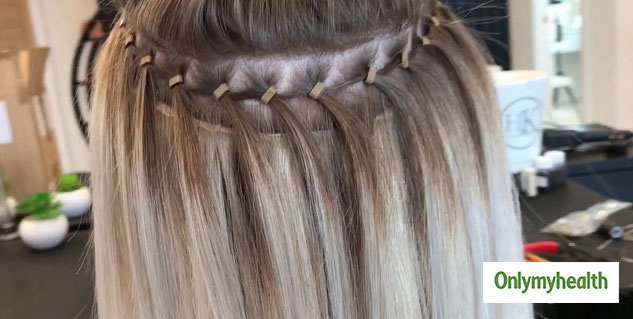 Clip-In Hair Extensions
If you want to grow your hair long in minutes, get clip-in hair extensions. Well by this we mean temporarily long hair and not permanent growth. Clip-in extensions are basically hair wefts that come with clips. You can clip them at the roots and leave. These are indeed super easy to use and enhance your look.
Pros
These are easy to apply
You can clip them wherever you want
They are easily removable.
These are available in different lengths, hair colours and styles
Cons
You cannot wear these for longer time periods.
Clip-in hair extensions can damage your hair
You need to remove them before sleeping, bathing and exercising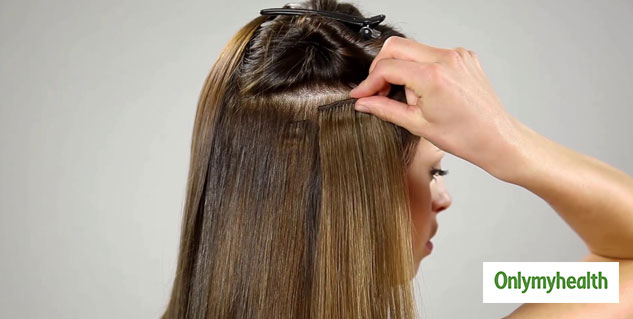 Hot Fusion Hair Extensions
This is a critical hair extension insertion technique that is only done by professionals. The extensions are provided keratin U-tip bond that is fixed to the hair through heating silicone lining and attaching them to the roots. This is a tedious process but it helps in protecting hair against heat damage and hair graying.
Pros
Extensions fixed with this method are durable and can stay for 5-6 months if maintained properly.
These easily blend with your natural hair
Keratin used in binding the hair becomes clear after drying and therefore, extensions aren't visible.
You can style your hair with these extensions
Cons
These extensions cannot be reused
This process takes about 6-8 hours and is very expensive
Heat tools used in the process may damage the hair
Some people may suffer from scalp itching, discomfort and headache after a few weeks
Cold Fusion Hair Extension
This method is similar to the hot fusion method but the technique is different. This comes with a pre-tipped polymer that needs not heated using a tool and then fixed to the hair. No heat usage is required in this method.
Pros
No heat is used in this method which means no heat damage to hair
These blend with natural hair and aren't visible
These can also be done to fine hair
Cons
It is a very tiresome process taking about 8 hours to fix the extensions
You cannot reuse the extensions after 5-6 months
You may suffer from headache, discomfort and itching after a few days
Conclusion
If you are thinking to get hair extensions, you must read about the method and its pros and cons. A lot of people decide to get extensions in haste and then complain of hair breakage and damage. Ideally, you should consider every minute detail before getting the extensions to prevent damage and regrets. Also, consult an experienced professional for hair extensions as they can suggest you better options according to your requirement, hair type and budget. Do not experiment with your hair as getting these extensions may even damage them. So be careful.
Read More Articles in Hair Care