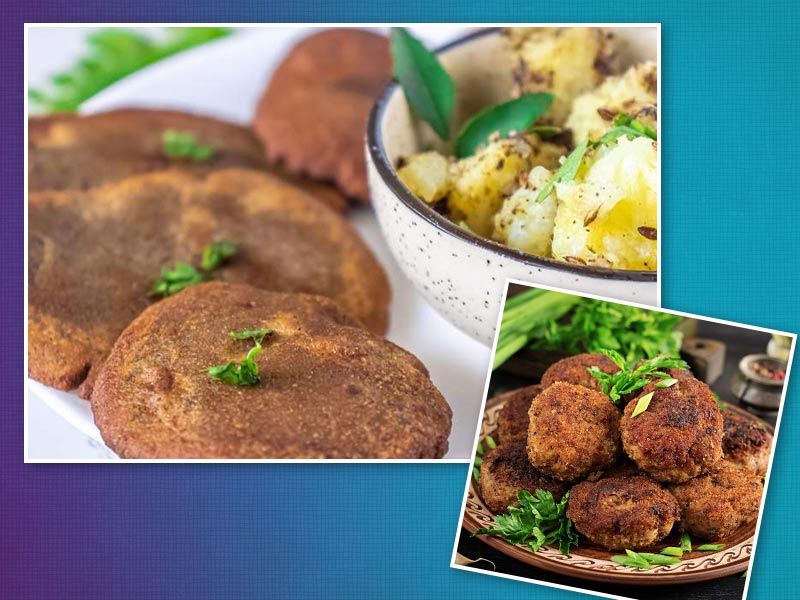 Navratri is finally here and so is the variety of foods. However, most of the meals allowed during this 9 days period are either unhealthy or very oily. You can easily make healthy navratri foods at home every year. People try to fast at least once in these nine days or some of us fast for 9 days long. If you have read my columns, you must have noticed I have mentioned the benefits of fast for our bodies to heal. It is a great practise which helps our body detox. Our inflammation is reduced, our gut is healed and our immunity increases during fast. But we must fast in the right way to get the most of its benefits. While many of us practice different fasting regimes during Navratri, it is a common practice to refrain from sea salt, spices, cereals and grains, pulses and certain oils. But what brings to my attention as a dietitian is the type of psuedocereal we eat particularly grains. Buckwheat ( kuttu), Water chestnut flour ( Singhara atta), Amaranth flour (Rajgira atta), Quinoa or quinoa flour (pronunciate as Kee –nu-ah) to name a few healthy ones. To discuss the benefit of each of these grains and choose which one is healthier than the other is questionable because every grain is nutritious and their nutrient profile depends on your body needs. Read further to know more about the recipes.
Amaranth
Amaranth is one of my favorite grains whether it is as a Navratri food or non-Navratri. It is one of the psuedo grains which has the highest protein content. It is rich in iron, folate, protein, fiber, calcium and contains some essential amino acid "Lysine". It is also a good source of potassium and magnesium. It has phosphorus and calcium both which are essential for our bone health. So, if you are looking for a complete protein meal which also helps in stabilizing blood sugar levels, helps in reducing cholesterol and prevent muscle cramps, Amaranth tops the list. It can be eaten in laddoo form or a chikki made in jaggery, as a breakfast cereal with milk and nuts and seeds or its flour can be added to make a chappati. Rajgira or Chaulai are some Hindi names for Amaranth.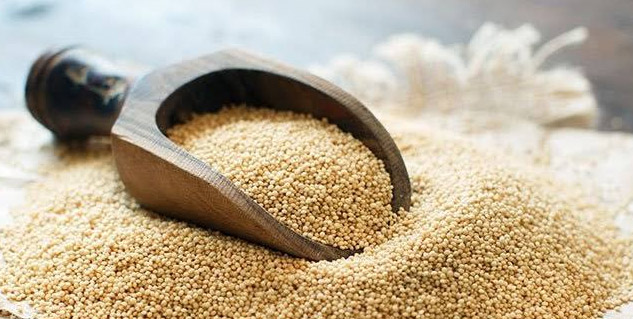 A simple Amaranth porridge recipe includes:
Ingredients
½ measured cup popped amaranth seeds
1 measured cup skim or double toned milk
1 teaspoon grated jaggery
30gm mixed unsalted cashews and almonds
1 tablespoon raisin
PROCEDURE: Heat milk in the pan and add amaranth seeds. Once they are cooked add jaggery. Pour the ingredients in a serving bowl and top them with nuts and raisins.
Also read: How To Eat Right This Navratri? Things To Eat And Avoid This festive Season
Quinoa
Quinoa has a similar nutrient profile as Amaranth; however, Quinoa has more carbohydrate when compared to Amaranth. Quinoa is rich is essential amino acids, zinc, phosphorous, copper, magnesium and manganese. Hence, considering its nutrient profile Quinoa is an excellent alternative to rice and wheat. It helps in lowering cholesterol, assists in weight loss, controls blood sugars, reduces inflammation and is a rich source of antioxidants. Fiber in Quinoa helps in improving gut health. I am sharing a quinoa cutlet recipe below:
Quinoa Cutlet - Makes 2 cutlets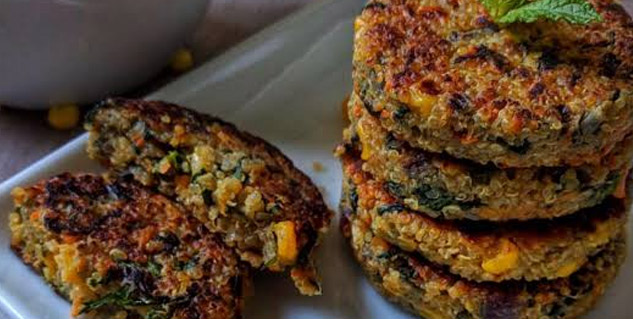 Ingredients
½ cup quinoa, cooked 50gm sweet potato,
boiled 1 carrot, grated
1 tablespoon amaranth flour 1
1 teaspoon black pepper
A pinch sendha salt
A pinch red chili flake
PROCEDURE: Cook ½ cup of quinoa with 1 cup water on low flame with lid on a saucepan. Cook sweet potato, carrot in a separate pan. Cook until vegetables are well cooked. In a mixing bowl, add sweet potato, quinoa, carrot, amaranth flour, herbs and spices. Mix ingredients well to form vegetable quinoa patty. Apply ghee with the help of a brush or a teaspoon and grill the patties on both the sides until evenly brown. Serve with coriander chutney.
Buckwheat flour
Buckwheat is also known as kuttu, it has more protein and magnesium than quinoa and amaranth flour. The benefits of Buckwheat is such that it is a good source of vegetarian protein and can be used moderately in the diet. Due to it high fiber content, it may cause bloating in some individual. If you have an ongoing issue with constipation, avoid eating buckwheat flour solely and mix the flour with other pseudo cereals as mentioned above. Some people also have an allergy to buckwheat. While many enjoy kuttu / buckwheat in the form of dosa, cheela, chappati, pakora and many more. I suggest kuttu cheela is a good healthy alternative.
Buckwheat Cheela Recipe - Serves 1
Ingredients
2 tablepoon kuttu flour
2 tablespoon amaranth flour or water chestnut flour
½ cup grated ghia
1 teaspoon sendha salt 1 teaspoon ghee
PROCEDURE: Mix all the above ingredients in a bowl except ghee. And leave it aside for 15 minutes. As ghia is rich in water, you may not require extra salt to thin the batter. Once the consistency is slightly thin, place the batter on a hot pan. Flip the sides and add 1 teaspoon ghee. Let cheela cook completely on both the sides. Serve with a vegetable gravy.
Water chestnut flour or Singhara atta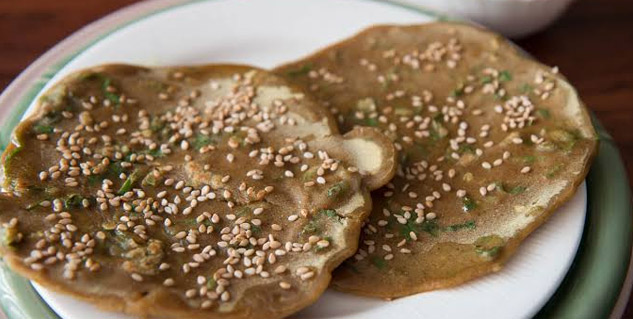 This flour gains most attention in Navratri. This is because of its high-water content. Water chestnut flour is rich in potassium and has a low sodium content. This means it is a great alternative for people who have high blood pressure and have issues with fluid retention. Although during fast our sodium content is low due to reduce intake of salt, it is still a great alternative. Water chestnut flour also helps in weight loss, controls blood sugars, helps in bone health and has most of the nutrients as mentioned in the above pseudo cereals. Water chestnut is rich in iron, copper, vitamin b6, manganese, iodine. Its rich iodine content makes it unique for Thyroid. So, if you are suffering from thyroid and blood pressure water chestnut flour is a good option for you. Water chestnut or Singhara ka atta can be eaten in various ways from dhokla, making vrat ki kadhi, poori's, parantha's, halwa and cheela.
Also Read: Navratri Fast Diet Chart: Do It The Right Way With Nutritionist Avni Kaul's Tips
Singhara atta cheela - Makes 2
Ingredients
½ cup Singhara flour
1 tablespoon coriander leaves
½ green chilli finely chopped
1 teaspoon cumin powder
1 teaspoon black pepper powder
1 teaspoon sendha salt
1 teaspoon ghee
PROCEDURE: Mix all the ingredients in a pan except ghee. Pour the mix on a hot pan and flip the side. Add ½ teaspoon ghee on each side and cook until cheela turns goldne brown in colour. Serve cheela with yoghurt and vrat special vegetable gravy.
Above mentioned navratri flours are just information on their nutritive value. One is advised to choose the flour according to their health needs. Eat nutritious during these 9 days and make the most of your health mentally, emotionally, physically and spiritually. Wishing you all a happy Navratri!
Image Credits- freepik