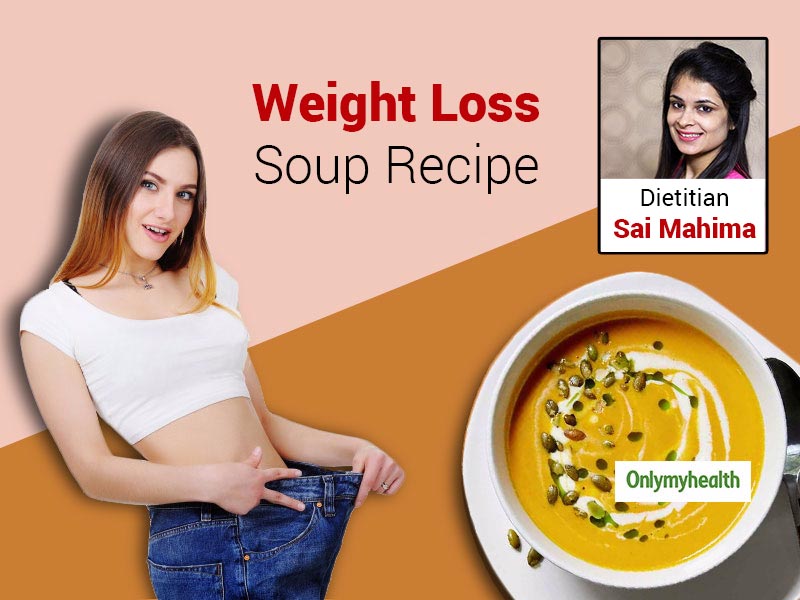 Soup For Weight Loss: Dietician Sai Mahima is telling you the best soup for weight loss, which you can make at home in 15 minutes.
Weight Loss Soup Recipe: Losing weight during this lockdown seems to be the most challenging task. In such a situation, if you also feel guilty after eating your favourite things, then do not worry. Dietitian Sai Mahima is telling that a simple home-made soup for weight loss. This soup made with apple and pumpkin (sitaphal) is the best for weight loss. Control a little diet and drink this soup properly, you can reduce your weight by 4-5 kg in 2 weeks. The unique thing about the soup is that both apple and sitaphal are rich in protein and fibre, so it calms your hunger and gives the body the necessary nutrients. By drinking this soup, your body metabolism increases, due to which the process of burning fat is also accelerated. This is the reason why dietitians consider it the best soup for weight loss. Along with weight loss, this soup also acts as a 'detox drink'. The toxins (dirt) present in your body come out by drinking this soup.
Let us tell you the easy way to make this weight loss soup and the right way to drink it.
Ingredients required to make soup
One teaspoon oil (if coconut oil is better)
One teaspoon finely chopped onion, garlic, ginger
One teaspoon turmeric powder and coriander powder
1/4 teaspoon pepper powder and salt to taste
2 cups diced pumpkin, apples and chopped coriander leaves
Recipe for weight loss soup
First of all, put two spoons of oil in a pan.
Add chopped onion to this oil first and then add finely chopped garlic and ginger.
After the onion and other things turn golden brown, add turmeric, coriander powder, black pepper powder.
Fry the spices for 10 seconds and then add chopped apples and pumpkin to the pan. Add salt to it as well.
Fry them well with spices on medium heat. Keep driving the ingredients in between.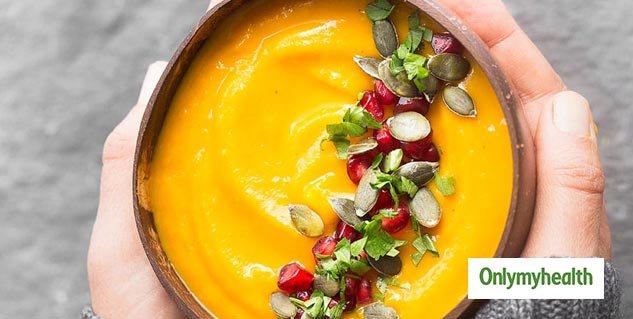 Now add one / half cup of water, so that the spices do not burn and cover the pan and cook for 5-6 minutes.
When the pumpkin and apple are cooked, add 1 litre of water to it and turn off the gas by stirring all the ingredients.
Let it cool for 10-15 minutes and then put it in a blender/mixer and grind it. Your soup is almost ready.
Remove the pan and cook on medium heat until it boils.
After the boil, when the soup becomes slightly thick, turn off the gas.
Your Apple-Pumpkin Weight Loss Soup is ready. Add chopped coriander and drink it.
Also Read: A Cup Of Banana Tea Daily Can Aid Weight Loss
The right way to drink soup for weight loss
This soup is best for weight loss. But for good results, you need to drink it properly too. To lose weight, you should drink this soup like this-
One bowl (about 250 mg) in the morning breakfast
Drink a bowl of soup once again for 45 minutes before lunch.
After this, you can drink this soup even when you feel light hungry in the evening.
Keep in mind other things as well
For fast weight loss, just drinking soup is not enough. So make some small changes in your daily diet and lifestyle, so that your body can be ready to burn fat.
Drink plenty of water. Water is the essential fluid for your body, which keeps all the functions of the body intact.
Use less ghee, oil, salt and spices in food.
Avoid consumption of fast foods, junk foods, red to eat meals and packaged items. They are very high in fat, and they increase cholesterol.
Eat dinner 2 hours before bedtime and eat only light and digestible things, which are easily digested.
There is no time for exercise, so at least 30-40 minutes daily walk at a brisk pace.
Eat a salad of raw vegetables and fruits two times a day.
This article is based on a conversation with Dietitian Sai Mahima. Sai Mahima has been honoured with the Best Dietitian Award for Delhi NCR.
Read more on Weight Management